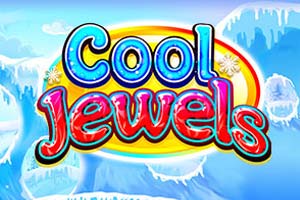 Spillutviklerne hos Williams Interactive er de som står bak denne fargerike og skinnende blanke spilleautomaten. Den er faktisk helt ny, ble lansert i oktober i 2014, og de har absolutt all grunn til at de skal være fornøyde med hva de har fått til. Williams Interactive skuffer sjeldent, og det har de nok en gang bevist for alle sine kasinospillere. Denne spilleautomaten som har fått tittelen Cool Jewels kan nok minne om det klassiske spillet Bejeweled. Denne gangen har spillet derimot blitt satt sammen av hele seks hjul og seks rader med symboler, noe som er et ganske uvanlig oppsett for spilleautomater. I tillegg til dette er det WMS, eller Williams Interactive, som står bak en helt ny funksjon som de har tatt i bruk her i Cool Jewels. Denne funksjonen har fått navnet "Exploding Pays", noe som gjør at denne automaten faktisk er noe mer intens og litt mer risikabelt enn vanlig. Det er likevel ingen grunn til at man skal bekymre seg, det er langt ifra noe ekstremt tilfelle i denne automaten. Selv om hovedspillet i Cool Jewels faktisk er ganske rolig, vil man i bonusrunden få mengder med energi fra den elektroniske musikken som dukker opp. For de spillerne der ute som har hørt om bandet Daft Punk, vil absolutt forstå hva som menes her, når en robot-lignende stemme sier "Cool Jewels" en gang iblant. Flotte detaljer som denne bakgrunnsmusikken og stemmen som sier navnet til spillet sørger for at det hele blir en utrolig flott opplevelse. Spillerne vil definitivt ende opp i utrolig godt humør og kanskje vil denne spilleautomaten ende opp som den nye favoritten.
Innsatsalternativ og de ulike funksjonene i Cool Jewels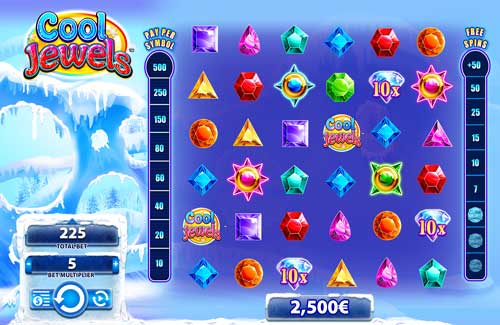 Absolutt alle symbolene som spillerne kan finne i Cool Jewels gir faktisk de samme gevinstene som man får i "Pay per Symbol"-måleren på venstre side av hjulene. Denne måleren som virkelig er en helt unik funksjon består av 12 deler, jo høyere opp spillerne fyller opp denne med sine vinnende kombinasjoner, jo høyere verdi får symbolene. Hver av de 12 delene i måleren har igjen en rekke ulike inndelinger som spillerne må fylle opp. Disse vil bli fylt opp utrolig lett i begynnelsen hvor det vil være 6, 8, 10 og 12 inndelinger i hvert steg i måleren. Etter hvert som spillerne kommer lenger opp i denne måleren vil de ulike stegene i måleren bestå av hele 15 inndelinger, mens på toppen er det absolutt ingen. For at spillerne skal kunne vinne noe som helst i spillet må de derfor kunne vinne en matchende gruppe med minimum fire juveler som har blitt koblet sammen hvor som helst på hjulene. Etter spillerne har fått gevinstene sine for den kombinasjonen vil juvelene som var en del av den vinnende kombinasjonen eksplodere. Deretter vil nye, eksisterende symboler falle ned fra toppen av skjermen, ned på plassen sin og dermed fylle opp alle de tomme plassene. Det neste snurret i spillet er en såkalt re-spinn og vil være helt kostnadsfri, faktisk kan denne runden ende opp med å vare i hele 30 runder.
Bonusrunder og symboler i automaten

I Cool Jewels kan spillerne glede seg til en rekke ekstrafunksjoner, blant annet finnes det ikke bare en eller to spesialsymboler, det finnes hele seks spesialsymboler som kan dukke opp! Disse skiller seg virkelig ut fra resten og i tillegg til "Premium 10x", som vil multiplisere gevinstene til vinnerne med 10, finnes det en rekke andre spennende symboler. Det finnes nemlig en bonus-juvel, en sjokkerende wild, eksploderende wilds og nok en type wild som kun vil dukke opp på de fire hjulene i midten. Det aller første av de nevnte wildsymbolene vil ødelegge absolutt alle symboler som ligger diagonalt fra dens område. Det andre wildsymbolet gjør akkurat det samme til hvert symbol som er koblet til fra absolutt alle retninger. Mens det tredje wildsymbolet vil ødelegge absolutt alle juveler som har vært nær det symbolet både horisontalt og diagonalt. Et annet element i spilleautomaten som spillerne kan glede seg til er at alle juvelene som har blitt påvirket av det eksploderende wildsymbolet vil bli lyst opp. Enten med rosa om de har noe med det eksploderende wildsymbolet, med grønt om de har noe med det sjokkerende wildsymbolet eller med blått om de har noe med det siste wildsymbolet. Dersom spillerne får to wild-juveler i en kombinasjon vil disse bli gjort om til låste wildsymboler og ha det eksploderende wildsymbolet sitt mønster frem til de kommer til den nederste linjen.
Spille disse online casino