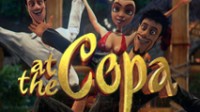 I spillet «At the Copa» fra spillutvikleren Betsoft er latinsk dans og alt det som hører til som er i fokus. Spillet skiller seg mest ut fra mengden med at det faktisk er dans som er hovedtemaet, og at designet er veldig bra. Det er ikke mange spillutviklere som har laget spesielt gode danserelaterte spill. Men Betsoft har her laget et spill som virkelig har god underholdingsverdi og morsom tematikk. En annen ting med spillet, som også vil trekke publikum, er alle tilleggsfunksjonene, og det har ikke bare én, men hele tre progressive jackpoter å tilby. Man finner det vanlige oppsettet med fem hjul ganger 3 rader med symboler. I At the Copa er det totalt 30 gevinstlinjer. Man har full kontroll over innsatsene i spillet. Man kan justere både myntverdi, antall mynter per linje og antall linjer å spille på. Det vil si at både highrollerne og de som spiller for mindre beløp kan komme og teste spillet – med alle innsatslinjene aktivert – for helt fra 0,60 euro og helt opp til 75 euro på et trykk. Hvis man virkelig liker å trykkemye, kan et trykk koste så lite som 2 cent om ønskelig. Utover det kan At the Copa tilby en autospillfunksjon som gjør det lettere å krysse både hender og tær når man spiller.
Grafikk og lyd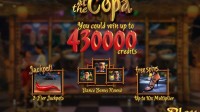 Liknende spill fra Betsoft har vært veldig bra med god grafikk og morsomme tilleggsfunksjoner. At the Copa er ingen unntak. Hovedatraksjonen i spillet er danserne Rico og Pedro som skal prøve å imponere den kvinnelige danserinnen Mami. Du Rico og Pedro komme inn på scenen både under freespins rundene og en av bonusfunksjonene i spillet. Mer om det senere i artikkelen. Grafikken i spillet er veldig god, og man ser mange gode 3D-animasjoner når man får gevinst eller noe annet moro skjer i spillet. Det hele ser ut til å skje rett ved stranden. Med et tema som har dans som tematikk hadde det vært synd om lydene i spillet ikke hadde fått den oppmerksomheten det fortjener. I At the Copa har Betsoft virkelig treffet spikkeren på hodet med bakgrunnsmusikken. Den er morsom og glir godt inn i temaet, men hvis man sitter og spiller over lengre tid kan den kanskje bli litt mye. Man kan uansett dempe musikken om man ønsker det etter hvert. Lydeffekter i spillet er også veldig godt laget hvis man ser i forhold til veldig mange spilleautomater hvor det visuelle muligens får litt for mye oppmerksomhet under spillproduksjonen.
Spesialsymboler og tilleggsfunksjoner
Når det kommer til tilleggsfunksjoner, byr At the Copa på tonnevis av forskjellige små og morsomme spesialfunksjoner. En av disse tilleggsfunksjonene er blant annet wildfunksjonen som gir respins. Når wildsymbolet kommer på det midterste hjuler så utvider det seg til å dekke hele hjulet. Ikke nok med det, men det gir deg også et ekstra spinn helt gratis. Hvis man fortsetter å vinne kan man få helt opp til fem ekstra spinns. Etter hvert som man får flere premier får man også aktivert en multiplikator som kan gå helt opp til fem, den også.  Ingen skikkelig videoautomat finnes uten et solid freespinnsmodus. I At the Copa blir freespinnene aktivert hvis man klarer å få tre høyhælte symboler. Når dette skjer får man 10 freespins. Før man kan starte freespinsrundene må man først velge hvilke av danserne som skal fungere som et ekstra wildsymbol i spillet når man har freespinns. Hvem man velger har egentlig ingenting å gjøre med hvordan spillet går, det er bare en litt morsom tilleggsfunksjon. For hvert eneste trykk du gjør i freespinsrundene aktiverer man multiplikatoren. Jo nærmere 10 runder man har spilt, jo nærmere er man også en 10x multiplikator. Med 75 euro som høyeste innsats så kan man vinne ganske fete premier under freespinnsrundene.
Flotte karakterer og gode jackpotter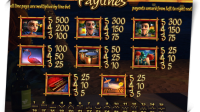 Det er ikke bare under free spinn rundene man møter på Rico og Pedro. Disse to møtes igjen under bonusrundene i spillet. Her skal man velge hvem av danserne som skal prøve å sjarmere den kvinnelige danserinnen. Hvor mye de lykkes har veldig stor uttelling på hva slags premie man får utbetalt i denne bonusrunden. Ikke nok med det, men det ble også tidligere nevnt kort om tre progressive jackpotter i At the copa. Disse heter «Suave», «Mediano» og «Caliente». For i det hele tatt å ha muligheten til å spille om jackpotten, må man satse det høyeste nivået – altså 75 euro per trykk. Man må få fem chilisymboler på en av gevinstlinjene – og hvis man får dette så kommer man inn i jackpotrunden. For å vinne den største premien må man få alle fem chiliene på den første gevinstlinjen.