Om spillet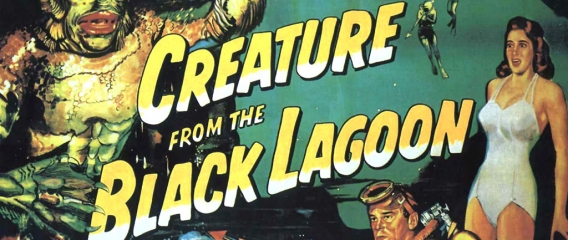 Den skandinaviske spilleautomat-utvikleren Net Entertainment har spesialisert seg på spilleautomater basert på kjente filmer fra Hollywood. Denne gangen har de samarbeidet med Universal Studios om den klassiske skrekkfilmen fra 1954, Creature from the Black Lagoon, som nå er gjenoppstått som en avansert spilleautomat. Utviklerne har satset på å beholde tidskoloritten fra filmen, og det er lett å gjenkjenne 1950-tallet på symbolene i videoautomaten. Spilleautomaten har fem hjul og 20 gevinstlinjer. Automaten inneholder alle karakterene fra filmen på hjulene, slik som Dr. David Reed, Kay Lawrence, Mark Williams og ikke minst monsteret alias Gill-man. Spilleautomaten Creature from the Black Lagoon er et spennende spill som har beholdt grøsser-stemninger fra filmen. Spillet har et undervannstema både på hjulene og i bakgrunnen, så her vil du finne ting som dykkertanker, dykkere, dykkerkniv og annet.
Detaljer om spillet
Creature from the Black Lagoon spilleautomat har en høyest mulig gevinst på 750 ganger totalinnsatsen din. Dette er mulig å oppnå hvis du klarer å finne monsteret som gjemmer seg et sted i spilleautomaten. Creature from the Black Lagoon har gratisspinn med en interessant funksjon, der wild-symbolene kan ekspandere i flere retninger og bli hengende igjen på skjermen mens hjulene snurrer rundt. Dersom du oppnår tre eller flere gratisspinn-symboler, kan du vinne 10-20 gratisspinn. Hvor mange du får, avhenger av hvor mange gratisspinn symboler du klarer å få. Du kan oppnå en gratisspinn bonusrunde ved å klikke på gratisspinn-symbolene på hjulene under et normalt spill. Resultatet avhenger av hvor mange gratisspinn-symboler du bruker til å oppnå bonusrunden med, men muligheten ligger der til å bli belønnet med opptil 20 gratis spinn på én gang. Symbolene for gratisspinn er runde, blå og lette å finne, da det rett og slett er stavet ut Free Spin på dem.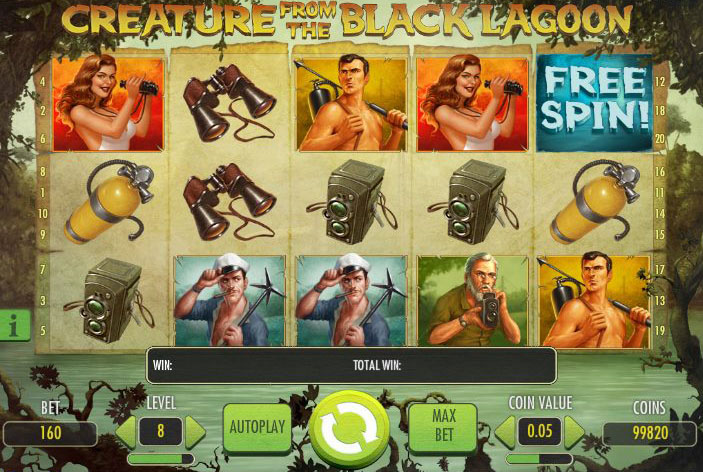 I nederste høyre hjørne på spilleautomaten finner du det de har valgt å kalle Helsemåleren. Dette vil du se i gratisspinn-moduset. Helsemåleren inneholder ni ruter med tre ulike farger, og hver farge står for en funksjon som du kan vinne. Hvis du vil tømme Helsemåleren må du få en blink eller et sikte på hjul nummer 5, og samtidig må du treffe monsteret inni siktet. Du vil klarere én rute til på måleren ditt hvis du klarer dette. Etter at du har klarert tre ruter, vil du vinne ekspanderende wild-symboler; de vil fremkomme et sted på venstre side. Hvis du i tillegg klarerer de tre neste rutene, vil wild-symbolet også ekspandere et sted på høyre side. Du får 10 ekstra gratisspinn dersom du er heldig – eller veldig flink – og greier å klarere de tre siste rutene også.
Ekspanderende wild-symboler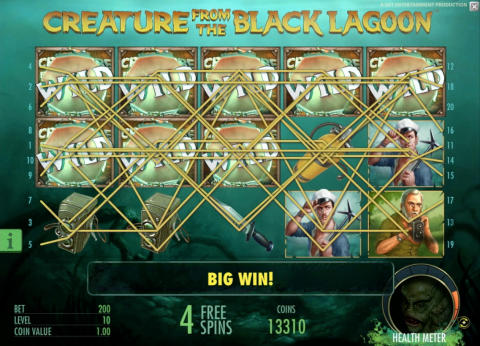 Du kan svekke helsa til monsteret ved å oppgradere wild-symbolene når du er i gratisspinn-modus. Dersom du klarer det kan du oppgradere til to ulike funksjoner. Den første gjør at wild-symbolet ekspanderer ett eller annet sted til venstre, slik at det dekker to posisjoner på hjulene. Den andre vil gjøre slik at wild-symbolet vil utvide seg et sted på motsatt side. Når begge wild-funksjonene er aktivert, vil alle wild-funksjoner ekspandere både et sted til venstre og et sted til høyre.
Sticky wild-symboler
De wild-symbolene du har fått, vil alltid være "klebrige" i løpet av et gratisspinn. Dette gjelder både i hovedspillet og i gratisspinn. Dersom du hele tiden klarer å fylle på med flere wild-symboler på hjulene, vil alle wild-symbolene henge enda et spinn. Wild-symbolene vil forsvinne først dersom du ikke klarer å fylle på med flere symboler i løpet av neste gratisspinn.
Bonusfunksjoner
Du kan få tre eller flere gratisspinn-symboler på spilleautomaten for å utløse gratisrundene, fordelt på denne måten:
3 gratisspinnsymboler = 10 gratis spinn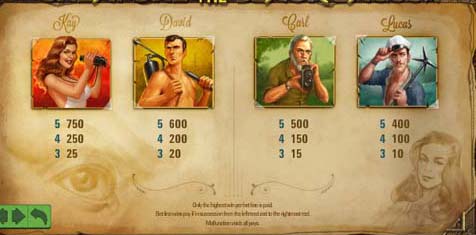 4 gratisspinnsymboler = 15 gratis spinn
5 gratisspinnsymboler = 20 gratis spinn
Under gratisspinn-rundene vil wild-symbolene spre seg horisontalt på spillehjulene og gi deg mulighet til flere vinnerkombinasjoner. Underveis kan det hende at et blinksymbol dukker opp på det 5. hjulet. Når dette skjer, vil monsteret fra den svarte lagunen dukke opp på høyre side av spilleautomaten og bli truffet med et skudd. Du kan se hvor mye liv monsteret har igjen på Helsemåleren nederst til høyre. Dersom du oppnår maksimalt antall blinksymboler og klarer å drepe udyret, får du 10 ekstra gratisspinn.
Konklusjon
Det beste ved denne glimrende spillemaskinen er den suverene gratisspinn-runden. Net Entertainment har gjort en strålende jobb ved å gjøre Creator from the Black Lagoon til et enkelt spill, men likevel opprettholde spenningen ved hjelp av gratisspinnbonusrundene. Dette er et skikkelig kvalitetsprodukt som er verd å prøve ut.