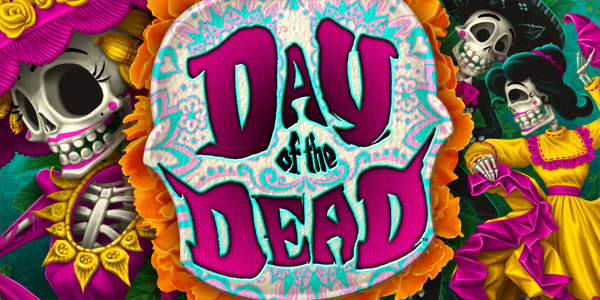 Til tross for navnet, har Day of the Dead spilleautomat verken zombietema eller skumle døde skapninger. Dette spillet handler om feiringen av de døde. I mange land arrangeres det egne festdager for de døde. I Norge har vi også Allehelgensdag, men her feires den ikke på samme måte som i enkelte katolske land. Flere andre land, blant annet Kina, har også dedikerte festdager for de døde. Folk tror at de døde kommer på besøk til de levende på disse dagene, og man snakker med de døde og feirer livene deres. Disse dagene kalles De Dødes Dag, og festene kan bli både livlige og morsomme. Det er dette spilleautomaten Day of the Dead er inspirert av.
Tema, grafikk og musikk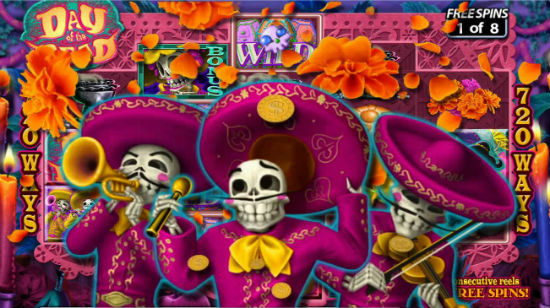 I Day of the Dead inviteres spillerne til en fest der alle gjestene er døde. Selv om gjestene er døde, betyr ikke det at festen er dødskjedelig. Den er tvert imot veldig morsom, og de døde er smilende og vennlige. Musikken og karakterene er underholdende. Spillet har wilds og bonussymboler som deler ut gratisspinn. Symbolene er litt bisarre, men IGT har virkelig laget en herlig spilleautomat som skiller seg ut fra mengden.
Spilletautomatens oppsett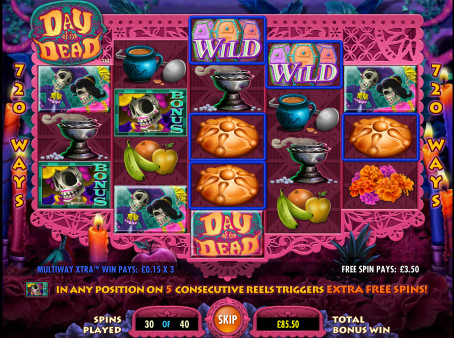 Automaten har 720 måter å vinne på. Ikke alle disse vinnerrekkene er logiske, men heldigvis holder spilleautomaten selv orden på når man vinner. Man slipper å følge med på vinnerrekkene selv, og på den måten går man aldri glipp av en gevinst. Utbetalingsprosenten er også god. Utbetalingsprosenten er den prosentdelen av innsatsen man kan regne med å vinne tilbake mens man spiller. Utbetalingsprosenten ligger selvsagt alltid under 100 %, ettersom kasinoene også skal tjene penger. Men en høy utbetalingsprosent betyr at spillerne taper en relativt liten andel av innsatsene. Dersom utbetalingsprosenten for eksempel er på 96 %, betyr det at spillerne i gjennomsnitt vinner tilbake 96 % av innsatsen sin. Utbetalingsprosenten er basert på langvarig spilling. I noen perioder vinner man mer, og i andre perioder taper man mer enn gjennomsnittet.
Spill på disse online casinoene
Innsatser og utbetalinger
Man kan ikke velge antall mynter man vil satse i Day of the Dead. Man satser alltid 50 mynter. Det eneste man kan velge, er myntverdien. Man kan spille med relativt små innsatser, eller man kan ta sjansen på å satse litt større beløp. De femti myntene dekker alle mulig gevinstlinjer, slik at man ikke trenger å velge antall linjer, eller aktivere hver linje separat. Utbetalingstabellen gir en fullstendig oversikt over de ulike vinnerrekkene og verdien av hver enkelt kombinasjon. Selv om automaten har 720 måter å vinne på, betyr ikke det at man vinner oftere enn på automater med vanlige gevinstlinjer. Utbetalingsprosenten kan selvsagt ikke være over hundre. Den ligger på omtrent samme nivå som andre automater, så ikke forvent gevinster oftere enn vanlig. Man får bare utbetalt én vinnerkombinasjon per gevinstrekke. Dersom man får fem like, får man bare utbetalt gevinst for fem like. Man får ikke samtidig utbetaling for fire like og tre like. Hvis man har vinnerrekker på flere gevinstlinjer samtidig, summeres gevinstene fra alle rekkene.
Symboler og bonusinnslag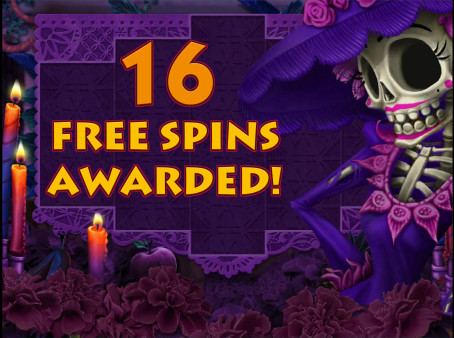 Symbolene viser selvsagt ulike døde skapninger, i tillegg til mat som serveres på festen for de døde. Det dukker opp frukt, paier og musikere. Wildsymbolet er tre kister. Disse symbolene kan erstatte andre symboler for å fullføre vinnerrekker. Dersom man for eksempel får fire like av et symbol, og man får et wildsymbol som femte symbol på raden, teller vinnerrekken som fem like. Spillets spredte symbol er en maske. Fem av dem hvor som helst på hjulene gir egne gevinster. Med tre eller flere spredte symboler på hjulene, kan man vinne inntil 50x multiplikator. Selvsagt er det sjelden man vinner den største multiplikatoren, men selv mindre multiplikatorer gjør gevinstene enda mer verdifulle.
Gratisspinn
For å vinne gratisspinn, må man få fem bonussymboler på fem hjul, men de trenger ikke å være på rad. Fem bonussymboler på fem hjul betyr åtte gratisspinn. Bonussymbolene kan være stablet, så man kan faktisk vinne inntil 96 gratisspill. Under gratisspinn er det flere stablede wilds på hjulene. Man kan også gjenutløse gratisspinnene, men man kan ikke vinner mer enn 240 gratisspinn på rad.
Oppsummering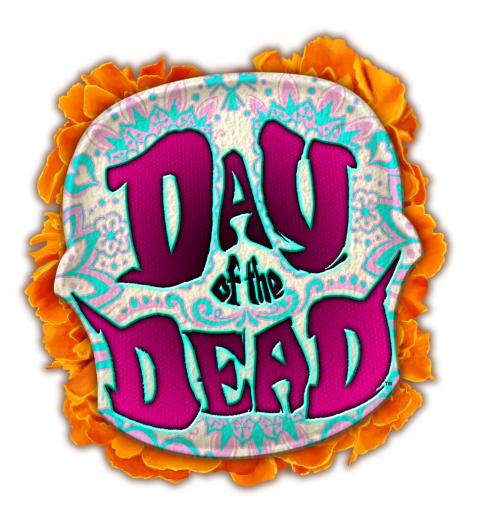 Day of the Dead er en morsom og fargerik spilleautomat, som til tross for alle dødningene slett ikke er verken skummel eller trist. De 720 måtene å vinne på gir mange kompliserte vinnerrekker, men man trenger ikke å tenke på hvordan vinnerrekkene ser ut, eller hvilke rekker man skal aktivere. Alle vinnerrekkene er aktive hele tiden, og man trenger bare å velge innsatsbeløp. Dersom man er usikker på hvordan spillet spilles, bør man starte med å spille det som gratisspill. Når man spiller gratis, spiller man med lekepenger. Dermed risikerer man ikke å tape pengene sine. Man vinner selvsagt heller ingenting, men man kan lære seg spillet før man satser ekte penger.