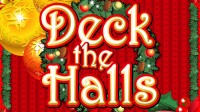 Superhelter fra tegneserier, greske guder og irske små grønne menn, det er faktisk noen temaer som er mer vanlige enn andre når det kommer til videoslots. Jul og andre slike høytider da? Nei, akkurat når det kommer til slike temaer så er ikke akkurat valget av videoslots så stort, men Deck The Halls er et lysende unntak! Deck The Halls er den ultimate videosloten for juletiden.
Deck The Halls gir deg ikke bare topp julestemning, men også muligheten til å bli veldig rik. Du kan faktisk vinne opp til 2,4 millioner mynter. I tillegg til dette så byr spillet på wild symboler, stablete symboler og gratis spinn.
Grafikk og lyd
Julemat går igjen overalt i Deck The Halls spillet. Ordet "deck" på engelsk betyr jo å dekke, og man kan virkelig se at Microgaming har dekket spilleskjermen fra topp til bunn med girlandere, stjerner og alt annet man kan tenke seg av julepynt. Symbolene man ser i spillet er i form av julegranspynt, en peis, en kalkun og så klart, julenissen selv. Grafikken er detaljert i herlige julefarger.
Musikken og alle lydeffektene er også veldig julete, og det hadde jo vært synd om det skulle vært på noe annen måte. Når man spiller så kan man høre stemningsfulle juleviser i bakgrunnen, komplette med bjelleklang og det hele. Når man er så heldig å vinne en gevinst, så får man høre enda mer bjelleklang også. Man kan vel egentlig si det på denne måten, når du vinner en gevinst, så kan du ikke unngå å faktisk høre det.
Innsatser
Deck The Halls er i bunn og grunn en klassisk videoslot med fem hjul og tre rader med 30 innsatslinjer. I begynnelsen av spillet så kan man velge hvor mange linjer man ønsker å spille på og man har også muligheten til å justere myntverdien man ønsker å spille med. Myntverdien i Deck The Halls ligger på mellom 0,01 og 0,05. Innsatsnivåene man kan velge mellom er mellom 1 og opp til 10. Ettersom man har en begrensning på hvor stor myntverdi man kan spille for, så blir den høyeste totale innsatsen ganske lav, den kommer faktisk ikke høyere enn 15 euro.
Effekter og spesialsymboler
Deck The Halls byr spillerne sine på en god del julegodt i form av spesialfunksjoner i spillet. Vi kan jo begynne med den spesialfunksjonen som utpeker seg mest, nemlig gratis spinn spillet. Her kan man nemlig være så heldig å vinne 2,4 millioner mynter. For at dette skal være mulig, så kommer det så klart ann på noen faktorer i spillet og det er at alle gratis spinn gevinster dobles, og også at det dukker opp stablede wild symboler på hjulene under gratis spinn rundene. Noe som også er meget spesielt i dette spillet er at gratis spinn spillet kan aktiveres gang på gang. Her er det ingen begrensing. Gratis spinn spillet blir aktivert ved at man får 3 eller flere julebjeller på hjulene. Når dette skjer, så vinner man automatisk 10 gratis spinn runder.
En annen bra spesialfunksjon i Deck The Halls er wild funksjonen. Det er symbolet av selve logoen til spillet som er symbolet for wild. Alle gevinstene som det symbolet er en del av blir automatisk doblet. Dessuten har wild symbolet en ekstra høy verdi i seg selv også. Som for eksempel, hvis man får 4 wild symboler på en innsatslinje, så gir dette 1000 mynt. Og hvis man får 5 wild symboler på en linje, så gir dette 4000 mynt.
Julenissen selv har jo også så klart en helt egen spesialfunksjon. Julenissen rolle i dette spillet er å dukke opp som stablete symboler i spillet. Det vil si at hvis julenisse symbolet dukker opp et sted i spillet, så vil automatisk alle de andre symbolene i den linjen bli gjort om til julenisse symboler de også.
Sammendrag
Deck The Halls gir en utmerket julestemning. Og det er ikke kun rundt juletider at det skal være hyggelig å spille dette spillet. Deck The Halls gir sine spillere fine bonusfunksjoner som faktisk fanger spillerens interesser, uansett når på året man spiller spillet. Gratis spinn spillet med multiplikator er utmerket laget. Og det samme gjelder wild symbolene som faktisk dobler alle gevinstene man får i spillet. Her må man også huske å holde et øye oppe for julenissen også. Hvis han dukker opp og man har kanskje lite med wild symbolene, så kan man faktisk ende opp med at nesten hele skjermen dekkes av symbolet for julenissen. Og det er da man tar hjem gode gevinster.