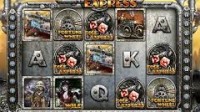 Dersom du liker steampunk, og oppfinnelser fra riktig gode, gamle dager, har du funnet den ideelle spilleautomaten. Dice Express er laget av Viaden Gaming, og inneholder oppfinnelser fra det forrige århundreskiftet, i tillegg til innslag fra Viktoriatiden.
Dice Express er et fartsfylt spill med stilige spesialfunksjoner, inkludert et fint bonusspill og et lykkehjul.
Grafikk og lydeffekter
På slutten av 1800-tallet og starten av 1900-tallet kom det mange nye oppfinnelser innen transport. Jernbanen ble populær, og i luften svevde luftskip og de første propellflyene. Forfattere og oppfinnere hadde fantastiske framtidsvisjoner, og så for seg storbyer der alt var drevet av dampmaskiner.
Det er denne tidsepoken dette spillet handler om. Grafikken i spillet er veldig god. Symbolene er godt tegnet, med veldig mange detaljer. Grafikken er laget for å gjenskape datidens stemning. Hjulene er metallfarget, og i bakgrunnen ser man en forurenset by.
Dice Express har dobbel betydning. For det første er det navnet på et damplokomotiv, og lydene i spillet er også inspirert av dampmaskiner og tog. Bakgrunnsmusikken kunne stamme fra en eventyrfilm, og denne musikken passer veldig fint til spillets tema. Spillets navn henviser også til bonusspillet, som spilles med terninger (dice på engelsk).
Innsatser og utbetalinger
Dice Express har fem hjul med tre rader. Det er 21 innsatslinjer i spillet, men du velger selv hvor mange linjer du vil aktivere. Du har størst vinnermuligheter dersom du aktiverer alle linjene. Dersom du syns det er dyrt å satse på alle linjene, kan du heller redusere innsatsbeløpet.
Du kan ikke stille inn myntverdien i dette spillet, men du kan velge innsats per linje, fra 0,05 til 0,25 euro per linje. Innsatsen per linje ganges med antall linjer for å finne ut hva den totale innsatsen din blir. Med bare én aktiv innsatslinje, blir minsteinnsatser 0,05 euro, og med maksimumsinnsatsen, koster det 5,25 euro per spinn. Dette er altså en av de rimeligere automatene, med en lav minsteinnsats.
Både wildsymbolene og sprederne danner egne vinnerkombinasjoner. Wildsymbolene er mest verdifulle. De andre symbolene viser gamle transportmidler og to menn, i tillegg til klassiske kortsymboler og et lykkehjul. I dette spillet får man også utbetaling for to like. Dette gir selvsagt smågevinster (2x innsatsen), men småpremier er også verdt å ta med seg. Når man bare trenger to like for å vinne, kommer vinnerkombinasjonene oftere. Man får bare utbetalt for vinnerkombinasjoner som starter ytterst til venstre. For å få to på rad, må man altså ha det samme symbolet på samme posisjon på hjul 1 og hjul 2. For å få en komplett oversikt over vinnerrekkene og utbetalingene, kan man lese automatens utbetalingstabell.
Spesialinnslag og bonuser
Dice Express har fire spesialinnslag. Spredere og wildsymboler er kjent fra mange spill. Disse kan gi egne utbetalinger, i tillegg til at wildsymbilene erstatter andre symboler for å fullføre vinnerrekker. Sprederne gir utbetaling selv om de ikke er på samme linje. Man må ha minst tre spredere for å få gevinst. Sprederen er et lokomotiv med teksten Scatter.
Wildsymbolene må være etter hverandre på samme linje for å gi utbetaling. Da kan de gi deg store gevinster. Man får 10 mynter for to wildsymboler, 200 mynter for tre, 2000 mynter for fire, og 10 000 mynter for fem wildsymboler på rad. Dette er den største gevinsten i det vanlige spillet.
Bonusspillet spilles på en annen skjerm. Der skal du kaste terninger og bevege deg på et spillbrett. Målet er å samle med deg gevinster. Det andre bonusspillet heter Fortune Wheel, og er et klassisk lykkehjul. Du får mellom 1-6 spinn på hjulet, og kan vinne ulike gevinster.
Oppsummering
Dice Express har mye å by på. Spillideen er morsom, grafikken er førsteklasses, og spillfunksjonene er unike. I tillegg vinner man ganske ofte. Ulempen er at det er ganske vanskelig å komme til bonusspillene. Men når du først kommer til bonusspillene, kan du vinne skikkelig store gevinster. Spillet har ingen progressiv jackpot, men med en toppgevinst på 10 000 mynter i det vanlige spillet, kan man likevel vinne stort.
Viaden Gaming oppgir ikke den teoretiske utbetalingsprosenten på spillene sine, men utbetalingsfrekvensen i dette spillet er i hvert fall god. Utbetalingsfrekvensen er også viktig, for når det kan være kjedelig å spille mange spinn uten at man vinner noe. I dette spillet kommer smågevinstene ofte, og man får lyst til å fortsette.
Du trenger ikke å like dampmaskiner for å like dette spillet, for både grafikken og spillfølelsen er god, og du vil sikkert sette pris på spillet. Det er vel verdt å prøve noen spinn på Dice Express.