Så fort man har kommet i gang med spilleautomaten Dr. Jekyll and Mr. Hyde så forstår man at man har en bra videoslot foran seg. Det kommer tydelig frem av Betsoft, som er spillutviklerselskapet bak spillet, har gjort en utrolig god jobb med å sette sammen spillet, slik at det skal falle i smak hos spillerne. Det er jo tross at spillerne som skal godkjenne disse spillene og det er de som bestemmer hva som blir regnet som populære spill og ikke. Spilleautomaten Dr. Jekyll and Mr. Hyde er en videoslot som har et tema som er basert på en novelle fra en skotsk forfatter med navnet Robert Louis Stevenson. Novellen er nok veldig kjent for mange og det er mange år siden den ble gitt ut. I novellen så får man lese om en veldig anerkjent lege som heter Dr. Jekyll. Dr. Jekyll er slik som mange andre leger, han er nysgjerrig på ulike måter å gjøre folk friske på og han holder stadig vekk på med å teste ut ulike blandinger. Han velger å bruke seg selv som forsøkskanin, noe som ikke alltid viser seg å være så lurt. Den dagen han blander sammen en ny eliksir så får Dr. Jekyll fort finne ut av hva denne eliksiren kan gjøre. Det er nemlig da Mr. Hyde kommer inn i bilde. Dr. Jekyll og Mr. Hyde er nemlig en og samme person, bare at Mr. Hyde kun kommer frem når Dr. Jekyll drikker denne eliksiren. Det er med andre ord et veldig spennende tema i spillet.
Spillets spesialfunksjoner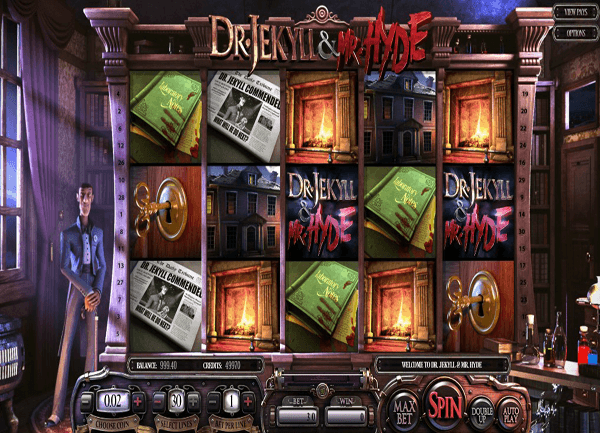 Alle symbolene som man finner på spillets hjul har en eller annen form for sammenheng med spillets tema. Symbolene har også alle en slags sammenheng med hverandre, på den måten at det er flere ulike kombinasjoner med symboler som kan utgjøre forskjellige gevinster i spillet. Man har wildsymbol i spillet, og det er naturligvis spillets joker. En joker er et symbol som kan erstatte alle andre symboler på hjulene og wildsymbolet i Dr. Jekyll and Mr. Hyde er i form av spillets logo. Wildsymbolet har en annen funksjon i spillet og denne funksjonen blir aktivert når wildsymboler blir kombinert med symbolene av Jekyll og Hyde selv. Denne spesielle kombinasjonen kan da faktisk aktivere to ulike bonuser i spillet. Den ene bonusen heter Frenzy Bonus og den andre heter Potions Bonus. Underveis i disse bonusene så har man muligheten til å aktivere multiplikatorfunksjoner på hjulene i tillegg til at man kan få tildelt flere gode kontantgevinster. Ikke nok med at wildsymbolet fungerer som spillets joker og kan aktivere to ulike bonuser i spillet, men det kan også aktivere noe annet, nemlig gratisspinnene i spillet. Det har seg nemlig slik at wildsymbolet i spillet kan også kombineres med symbolene som er av en blå eller rød eliksir. Denne kombinasjonen vil gjøre at man samler seg opp flasker med eliksir og disse flaskene kan da utgjøre et visst antall gratisspinn i spillet. Det er også en funksjon som kan aktiveres ganske ofte i spillet, så det er bare å krysse fingrene.
Spillets oppsett og innsatser
Oppsettet i Dr. Jekyll and Mr. Hyde er på fem hjul, tre rader med symboler og totalt så har man 30 innsatslinjer. Innsatslinjene som er lagt inn i spillet er ikke laget som faste, så det vil si at spilleren kan selv velge å justere på antallet. Ønsker man for eksempel å spille med 10 aktive innsatslinjer, så kan man gjøre det. Når man har bestemt seg for antall innsatslinjer så kan man tilpasse myntverdien man ønsker å spille med. Hver mynt kan ha en verdi på mellom 0,02 og opp til 0,50 i verdi. Når det er satt så har man en ting igjen å tilpasse og det er antall mynter per innsatslinje. Man kan velge å satse mellom en og opp til fem mynter per aktive innsatslinje.
Spill på disse online casinoene
Spillets grafikk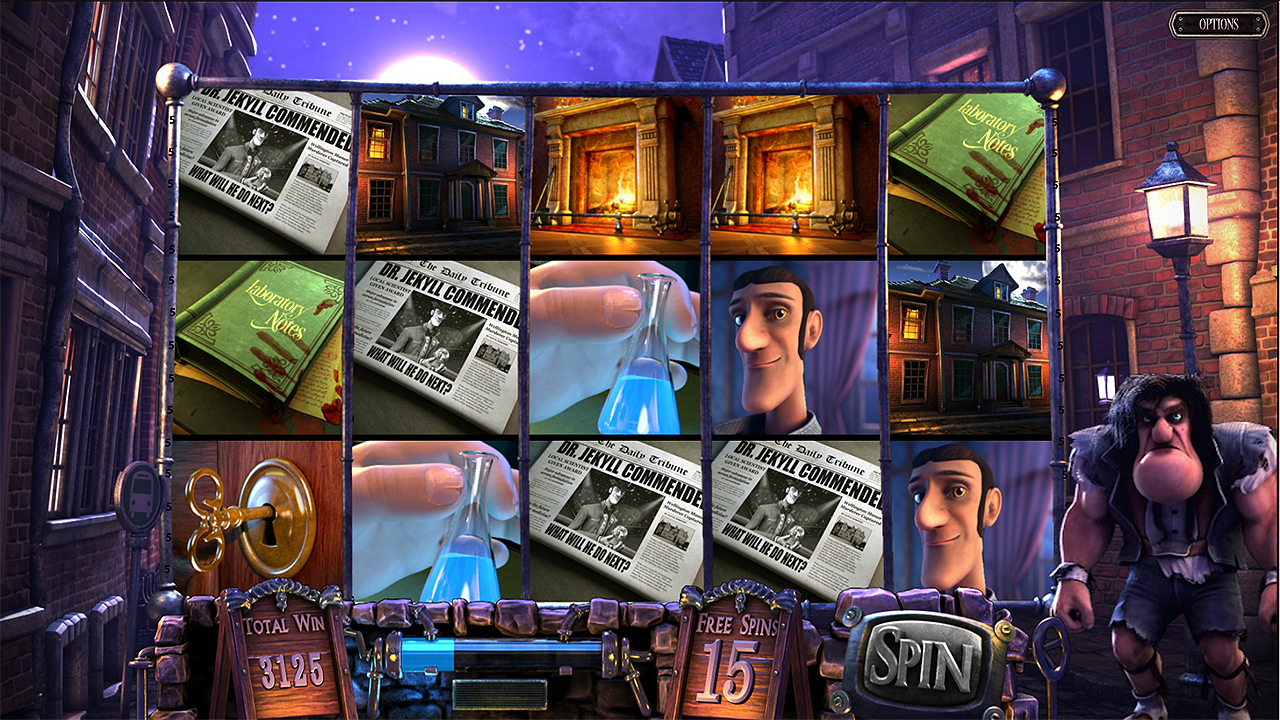 Spilleskjermen som møter en når man begynner å spille Dr. Jekyll and Mr. Hyde er rett og slett imponerende. Bakgrunnsbilde som er lagt på spillet viser spillets hovedkarakter i egen person på venstre side av spilleskjermen. Det ser ut som han står inne på et bibliotek, kanskje for å lese seg opp til nye blandinger til hans eliksirer. Rammen som man finner rundt spillets hjul ser ut som en hylle inne på biblioteket å gjøre at det blir en naturlig sammenheng på elementene i spilleskjermen. Inne i rammen så finner man spillets symboler og de er alle tilpasset tema i spillet, og det i flotte bilder.