Spillets historie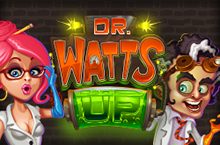 Microgaming har vært med i spilleindustrien helt siden de aller første online-spillene og de utvikler stadig nye, kreative spill. I denne spilleautomaten fra Microgaming vil du møte en helsprø doktor i et fargesprakende laboratorium sammen med andre spesielle karakterer. I laboratoriet foregår det mange "crazy" eksperimenter med elektrisitet og kjemikalier. På hjulene finner du, foruten doktoren selv og den sexy laboratorieassistenten hans, både rotter for testing i laboratoriet, kjemirør, en apekatt, en hjerne, et mikroskop samt flere andre symboler som assosieres med en gal vitenskapsmann. Ikke desto mindre, du kan vinne 15 000 mynter dersom "den gærne doktoren" kommer opp på alle fem hjulene samtidig. Her er det mye underholdning i et laboratorium der giftiggrønne farger og lilla skygger bidrar til spenningen. I dette spillet tilbys du 243 ulike måter å vinne på. Den suverene musikken og den storslagne grafikken gjør sitt til at denne spilleautomaten er både morsom, interessant og meget underholdene.
Detaljene i spillet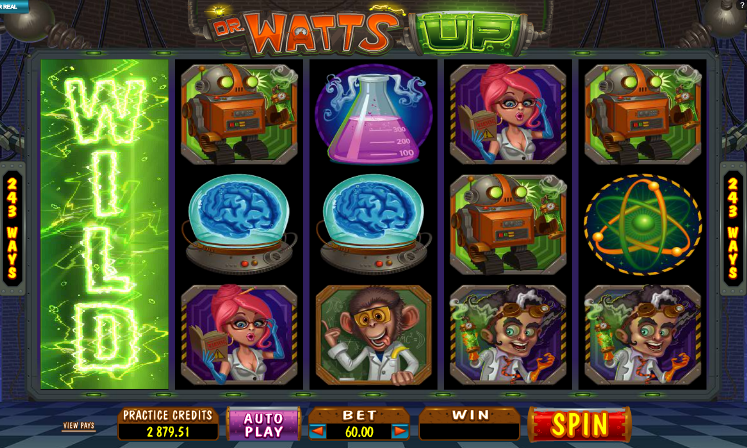 Her har du mange muligheter, for det er flere måter å oppnå gevinst på. Spilleautomaten har hele 243 gevinstlinjer, flere gratis free spin samt bonusspill og spesialfunksjon. Spillet har fem hjul og tre rader. Spilleautomaten har fem mynter som varierer i størrelse, og det betyr at det er mulig å satse alt fra 1 og opp til maksimalt 20 mynter. Spillere trenger ikke å oppnå symboler på en aktiv gevinstlinje, men kan i stedet plassere en innsats og deretter prøve å få like symboler på tilstøtende hjul. Som på de fleste andre spilleautomater velger du altså ikke selv hvor mange gevinstlinjer du vil satse på, for alle de 243 mulighetene er åpne hele tiden. Det eneste du trenger å bestemme deg for er hvor høy innsats du skal gå inn med. Maksimumsgevinsten i spillemaskinen er 480 000 mynter. Dette er et flott spill for nybegynnere eller deg som har et middels budsjett for casinospill.
Bonusfunksjoner
Bonussymbolet er en laboratorierotte i et glass, og idet du får opp dette symbolet på hjul 1, 3 eller 5, blir bonusspillet laboratoriebonus aktivert. Du vil se 12 kjemirør, og bak hvert av disse skjuler det seg et bonusbeløp. Du har lov til å velge to av rørene, og dermed sikrer du deg gevinsten som ligger bak. Hvis du tror at andre rør har bedre bonusbeløp enn det du fikk, har du muligheten til å gi avkall på de rørene du har valgt, og velge på nytt. Dette har du kun lov til å gjøre to ganger. Du kan klikke yes for å akseptere bonusen, eller klikke no hvis du har ombestemt deg. Laboratoriebonusen kan aktiveres når som helst, også under gratisspinn. Her ligger det en morsom sjanse til å vinne ekstra penger uten at du behøver å satse selv.
Gratisspinn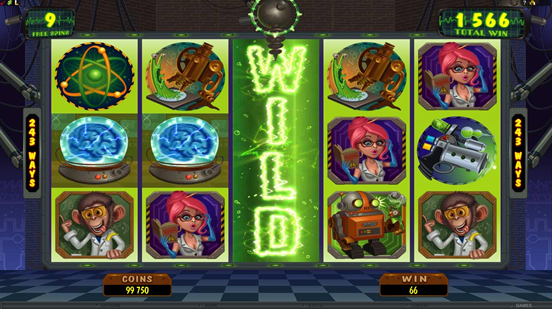 Det er mange som liker å spille gratis. I denne spilleautomaten kan du, i tillegg til å vinne store pengegevinster, også spille gratisspinn. Spillet har et scattersymbol som består av et atomsymbol med fargene gult og svart som en advarsel til deg om å være oppmerksom. Dersom du har fire av dem på hjulene får du en gevinst på 3 000 mynter. Finner du fire, blir gevinsten 9 000 mynter, og du oppnår maksimum gevinst på 30 000 mynter dersom du finner fem scattersymboler. Disse symbolene utløser også en bonusrunde med gratisspinn. 10, 15 eller 20 gratisspinn i bonusrunden blir frembragt automatisk av henholdsvis tre, fire eller fem scattersymboler. På hver eneste gratisspinn du får, blir et tilfeldig hjul omgjort til et «wild-hjul», og ikonet for dette wild-hjulet er selve spilleautomatens tittel-logo. Dette symbolet kan brukes som erstatning for alle andre symboler, unntatt for scattersymbolet og bonusrunde-symbolet. Alle de gevinstene du får på gratisspinn-bonusrundene i denne spilleautomaten blir multiplisert med din totale innsats. Du må imidlertid være oppmerksom på at gratisspinn ikke kan spilles om igjen, og at du heller ikke kan frembringe bonusspillet når du spiller gratisspinn.
Jackpot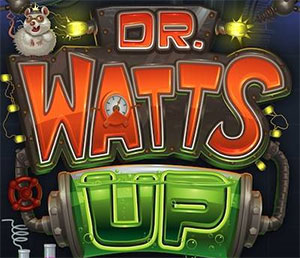 Wild-symbolet kan faktisk brukes til å vinne en standard jackpot i denne spilleautomaten. Får du dette symbolet på alle fem hjulene samtidig, har du vunnet en gevinst på 50 000 mynter. Avhengig av hvilken innsats du har lagt inn, hva myntverdien er idet du vinner og hvor mye flaks du har, kan du ende opp med en gigantisk jackpot på hele 480 000 mynter.
Konklusjon
En topp moderne, komisk spilleautomat med flott grafikk og energisk lyd. Her får du gratisspinn, multiplikatorer, bonusrunde, scattere og wilds. Med 243 ulike måter å få gevinst på har dette spillet alt du kan ønske deg!