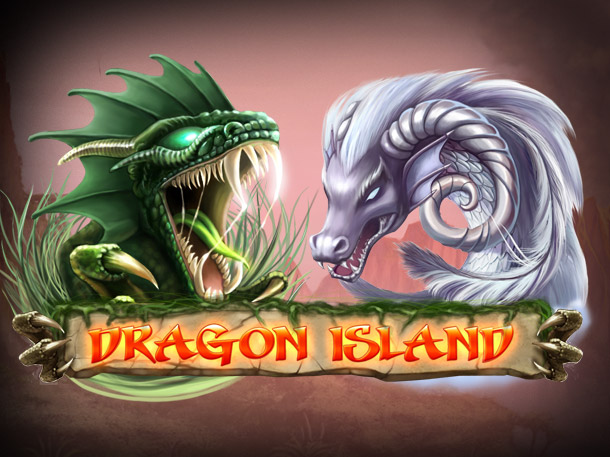 Dragon Island er en 5-hjuls spilleautomat med tre rader og 15 innsatslinjer, utviklet av Net Entertainment, en av de ledende leverandørene av casinospill. Temaet for spilleautomaten er drager, og den har funksjoner som forskjellige wildsymboler, et scattersymbol, gratisspinn og multiplikatorer. I spillet opptrer fem forskjellige drager, en drage er knyttet til hvert element (vann, ild, luft og jord), og den siste knyttet til et femte element som i dette spillet er representert av den grønne naturen.
Spillets detaljer
Dragon Island er Net Entertainments første spilleautomat med en "vinn begge veier"-funksjon. Denne funksjonen gir deg muligheten til å få vinnende kombinasjoner både fra venstre til høyre, og fra høyre til venstre, og dette øker dine muligheter for gevinst betraktelig. Ved å aktivere "vinn begge veier"-funksjonen og deretter oppnå fem symboler på rad, vil du automatisk fordoble verdien av den aktuelle innsatsen. Dermed spiller du for en gevinst som er dobbel så stor som utgangspunktet.
Dragon Island tilbyr deg i tillegg to forskjellige wild-funksjoner. Det finnes et vanlig wildsymbol, representert av en stålblå drage, og et gyllent wildsymbol, representert av en gulldrage. Det vanlige wildsymbolet kan erstatte alle andre symboler på hjulene, unntatt scattersymbolet og det gylne wildsymbolet, for å hjelpe til med å skape en vinnende kombinasjon av symboler.
Spille disse online casino
Innsatser og gevinster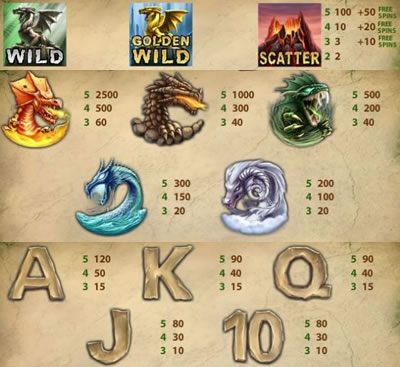 På denne spilleautomaten kan du satse minimum 1 mynt per innsatslinje, og med "vinn begge veier"-funksjonen deaktivert kan du satse 10 mynter per innsatslinje. Med "vinn begge veier"-funksjonen aktivert kan du maksimalt satse 20 mynter per innsatslinje, på det som da totalt blir 30 gevinstlinjer. Du kan også velge verdien på myntene, fra 0,01 € opp til 0,50 €. Dette vil altså si at du maksimalt kan satse 1500 kroner på hvert enkelt spinn. Minste innsats med alle linjer og "vinn begge veier"-funksjonen aktivert blir da på 3 kroner. Med "vinn begge veier"-funksjonen aktivert kan du satse inntil 150 €, noe som gjør denne spilleautomaten godt egnet for både storspillere og for underholdningssøkende spillere. Dragon Island gir deg muligheten til å vinne en gevinst på inntil 400.000 mynter.
Bonusfunksjoner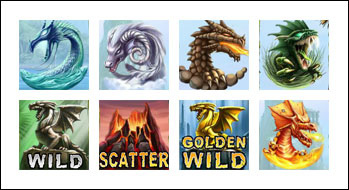 Dragon Island har i tillegg til alt dette en gratisspinn-funksjon som blir aktivert ved at tre eller flere scattersymboler dukker opp på hjulene. Scattersymbolet i Dragon Island er representert av et dragefjell. Dette symbolet kan dukke opp hvor som helst på hjulene, og det kan gi deg belønninger som gratisspinn og mynter. En av de store fordelene med Dragon Island er at du har muligheten til å vinne veldig mange gratisspinn, faktisk så mange som 50 spinn, hvis du treffer full pott. Hvis du får tre scattersymboler på hjulene vil dette utløse en belønning på 10 gratisspinn. Hvis du får fire scattersymboler vil dette utløse en belønning på 20 gratisspinn, og hvis du får fem scattersymboler vil du altså få din belønning i form av hele 50 gratisspinn. Scattersymbolet kan i tillegg til gratisspinn gi deg gode utbetalinger. Disse vil være basert på ditt innsatsnivå. To scattersymboler vil fordoble gevinsten din, tre scattersymboler vil multiplisere gevinsten din med tre, fire scattersymboler vil multiplisere gevinsten din med 10, og fem scattersymboler vil multiplisere gevinsten din med 100! Hvis du spiller med maksimal innsats og det dukker opp fem scattersymboler på hjulene, vil du altså bli belønnet med 50 gratisspinn og en utbetaling på hele 150.000 kroner!
Spillets gang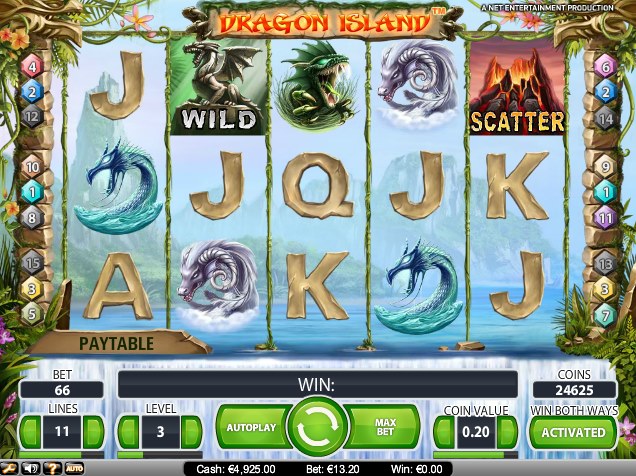 For å begynne spillet velger du ditt innsatsnivå ved å bestemme hvor mange mynter du vil satse, og myntenes verdi. Deretter trykker du på spinnknappen. For å deaktivere "vinn begge veier"-funksjonen og det gylne wild-symbolet, må du trykke på "aktivert"-knappen nede til høyre. Dette lar deg spille med ditt opprinnelige beløp, uten at det blir fordoblet. Wildsymbolet i Dragon Island dukker opp svært ofte. Det gylne wildsymbolet opptrer kun når "vinn begge veier"-funksjonen er slått på og er langt mer sjeldent. Det gylne wildsymbolet kan dukke opp på det tredje hjulet, og har en tilfeldig multiplikator som kan øke din gevinst fra to til åtte ganger hvis den gevinstgivende kombinasjonen går gjennom dette symbolet. Dette gir deg en sjanse til å kunne vinne store premier, og er spesielt gunstig siden du kan vinne fra både høyre og venstre side av spilleautomaten. Hvis det vanlige wildsymbolet dukker opp i en vinnende kombinasjon sammen med et gyllent wildsymbol kan dette gi svært gode utbetalinger.
Konklusjon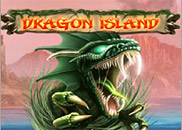 Dragon Island er et spill som vil fascinere både fantasy-fans og alle andre som setter pris på god grafikk, behagelige lydeffekter, og sjansen til å vinne store gevinster. Spillet gir en god helhetsopplevelse, og selv om den ikke er alt for avansert eller spekket med bonuser, så gir den en god stemning og den har gode funksjoner. Det totale resultatet er svært bra. Dette spillet bør absolutt prøves!