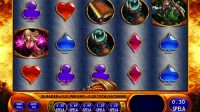 Dragon's Inferno er laget av Williams Interactive. Dette er et kjent selskap innen spillutvikling, men når du begynner å spille Dragon's Inferno, virker det som om denne automaten ikke holder samme kvalitet som de andre spillene deres. Spillskjermen er kjedelig, spillet har ingen introduksjon, og du blir kastet inn i det uten å skjønne hva historien går ut på.
Men når du først kommer i gang med spillet, oppdager du snart at spillet ikke er så ille som du først trodde. Når du vinner første gang, forstår du også litt mer av selve spillet. Spillskjermen holder seg like kjedelig, men ellers tar spillet seg opp. Derfor bør du ikke la førsteinntrykket narre deg.
Spillets tema er selvsagt drager og skatter. Det er to ulike wildsymboler i Dragon's Inferno. Det ene wildsymbolet kan endre inntil seks symboler til andre symboler. Man kan også vinne gratisspinn med fordoblere.
Grafikk og effekter
Grafikken og lyden passer fint sammen i Dragon's Inferno. Stemningen i spillet er behagelig og fin. Musikken og lydeffektene er alltid en viktig del av spilleautomatene. De skal skapet stemning. Grafikken er svært godt laget, med klare og tydelige symboler. Hjulene spinner feilfritt, som om de ruller på en jevn overflate. Det er ingen fusking eller hakkende grafikk. Dette vitner om kvalitet.
Symbolene på hjulene er drager og sagnfigurer, riddere, bueskyttere, en skatt og vakre kvinner, i tillegg til de fire kortfargesymbolene. Musikken er livlig og morsom når man spiller i det vanlige spillet. Når man vinner, endres lydbildet, og mer blippende lyder dukker opp. Dette er typisk for såkalte Vegas-slots, som dette spillet er. Vegas-slots er spilleautomater som skal gi deg en mest mulig autentisk følelse, som om du spiller i et landbasert kasino.
Musikken i Dragon's Inferno endrer seg enda en gang når du vinner gratisspinn. Da blir både bakgrunnsmusikken og effektene mer intense, og øker spenningen. Stemningen tar seg opp på alle måter under gratisspinn, og man gleder seg til disse spinnene.
Innsatser og utbetalinger
Dragon's Inferno er klassisk oppbygd, med fem hjul. Symbolene er fordelt over tre rader, slik at det vises femten symboler samtidig. Symbolene utenfor radene er usynlige i dette spillet. Innsatsen er fra 0,01 til 3 euro på hver av de 30 innsatslinjene. Det er veldig lett å justere innsatsen, med hurtigknapper der du velger fra 0,30 til 90 euro per spinn. Det store spennet i innsatsbeløp, gjør at automaten passer for de fleste budsjett.
Drageskatten gir deg 5 mynter for fem like, 2 mynter for fire like, og 0,5 mynter for tre like. Ridderen gir 2 mynter for fem like, 1,25 mynter for fire like og 0,40 for tre like. Den vakre trollkvinnen gir deg 2 mynter for fem like, 1 mynt for fire like og 0,40 mynter for tre like. Bueskytteren gir samme utbetaling som kvinnen. Dette virker kanskje ikke mye, sammen lignet med andre automater, men små utbetalinger betyr nesten alltid høy utbetalingsfrekvens.
Spesialsymboler og bonuser
Det er ganske mange spesialfunksjoner i Dragon's Inferno. Spillet har to wildsymboler og muligheten til å vinne gratisspinn. Gratisspinnsymbolet er dragen. Med minst tre drager på skjermen, vinner du ti gratisspinn der alle gevinster blir doblet.
Det ene wildsymbolet er en skattekiste. Dette fungerer som et vanlig wild, altså at det erstatter andre symboler og fullfører vinnerrekker. Skattekisten erstatter ikke bonussymboler. Wildsymbolene dukker bare opp på de fire første hjulene (1-4), men de dukker opp relativt ofte. Noen ganger får man både to og tre wilds samtidig.
Spillets andre wildsymbol viser en drage som beskytter en skatt. Når man får dette symbolet på et av de midterste hjulene, aktiveres en funksjon som heter Replicating Wild. Dette gjør at mange andre symboler endres til samme symbol, og dette fører ofte til store gevinster.
Oppsummering
Dragon's Inferno er et bra spill, med mange spesialfunksjoner. Spillet har ikke så mye action, men vinnermulighetene er gode. Utbetalingene er relativt små, men når du vinner ofte, blir det likevel ganske fine premier av det. Smågevinster betyr at du får igjen enten hele eller deler av innsatsen, og det gjør selvsagt at du kan spille lenger uten å gå tom for penger.
Maksimumsgevinsten er 1500 euro, og det er ingen progressiv jackpot i spillet. Den teoretiske utbetalingsprosenten er på 95,97 %. Den teoretiske utbetalingen er basert på gjennomsnittlig utbetaling over tid. Noen ganger kan du vinne mer enn dette, eller tape mer. For å oppnå den gjennomsnittlige utbetalingen, må man spille lenge.
Spillets utbetalingstabell gir deg oversikt over symbolene og vinnerrekkene de kan danne. Vinnerrekkenes verdi er listet opp.