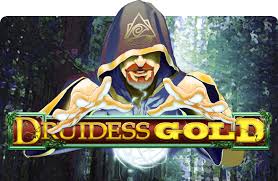 Om man er av den oppfatningen at man har sett alt som finner innen videoslots, så tar man virkelig feil, med mindre man så klart allerede har prøvd ut det virkelig flotte og originale spillet Druidess Gold fra Amaya. Amaya er kanskje ikke det mest kjente spillutviklerselskapet på markedet, men det kommer nok til å endre seg en del etter Druidess Gold treffer markedet. Spillet har utrolig mange ulike aspekter som gjør at det ikke kan sammenlignes med noe annen videoslot på markedet. Amaya har virkelig gjort en god jobb med utviklingen av spillet og resultatet som spillerne får møte er noe helt spesielt. Tema i seg selv er ganske unikt og det er trolig ikke blitt sett så mye tidligere innen videoslots. Druidess Gold omhandler nemlig de gamle kelterne og all den magien og mystikken som følger med der. I tillegg til dette originale tema så har man 1296 ulike måter å vinne på i spillet og man har noen helt spesielle bonusfunksjoner som kan dukke opp underveis. Druidess Gold er virkelig full pakke for en spiller som ønsker å oppleve noe nytt innen spilleautomatens verden.
Spesialfunksjoner i spillet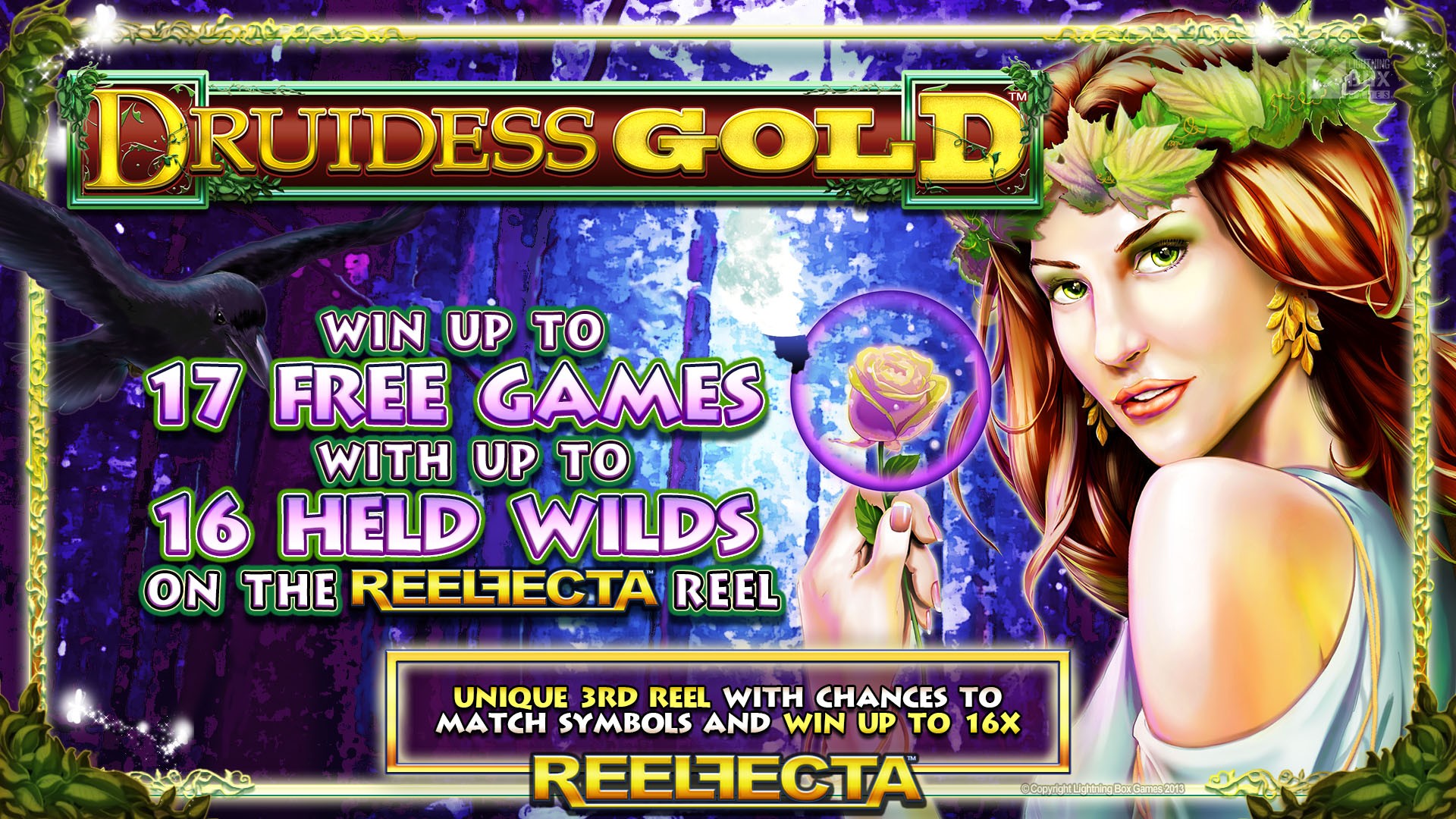 I Druidess Gold så har man til sammen to wildsymboler, gratisspinn, og et helt spesielt bonusspill. Det er med andre ord mer enn nok som kan skje på spilleskjermen mens man spiller. Det ene wildsymbolet fungerer som spillets joker, ved at den kan erstatte alle andre symboler på hjulene. Det andre wildsymbolet man har i spillet har en sammenheng med spillets gratisspinn. gratisspinnene i Druidess Gold har en helt spesiell funksjon. I det man setter i gang med sitt aller første gratisspinn så vil man se at det dukker opp et helt spesielt wildsymbol. Dette wildsymbolet fungerer slik at det blir låst fast til hjulene. Det første wildsymbolet som dukker opp vil bli låst fast til venstre hjørne og slik fortsetter altså gratisspinnrundene. Man kan på det meste ende opp med 16 wildsymboler som er låst fast til hjulene, og det sier jo seg selv at det kommer til å bringe inn mange gode gevinster. Totalt kan man få 12 gratisspinn. Når en flaske med giftig innhold dukker opp på skjermen så vil gratisspinnene avsluttets over og man vil få tildelt gevinstene sine, som da vil bli doblet før de blir satt inn i spillekassen. I tillegg til den helt spesielle gratisspinnrundefunksjonen så har man et bonusspill som man kan aktivere. Man trenger fem eller flere bonussymboler på hjulene for å aktivere bonusspillet. Når dette skjer så vil man få aktivert bonusspillet, som har fått navnet Ring Protection Bonus. Bonusspillet er veldig enkelt, for det deler rett og slett ut en kontantgevinst. Kontantgevinsten kan på det meste ha en verdi på 500 ganger innsatsen man har lagt i spillet.
Oppsett og innsats i spillet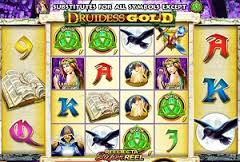 Oppsettet som man finner i Druidess Gold er noe helt spesielt. Man har totalt fem hjul og på disse fem hjulene så finner man 28 ulike posisjoner. Disse posisjonene er fordelt slik at på hver ende av oppsettet så har man to hjul som begge har tre symboler. I midten av oppsettet så har man et oppsett på 16 symboler, som alle da snurrer helt individuelt. Dette vil til sammen gi 28 ulike posisjoner på oppsettet. Det er på grunn av dette helt spesielle oppsettet at man kan regne seg frem til at man har 1296 ulike måter å vinne på. Det eneste som skal til for å få en gevinst i spillet er at man får tre like symboler på hjul en, to og tre. Innen man kan sette i gang å spille dette helt spesielle spillet så må man så klart tilpasse innsatsen man ønsker å ha. Innsatsen blir lagt ved at man først velger hvilken kredittverdi man skal spille med, og så må man velge hvor mange kreditter man skal legge ut på hver linje i spillet. Man kan velge mellom 50, 100, 150, 200 eller 250 når det kommer til antall kreditter per linje. Laveste kredittverdi man kan spille med er på 0,01 mens høyeste er på 0,25. Dette tilsier da at man på det meste kan spille for 62,50 euro i en spillerunde. Innsatsen i spillet justerer man utrolig enkelt for man har et oppsett med knapper nederst på spilleskjermen, og det er disse man skal bruke for å gjøre de ulike endringene. Det er også nederst på spilleskjermen at man har en oversikt over hvor mye man spiller for i hver spillerunde i Druidess Gold.
Spill på disse online casinoene