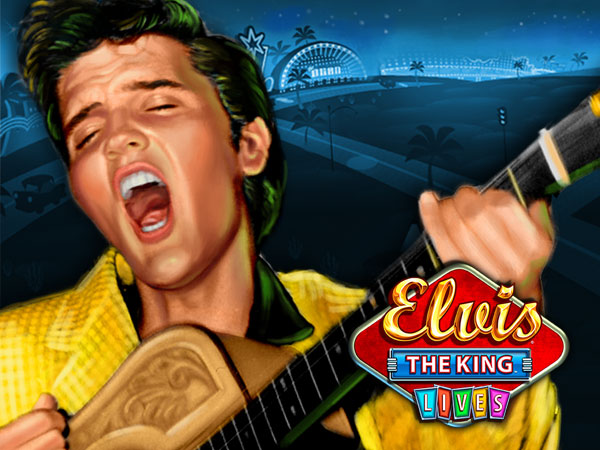 Elvis er fortsatt kongen, og det store idolet for mange musikkelskere. Derfor er det kanskje ikke så rart at han også dukker opp som tema i spilleautomater. Elvis The King Lives er laget av WMS Gaming. Automaten kan spilles gratis, eller man kan satse ekte penger for muligheten til å vinne pengegevinster.
Denne automaten er svært variabel, noe som betyr at det kan gå lenge mellom gevinstene. Til gjengjeld er gevinstene ganske store når man først vinner. Ettersom det kan gå lenge mellom gevinstene, passer automaten best for tålmodige spillere. Den passer også best for spillere med et litt romslig budsjett, for man kan måtte gjøre mange innsatser før man vinner noe som helst. WMS er kjent for å lage spill som er svært variable. Spillet inneholder underholdningsfunksjoner som wilds, gratisspinn og videoinnslag.
Innsatser og utbetalinger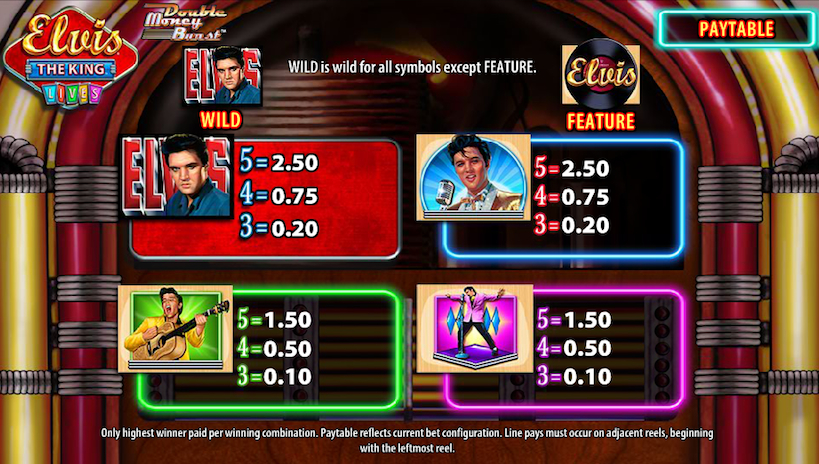 Elvis The King Lives har hele 11 hjul og 80 gevinstlinjer. Antallet hjul gjør at den er litt annerledes oppbygd enn de klassiske femhjulsautomatene. Dette kan virke litt forvirrende i starten, men det er egentlig ganske lett å forstå. Man kan satse fra €0,40 til €80 per spinn. I bakgrunnen spilles kjente sanger av Elvis. Spillet finnes både i landbaserte kasinoer og på nettet. Det er tre sett med hjul i spillet. To av hjulsettene har to hjul med to symboler på hvert hjul, og til høyre på skjermen er et hjulsett med tre hjul med seks symboler på hvert hjul. De to små hjulsettene teller som åtte hjul, ettersom hvert hjul spinner uavhengig. Det store hjulsettet spinner som en vanlig spilleautomat. Til sammen blir dette 11 hjul. Man vinner gevinster dersom man får minst tre like symboler på rad, eller dersom man får tre like sammen med et wildsymbol. De høyeste utbetalingene får man for fem like, mens fire like gir mellomstore gevinster. For å få en enkel oversikt over vinnerkombinasjoner og gevinster, bør man lese spillets utbetalingstabell. Her ser man hvilke vinnerrekker som har hvilken verdi. Man trenger ikke å holde orden på vinnerrekker og utbetalinger selv. Automaten følger med, og betaler ut gevinstene automatisk. Likevel er det interessant å lese utbetalingstabellen, slik at man har en viss peiling på hva man kan vinne, og hvilke vinnerrekker man skal se etter.
Spille disse online casino
Gratisspinn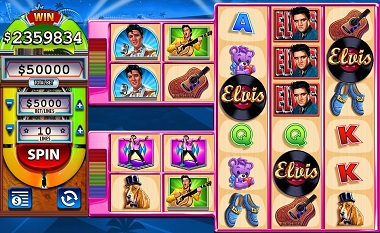 Gratisspinnene er spillets hovedinnslag, og man kan vinne gratisspinn på flere ulike måter. Hvis man får fire like symboler på hjul 1 til 4, og/eller på hjul 5 til 8, eller har Elvis Gullplatesymboler på hjul 9, 10 og 11, vinner man 5 gratisspinn. Dersom man har tre like symboler på hjul 1 til 4, og/eller hjul 5 til 8, i tillegg til Elvis Gullplatesymboler på hjul 9, 10 og 11, vinner man hele 20 gratisspinn. Man får også en bonusutbetaling på 100x innsatsen. Gratisspinnene kan gjenutløses dersom man får minst tre Gullplatesymboler mens man spiller med gratisspinn. Da får man fem nye gratisspinn for hvert nye Gullplatesymbol som dukker opp på hjul 9, 10 og 11. Symbolene på hjul 1 til 4 og/eller 5 til 8 som utløste gratisspinnene, blir værende på samme posisjon gjennom alle gratisspinnene. Det kan også dukke opp større symboler som dekker to rader og to hjul på de små automatene. Disse symbolene hjelper til å øke vinnersjansene. Før man kommer til gratisspinnene, dukker Jukeboxinnslaget opp. En klassisk jukebox deler ut pengepremier og ekstra gratisspinn. Spilleautomaten har fire veldig kjente Elvis-sanger (Hound Dog, Blue Suede Shoes, Big Hunk O'Love og Teddy Bear). Man kan vinne inntil 5x innsatsen i denne runden. Hvis man får Elvis-sangen Hound Dog, kan man vinne 25 ganger innsatsen, og 10 ekstra gratisspinn.
Tålmodighet lønner seg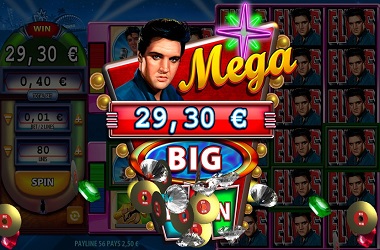 Elvis The King kan virke som en komplisert spilleautomat, men når man først kommer i gang, er den ganske enkel å forstå. Man kan også prøve automaten som gratisspill og lære seg hvordan den fungerer før man spiller med ekte penger. Spillet er svært variabelt. Det betyr at gevinstene kan bli veldig store, men at utbetalingene kommer sjeldnere. Når man spiller på en variabel spilleautomat, må man være tålmodig. Man risikerer å tape ganske mye før man vinner, derfor bør man satse et beløp man har råd til å tape, og heller spille mange spinn med lav innsats, i stedet for å spille bare noen få spinn med høy innsats. Dersom man bare spiller noen få spinn, er det ikke sikkert man rekker å vinne noe som helst. Dersom man tar seg tid til å spille litt flere spinn, har man større sjanse til å vinne igjen noe av innsatsbeløpet.
Oppsummering
Elvis The King Lives er en fin spilleautomat, som helt sikkert passer for alle musikkelskere. Så sant man tilpasser innsatsbeløpet etter egen lommebok, passer automaten for de fleste. Man må bare huske å være tålmodig, ettersom gevinstgivende kombinasjoner kommer opp relativt sjelden.