Williams Interactive er det spillutviklerselskapet som har laget slotspillet Fire Queen. De har gjort noe utenom det vanlige når det gjelder deres slotspill nå når de har laget Fire Queen. Det er en mystisk følelse over det hele, og dette er et helt annerledes slotspill som kommer fra dem. De har virkelig tenkt utenfor boksen de har skapt dette slotspillet, og det ser ut som de har gjort noen riktig gode valg. I Fire Queen finner man som sagt et mystisk tema og flere ulike spesialfunksjoner, som man kun finner i slotspill fra Williams Interactive. I tillegg finner man et hjuloppsett som også er utenom det vanlige. Det er mye nytt å se når man begynner å spille Fire Queen.
Tema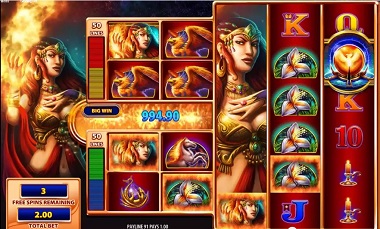 Temaet i spillet Fire Queen er gitt over til mystisismens grep. Det er en mystisk kvinne som er hovedkarakteren i spillet, og selv om det ikke er helt klart hva slags andre evner denne kvinnen har, så er det én ting som er sikkert – og det er at hun kan håndtere ild. Spillet omhandlet kvinnens evner rundt ildbruk, og det er mye ild og flammer å se underveis i spillet. Det er også kvinnen selv som er spillets wildsymbol, der man faktisk får se at hun bruker sin evne. Symbolene som man finner i spillet er så klart tilpasset spillets mystiske tema. Her kan man blant annet se en mytisk fugl som minner om Fugl Føniks, en hest med brennende man, en vakker og eksotisk lilje og en lilla edelsten som er omringet av gull.
Grafikk og lyd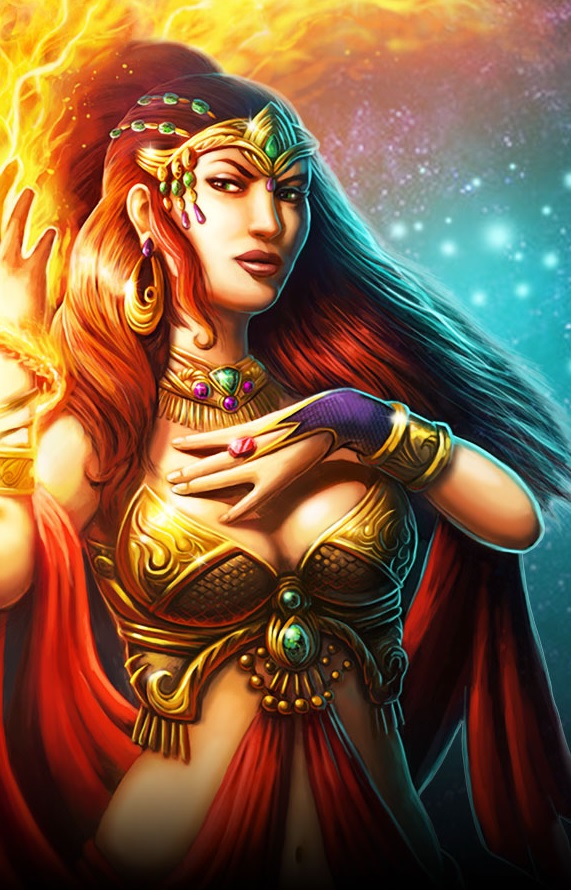 En ting som kommer tydelig frem i dette slotspillet fra Williams Interactive er det at de begynte sin utvikling av spill med sikte på ekte kasinoer. Dette kommer tydelig gjennom i grafikken i Fire Queen, og spillet har så god grafikk at man får den gode følelsen av å være på et ekte kasino. Grafikken er klar og tydelig, og har virkelig fanget spillets tema, noe som gjør at dette skinner klart gjennom. Symbolene er alle godt utviklet, og tar spillets tema til et høyere nivå. Lydbildet som er lagt på spillet passer til den mystiske stemningen og skaper en helhet i hele spillet.
Spille disse online casino
Oppsett og innsats
Oppsettet i Fire Queen er noe litt utenom det vanlige når det kommer til slotspill. Man finner totalt 11 hjul, som da er fordelt over tre hovedhjul. De er oppdelt slik at på de to hovedhjulene finner man fire hjul på hver. Det siste hovedhjulet har tre kolonner med symboler, som er fordelt over seks rader. Når man da begynner å legge sammen alle innsatslinjene som finnes totalt, så ender man opp med hele 100 stykker. Når det kommer til innsatsen i spillet er det flere ting man må tenke på. Innsatslinjene er faste, det vil si at man ikke kan justere antallet aktive innsatslinjer når man spiller. Innsatsen velger man ved at man justerer hvor mye man ønsker å satse per to linjer i spillet. Denne innsatsen kan ligge på mellom 0,01 og opp til 2 euro. Det vil si at den totale innsatsen per runde kan ligge på mellom 0,50 euro og opp til 100 euro. Hvis man ønsker å justere innsatsen mer nøye, kan man faktisk velge å gjøre det. I Fire Queen kan man justere innsatsen selv helt ned til en eurocent. Hvis man syntes at det er vanskelig så kan man bare benytte seg av de forhåndsbestemte innsatsnivåene.
Spesialfunksjoner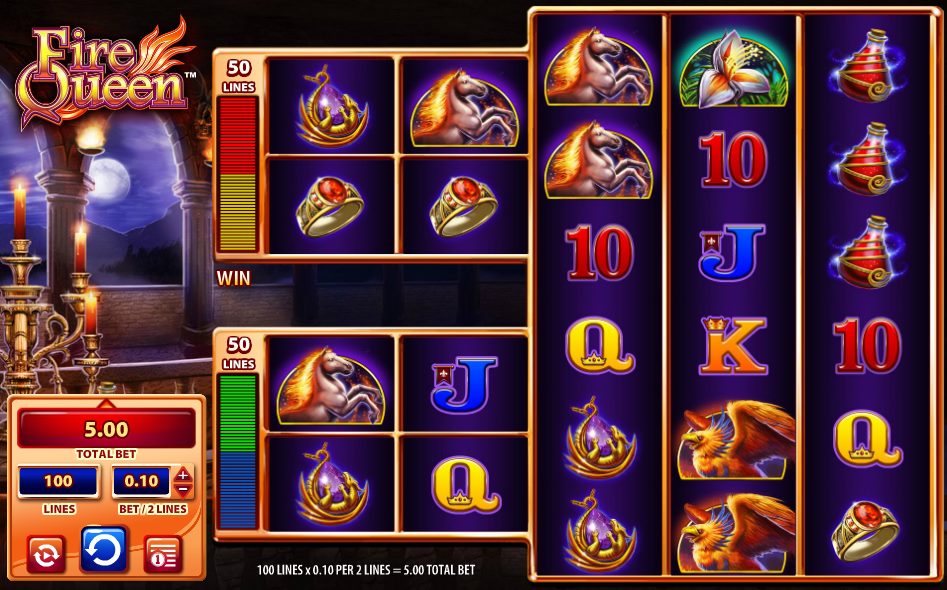 I Fire Queen så finner man to forskjellige spesialsymboler, i tillegg til gratisspinn som kan aktiveres. Wildsymbolet er i form av den mystiske kvinnen og den fungerer som en joker. Det vil si at det er dette symbolet som kan erstatte alle andre symboler, bortsett fra scattersymbolet. Wildsymbolet kan bli duplisert på hjulene. Det vil si at hvis man får et wildsymbol på et av de to hjuloppsettene til venstre, så vil dette wildsymbolet dupliseres på hjuloppsettet som er på motsatt side. Når dupliseringen skjer vil man se en flott animasjon som er lagt på spillet. Det er også mulig å få stablede wildsymboler i spillet, men det gjelder kun på hjul 9, 10 og 11. Stablede wilds er wildsymboler som bygger seg oppå hverandre slik at man kan ende opp med et hjul som kun er dekket med wildsymboler. Scattersymbolet er det andre spesialsymbolet i spillet. Den er i form av en ildkule som svever rundt i en glasskuppel og det er dette symbolet som kan aktivere gratisspinnene. Scattersymbolet kan kun dukke opp på hjul 9, 10 og 11, og man kan få opp til fem gratisspinn.