Hvem har vel ikke ønsket å blande fotball med karneval? I dette spillet har man sjansen til det. Spillet er selvsagt inspirert av fotball-VM i 2014, som ble arrangert i Brasil, og automaten byr på skikkelig sambastemning. Spillet har fem hjul, tre rader og 50 gevinstlinjer, og automaten er utviklet av Playtech. Playtech lanserte spillet før VM, og de var langt fra den eneste spillutvikleren som lanserte nye fotballinspirerte spill i forbindelse med fotball-VM. Alle ville gjerne ha sin del av kaka under arrangementet. VM-følelsen blir gjenskapt i Football Carnival, og alle som liker fotball og spill setter pris på fotballrelaterte spilleautomater. Derfor lokket nok dette spillet til seg mange fotballinteresserte under VM. Spillets bakgrunnsbilde viser den berømte Kristus Frelseren-statuen (Cristo Redentor på brasiliansk portugisisk) og utsikten over Rio. Dette bildet er også et av de stablede symbolene som dukker opp i selve spillet.
Grafikk og innsatser
Spillets grafikk er helt grei. Myntverdien kan justeres fra 0,01 til 1,00. Spillets gevinstlinjer er faste. Det betyr at man ikke kan velge hvor mange linjer man vil aktivere. Den eneste måten man kan justere innsatsen på, er å velge myntverdi.
Symboler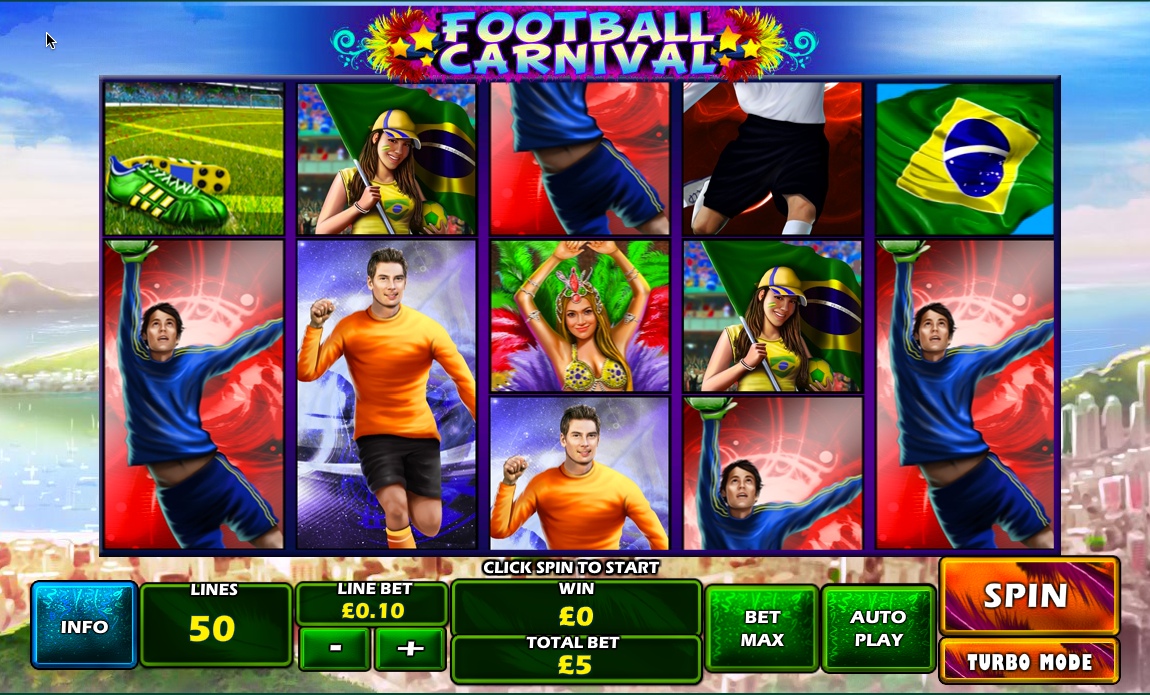 Symbolene i spillet inkluderer kvinnelige fotballsupportere, sambadansere, fotballspillere og andre ting man forbinder med fotball og Brasil. Spillet har seks stablede symboler. Disse symbolene dekker to posisjoner hver. Fire av symbolene viser fotballspillere. Det femte symbolet viser Kristus-statuen i Rio, og det sjette symbolet viser et fotballstadion.
Spille disse online casino
Spesielle symboler

Jokersymbolet er den gule og grønne fotballen. Dette symbolet kan erstatte andre symboler for å fullføre vinnerrekker. Jokersymbolet kan ikke erstatte spredte symboler. Når man spiller med gratisspinn, får man et ekstra jokersymbol, noe som gjør at vinnersjansene øker. Det ekstra jokersymbolet er et brasiliansk flagg. Spillets logo er et spredt symbol. Det betyr at symbolet teller med uansett hvor på skjermen det dukker opp. Med minimum tre slike symboler hvor som helst på spillskjermen, vinner man gratisspinn.
Gevinster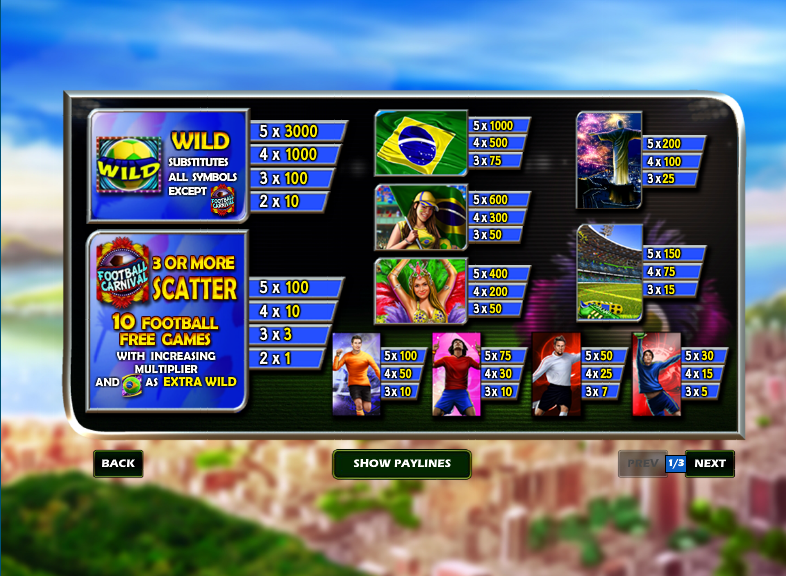 Jokersymbolet gir 3.000 mynter for fem like. Både det spredte symbolet (spillets logo) og jokersymbolet gir gevinst for bare to like. De spredte symbolene trenger ikke å være på samme linje for å gi gevinst. Fem spredte symboler hvor som helst på hjulene betyr at man vinner 100 mynter. Flagget gir 1000 mynter for fem like. Den kvinnelige fotballsupporteren gir 600 mynter for fem like. Sambadanseren gir 400 mynter for fire like. Kristus-statuen gir 200 mynter for fem like, fotballstadionet gir 150 mynter for fem like. De fire fotballspillerne deler ut spillets smågevinster. Man finner en komplett oversikt over symbolene og gevinstene dersom man leser spillets utbetalingstabell.
Spillets detaljer
Det kan være vanskelig å vinne storgevinster i dette spillet, men smågevinstene deles ut desto oftere. Spillet er lite variabelt. Det betyr at man vinner smågevinster forholdsvis ofte. Spillets utbetalingsprosent ligger på 91,32 %, noe som er veldig lavt sammenlignet med de fleste andre nettbaserte spilleautomater. Alle vinnerrekker må starte ytterst til venstre, og spillerne vinner bare én gevinst per linje.
Gratisspinn

Tre eller flere av spillets logoer betyr at man vinner 10 gratisspinn med voksende multiplikator. Man starter med 2x multiplikator, og for hvert andre spinn, går øker multiplikatoren med 1x. De to siste gratisspinnene spilles med 6x multiplikator, og det er under gratisspinnene man har størst sjanse til å vinne større gevinster. Det dukker også opp ekstra jokersymboler (flagg) under gratisspinnene. Gratisspinnene kan ikke gjenutløses mens man spiller med gratisspinn. De ekstra jokersymbolene erstatter alle vanlige symboler, men de erstatter ikke spillets logo. Gratisspinnene er spillets eneste bonusinnslag. Det er ingen bonusspill. Det kan ta litt tid å komme til gratisspinnene, og de utløses ikke spesielt ofte. Men når man vinner gratisspinn, har man i hvert fall muligheten til å få litt større gevinster.
Oppsummert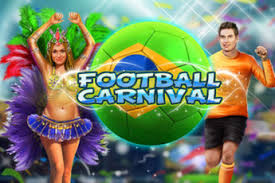 Football Carnival er verken nyskapende eller annerledes, men spillet passer likevel godt for alle som liker fotball. Spillet ble lansert i forbindelse med fotball-VM i Brasil, og bærer selvsagt preg av det. Stemningen i spillet er god, og de stablede symbolene tilfører spillet noe ekstra. Man kan vinne gratisspinn med voksende multiplikator, men spillet har ingen andre ekstrainnslag. Spillets grafikk er helt grei, musikken er også god, og spillet prøver å skape en morsom stemning. Det er først og fremst den morsomme stemningen som skiller dette spillet fra alle de andre fotballinspirerte spilleautomatene. Her er det fest og sambadans, og den gode stemningen kan smitte over på spillerne. Spillets utbetalingsfrekvens er ikke så verst, men utbetalingsprosenten er veldig lav sammenlignet med mange andre spilleautomater på nettet. Dette trekker ned. Det er også vanskelig å vinne store gevinster. Alt i alt er dette et helt greit fotballinspirert spill.