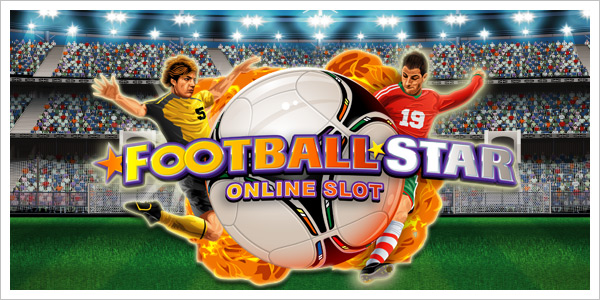 Football Star ble utviklet av Microgaming, og spillet ble lansert i mai 2014. Lanseringen skjedde noen uker før fotball-VM, på et tidspunkt da mange spillere lette etter fotballrelaterte videoautomater. Selv om spillet handler om fotball, møter man ikke de store fotballstjernene. Men det er heller ikke nødvendig for å lage et bra spill. Spillet har god stemning, og bakgrunnen er formet som et fotballstadion. Football Star har fem hjul, tre spillelinjer, og man kan vinne på 243 måter. Man har også muligheten til å vinne flere ganger på rad. Automaten har ingen bonusspill, men det er et par spennende innslag.
Grafikk og innsatser
Grafikken i Football Star er relativt enkel, spesielt ettersom det er et helt nytt spill. Men symbolene er fargerike, og spillets helhet skaper en fin stemning som fører tankene til et fotballstadion. Spillerne kan velge myntverdi fra 0,01 til 0,10, og totalinnsatsen er mellom 0,50 og 50 euro per spinn. Disse innsatsene passer fint for spillere med små og middels store spillbudsjett, men storspillerne synes kanskje at maksimumsinnsatsen er litt lav. Spillets utbetalingsprosent er 96,5 %. Dette er den gjennomsnittlige utbetalingen over tid. Utbetalingsprosenten kan variere for hver spillsesjon. Noen ganger kan spillerne vinne mer, andre ganger kan de tape mer.
Symboler og gevinster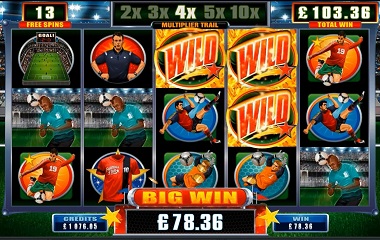 Symbolene i denne videoautomaten er naturligvis hentet fra et fotballstadion. Både fotballspillere, stadioner, fotballstøvler, dommere og andre fotballrelaterte symboler fyller hjulene. Jokersymbolene kan være stablet, det betyr at de kan dekke to eller tre posisjoner på hjulet, og dette gir ekstra gode vinnersjanser. Jokersymboler kan erstatte andre symboler. Med to like, og et jokersymbol, får man gevinst som man ville fått for tre like. Jokersymbolene kan bare dukke opp på hjul 3, 4 og 5, altså de tre hjulene lengst til høyre. Alle vinnerrekker må starte på hjul 1, og man får bare utbetalt den største gevinsten per linje. Spillets utbetalingstabell gir en oversikt over symbolene og hvor mye man vinner for henholdsvis tre, fire og fem like. I spillets utbetalingstabell får man også en forklaring på hvordan spesialsymbolene fungerer.
Spill på disse online casinoene
Spillets spredte symbol er en glødende fotball. Disse symbolene teller med uansett hvor på spilleskjermen de er. De trenger ikke å være på samme gevinstlinje. Antall spredere man får, avgjør hvor mange gratisspinn man vinner. Tre spredte symboler betyr at man vinner 15 gratisspinn. Fire spredte symboler på skjermen betyr at man vinner 20 gratisspinn, og fem spredte symboler gir spillerne 25 gratisspinn.
Striking Wild og ekstra vinnersjanser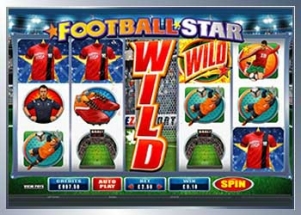 Football Star har også et spesielt jokersymbol som kalles Striking Wild. Dette innslaget dukker opp tilfeldig, og når det skjer, kommer en fotballspiller inn på spillskjermen. Han endrer et tilfeldig hjul til et jokerhjul, og spillerne er samtidig sikret en gevinst. Hvor stor gevinsten blir, er selvsagt tilfeldig. Striking Wild dukker i gjennomsnitt opp hvert trettiende til femtiende spinn, så man kan måtte spille noen spinn før dette innslaget kommer.
Symbolene i vinnerrekkene forsvinner, og symbolene som ligger over, faller ned på de tomme posisjonene. Dette gjør at man kan få flere vinnerrekker på rad, på samme spinn. Hvis symbolene som faller ned også danner en vinnerrekke, skjer det samme igjen. Vinnersymbolene forsvinner, og nye symboler overtar plassene deres. Toppgevinsten er på 105 705 mynter.
Gratisspinn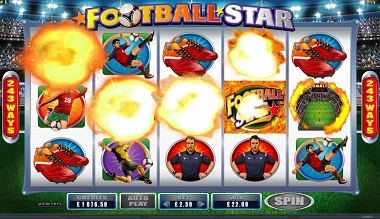 Spillerne kan vinne inntil 25 gratisspinn i Football Star, men som regel vinner man færre. Gjennomsnittet er 15 gratisspinn. Under gratisspinnene deles det ut multiplikatorer. Spillerne kan få inntil 10x multiplikator, som betyr at gevinstene man vinner under gratisspinn kan bli inntil ti ganger større enn gevinstene i det vanlige grunnspillet. Vinnerrekkene forsvinner også under gratisspinnene, og gir spillerne muligheten til å vinne flere ganger på rad.
Når gratisspinnene starter, starter multiplikatoren på bunnen av en skala. Hver gang man vinner under gratisspinnene, øker multiplikatoren. Skalaen har seks trinn, som gir spillerne 1x, 2x, 3x, 4x, 5x, og 10x multiplikator. For å komme opp til 10x multiplikator, må man altså vinne fem ganger på rad. Dersom man ikke vinner under et gratisspinn, starter skalaen på bunnen igjen.
Oppsummering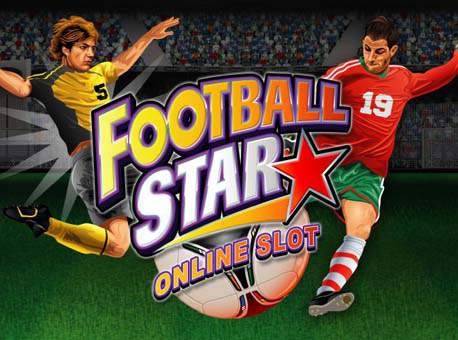 Hjulene i Football Star spinner litt langsommere enn i de fleste spilleautomater, og gevinstene er ganske små. Det er ingen jokersymboler på de to første hjulene, og dette gjør vinnersjansene litt lavere. Det gjelder å være tålmodig dersom man vil vinne litt større gevinster i dette spillet. De stablede jokersymbolene og Striking Wild gir brukbare gevinster. Football Star er det perfekte spillet dersom man liker fotball. Innsatsnivåene er relativt lave, slik at også hobbyspillerne har råd til noen spinn. Football Stars har en enkel grafikk, men spillets stemning er god.