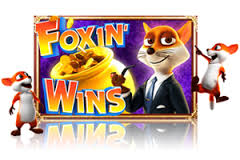 Hvis man skal tenke seg en perfekt partner i en videoslot, hva hadde det vært? Kanskje en rev, som er flink til å liste seg av gårde og er en liten tyv om den vil. Reven er jo kjent for å være en lur liten figur, og den er sjelden redd for å stjele til seg det den vil ha. Med andre ord så høres det jo ut som at reven burde være en perfekt partner å ha med seg når man spiller i en videoslot. Derfor kan det sies at NextGen Gaming har virkelig valgt et bra tema i deres nye spill Foxin' Wins, for her spiller man side om side med en rev, og sammen kan det hende at man klarer å "lure" av kasinoet noe penger. Spillet har mye action å tilby og man har sjelden et ledig sekund når man først har satt i gang spillet.
Tema og grafikk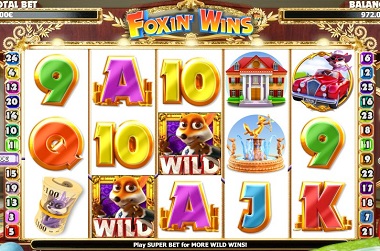 Tema i spillet er kanskje ikke soleklart med en gang man begynner å spille, men takket være de flotte animasjonene og de ulike bildene som finnes i spillet så forstår man jo fort at det er reven man skal samarbeide med. Sammen med reven skal man må jakt etter nok penger til å kunne bo på en herregård. Når pengene er fanget blir man som spiller invitert med inn i herregården, og der får man en smakebit av pengene og rikdommen. Grafikken er den som virkelig løfter spillet Foxin' Wins. Hadde det ikke vært for grafikken så kunne man nok ikke engang gjettet seg til hva temaet i spillet egentlig er. Grafikken er glad og fargerik og gir et generelt godt inntrykk. Symbolene er litt mer nedprioriterte, men skinner likevel gjennom i spillet. Det er jo tross alt kjent at NextGen Gaming heller jobber med å skape kjappe og morsomme slotspill enn spill med mystiske historier eller med dype historier rundt seg. Dette kjennetegnet skinner godt gjennom i dette spillet også. Når det kommer til lydbilde og lydeffektene i spillet så er det litt på samme måte. Man finner et greit lydbilde i løpet av spillet, men det skiller seg ikke ut på noe vis. Det virker som det bare er der for at det ikke skal være helt stille når man spiller. Lydeffektene skiller seg da litt mer ut, og får virkelig godkjent for å bidra til å bidra med noe litt mer spennende i spillet.
Oppsettet og innsatsene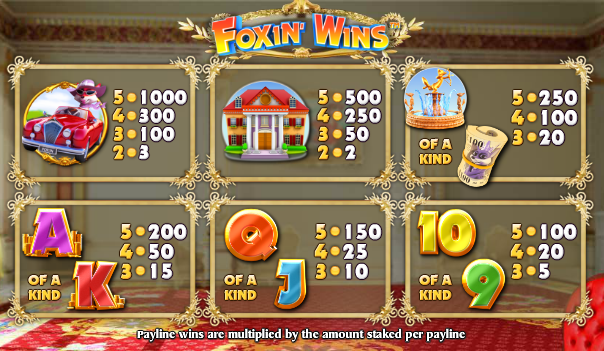 Oppsettet i spillet er på fem hjul, og til sammen har man 25 innsatslinjer. Alle innsatslinjene er faste i Foxin Wins, det vil si at man som spiller ikke kan regulere antallet underveis i spillingen. Alle de 25 innsatslinjene må være aktive for å spille. Det man kan regulere er så klart innsatsen man ønsker å ha i spillet. Innsatsen per linje har fått et minimum og et maksimum man må forholde seg til. Den ligger på minst 0,10 kr per linje og på det meste kan man satse 20 kr per linje. Det vil si at den totale innsatsen som er mulig i en spillerunde ligger på maks 500 kr og hvis man spiller med laveste så ligger den på 2,50 kr.
Spille disse online casino
Spesialeffektene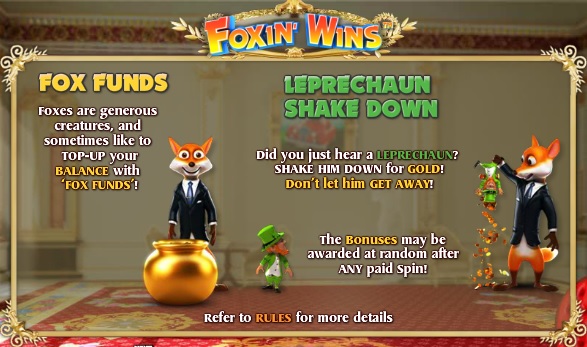 Det er flere ulike spesialfunksjoner i spillet Foxin' Wilds. Man har blant annet et gratisspinn-spill som blir aktivert via scattersymbolene i spillet. For å aktivere gratisspinnene må man få tre eller flere av disse symbolene på hjulene. Symbolene trenger ikke være på hjul som er inntil hverandre for å få aktivert gratisspinnene. Når man får aktivert disse rundene vinner man også automatisk en pengegevinst. Underveis i gratisspinnene blir alle gevinstene man får doblet og man vil se at i rundene vil det dukke opp flere wildsymboler på hjulene, noe som også øker sjansen for gode gevinster. I tillegg til gratisspinn rundene så finner man to tilfeldige bonuser som kan bli aktivert i spillet. Den ene heter Revefondet og den andre heter Rist ut gullet. Det finnes ikke noe måte å aktivere disse rundene på, de blir aktivert helt tilfeldig. Så det er med andre ord bare å håpe på at man har litt flaks og at de blir aktivert.
Oppsummering

Når det gjelder gevinster i disse to ulike bonusspillene, så får man tildelt ulike pengegevinster underveis. Disse er også tilfeldige, akkurat som bonusspillene i seg selv. Det gjelder å ha mye flaks med seg i Foxin' Wins, og har man det så er det god sjanse for at man kommer til å være fornøyd med gevinstene man får i løpet av spillet, så det er bare å krysse fingerene. Med grei grafikk, hyppige animasjoner og flere bonusattraksjoner er dette et spill som kan være god underholdning for de som koser seg med morsomme spilleautomater.