Net Entertainment er jo et velkjent navn innen online gaming og slotspill, og det er sjelden at denne spillutvikleren svikter sine trofaste følgere. Det nyeste spillet de har kommet med heter Frankenstein, og det er veldig mye i dette spillet som man kjenner igjen eller ser på som kjennetegn fra Net Entertainment. Det kan være alt fra grafikken til lydbildet til det originale og spesielle temaet som er valgt til spillet.
Tema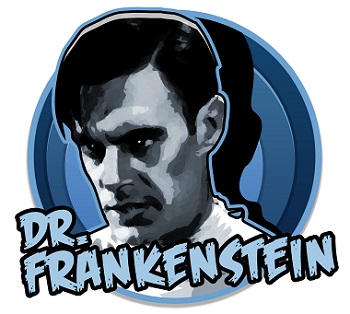 Alle disse tingene finner man i dette nye slotspillet som heter Frankenstein. Det er et originalt tema til tross for at det er et ganske kjent navn, og det har en utrolig bra grafikk og lyd – og det er tydelig at Net Entertainment ikke svikter denne gangen heller. Temaet er basert på historien om Frankenstein, som originalt var en bok av Mary Shelley. Det er også blitt laget flere filmer som har hatt Frankenstein som tema, så det skulle vel egentlig bare mangle at det endelig kom et slotspill ut på markedet med dette populære temaet i fokus. Det er tydelig at slotspillet Frankenstein er så godt utviklet at spillerne kommer til å være underholdt i mange mange timer. Her er det mye å få med seg.
Oppsett og innsats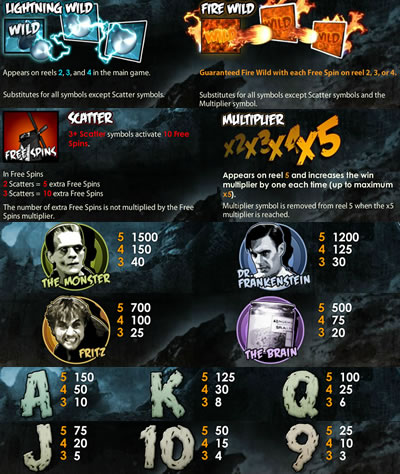 Oppsettet i spillet Frankenstein er ganske klassisk. Man finner totalt fem hjul og til sammen 20 innsatslinjer. Som spiller av Frankenstein er det en god del man kan tilpasse selv, slik at innsatsnivåene blir liggende akkurat der man ønsker. Innsatslinjene kan tilpasses slik at ikke alle er aktive under spillingen. Det er opp til spilleren hvor mange av dem som skal være aktive. Innsatsen kan også tilpasses så lenge man følger minimums- og maksimumsnivåene som er satt fra før av i spillet. Myntverdien i spillet kan ligge mellom 0,01 og opp til 0,50. Dette bestemmer spilleren før spillet starter. Antall mynter som kan satses per linje ligger mellom 1 og opp til 10 kreditter. Hvis man da legger sammen den totale innsatsen i en runde så kan man spille for maksimalt 100 kreditter i en runde, hvis man spiller med alle innsatslinjene aktivert og med maks innsats. Innsatsnivåene i spillet passer både til spillere som vil spille med lav innsats og for de spillerne som ønsker å spille med en litt høyere innsats.
Spille disse online casino
Grafikk og symboler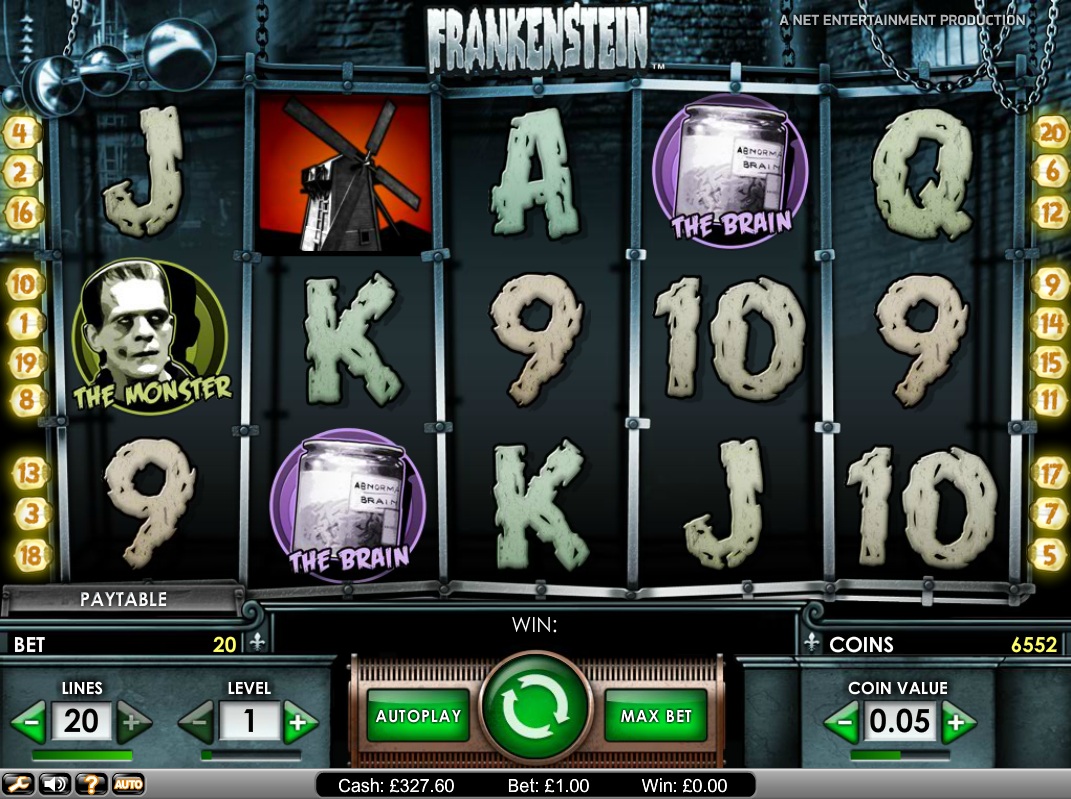 Som Net Entertainment er velkjent for, er grafikken i spillet helt optimal. Den er utrolig godt utviklet og gjennomført med temaet, og skaper et godt grunnlag for et spill som kommer til å falle i smak hos mange. Lydbildet som er lagt på spillet er godt utformet i forhold til temaet i spillet, og det skaper en slags dramatikk over det hele. Det passer jo veldig godt til temaet Frankenstein, da det var en ganske så dramatisk historie. På hjulene har man jo så klart mange ulike symboler. Symbolene er utformet i forhold til temaet i spillet, og man finner blant annet en hjerne, et monster, assistenten Fritz – og så klart et symbol som er av Frankenstein selv. I tillegg til disse symbolene så finner man symboler som er tatt fra en klassisk kortstokk. Det er de høyeste symbolene i kortstokken som er med i spillet, og disse er også designet slik at de skal passe inn i tema.
Spesialeffektene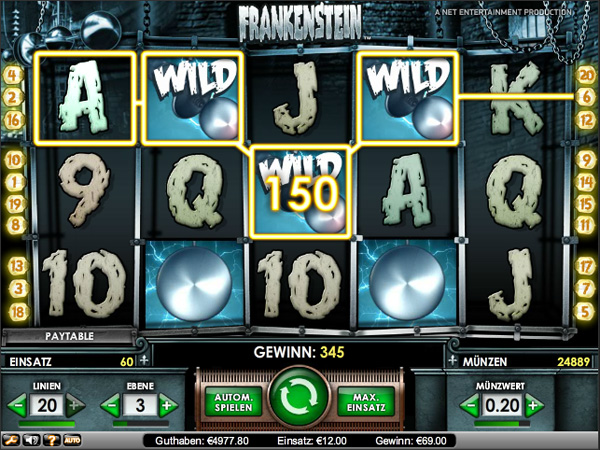 Spesialfunksjoner er det mange av i spillet. Man finner blant annet to ulike wildsymboler, scattersymboler, gratisspinn og en multiplikasjonsfunksjon. Wildsymbolene finnes det to av, og den ene er Lightning Wild, som kun dukker opp på hjul 2,3 og 4. Lightning Wilds dukker kun opp i de normale rundene, og forvandler de to nærmeste symbolene om til wilds. Det andre wildsymbolet heter Fire Wild, og den fungerer på akkurat samme måte som Lightning Wild – bare at dette kun dukker opp under gratisspinnene. Fire wildsymboler er garantert å dukke opp under hvert spinn i gratisrundene, og de dukker kun opp på hjul 2,3 og 4. Begge wildsymbolene fungerer som jokere, slik at de kan erstatte andre symboler, men de kan ikke erstatte scatter eller multiplikatorsymbolene. Symbolet av Frankenstein er scattersymbolet i spillet og det er denne som aktiverer gratisspinn. Hvis man får en kombinasjon på tre eller flere slike symboler vil man få tildelt 10 gratis runder. Under gratisrundene får man en multiplikasjonsfunksjon som dukker opp på hjul 5, og denne øker for hver runde. På det meste kan denne funksjonen gange gevinsten man eventuelt får med fem. Man kan reaktivere flere gratisrunder underveis i gratisspinnene. Hvis man får en kombinasjon på to scattersymboler så får man tildelt fem nye gratisspinn.
Totalt sett
Nok en vinner fra NetEnt, i form av et velkjent tema med en underholdende vri – og som alltid av høy kvalitet. Uansett om du foretrekker å strekke myntene så langt det går, eller elsker å satse høyt, kan dette spillet være verdt et besøk. Grafikk og lyd er utrolig vellaget, og alt satt sammen gir en flott spilleopplevelse!