Om spillet
Net Entertainment har igjen laget et herlig lite frukt-spill med Fruit Shop. Her finner vi tre rader, fem hjul og totalt 15 innsatslinjer. Dette spillet baserer seg på den klassiske fruktmaskinen, men dette spillet har mer farger, flotte symboler og rett og slett står litt ut fra mange andre spilleautomater. Spillet er i tillegg en del av NetEnts Smart Range-familie, noe som betyr superkort lastetid – selvfølgelig uten at dette går ut over spillopplevelsen eller kvaliteten til slotmaskinen. Denne spillemaskinen er enkel, rask og god å spille på, ingenting å klage over fra NetEnts produksjon, noe som vi forventer basert på tidligere erfaringer med deres spill.
Symboler og funksjoner
Wildsymbolet består av spillets egen logo, og dersom wildsymbolet dukker opp i en gevinstgivende kombinasjon, får man også gratisspinn. Gevinstene man får i gratisspinn multipliseres alltid med to, og slik er det også dersom wildsymbolet dukker opp i gevinstgivende kombinasjoner i både hovedspillet og bonusrunden. Kirsebæret er et ettertraktet symbol, da disse utløser flere gratisspinn enn andre symboler. For to eller tre kirsebær får du ett gratisspinn, for fire kirsebær får du to gratisspinn, og får du alle fem hjulene dekket med kirsebær får du fem gratisspinn. For de andre symbolene er det tre like som gir ett gratisspinn, fire like gir to, og fem like symboler gir fem gratisspinn. Kun den høyeste gevinsten per aktive spillelinje, som i denne spilleautomatens tilfelle er alle, siden disse er faste og ikke kan velges, vil gi gevinst. Gevinstgivende kombinasjoner kan bare finnes fra venstre hjul og mot høyre.
Grafikk og tema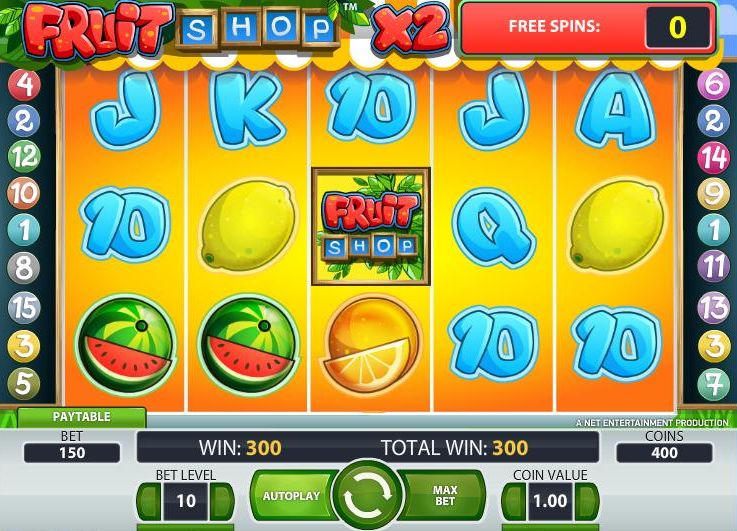 Tema er rett og slett frukt; appelsiner, plommer, sitroner, kirsebær og meloner, alle de herlige sommerfruktene i skjønn forening. Fargene er flotte, klare og lyse, og leder tankene til varme, late sommerdager, eller en frukthage i full blomst. Man får ekstraspinn hver gang man får en vinnende kombinasjon som har en frukt på gevinstlinjen. Dette startes umiddelbart, og bakgrunnen, som vanligvis er hvit, antar en solgul farge, og rammen rundt spillelinjene markeres rød. Øverst til høyre ser du en funksjonell rute som teller ned antall gratisspinn, slik at du alltid ser hvor mange som gjenstår å spinne. Etter dette lille (eller noen lykkelige ganger store) mellomspillet dukker det opp et felt med totalt antall gratisspinn spilt midt på spillehjulene og bakgrunnsfargen går tilbake til normal hvit igjen. Alt i alt kan man si at denne spilleautomaten gjør det godt på grafikk. På lydsiden er vi ikke spesielt imponerte, dog. Her finner man en utrolig irriterende bakgrunns-"dingelyd" som er nesten kontinuerlig. Lyden når man spinner hjulene og når man vinner en gevinst er helt greie, myke spillyder som man forventer på en slik maskin. Heldigvis er det mulig å slå av lyden, men for mange spillere tar dette bort en del av opplevelsen. Spillemaskinen burde rett og slett vært litt bedre gjennomtenkt når det kommer til bakgrunnslyder.
Spille disse online casino
Innsats og gevinst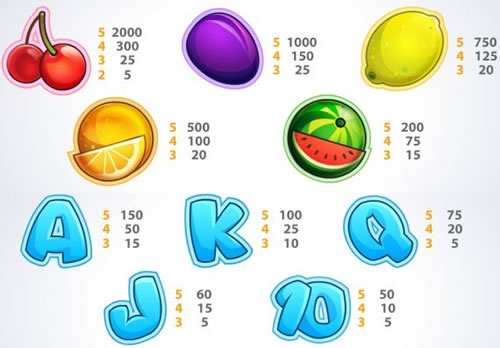 Denne spilleautomaten passer for stort sett alle, da man enten kan legge innsatsen ganske lavt eller relativt høyt, alt etter hvordan man foretrekker å spille. Maskimal innsats er 150 euro, og minste innsats er 0,15 euro.Gevinstene avhenger som alltid av innsatsen, og på denne automaten har en god spennvidde på dette området. Kirsebæret er som sagt det symbolet du vil se, det er i tillegg til den største gratisspinn-leverandøren også ansvarlig for de beste enkeltgevinstene. Får du fem av disse vinner du 2 000 mynter, og plommen gir halvparten av dette, 1 000 mynter ved fem like. Melonen betaler ut 200 mynter ved fem like, appelsinen gir 500 mynter og sitronen gir 750 mynter. De sedvanlige "kort"-symbolene, her representert ved 10-A i store, "fluffy" bokstaver, gir de laveste gevinstene med sine 50-150 mynter per fem like.
Konklusjon
Denne spilleautomaten virker kanskje litt kjedelig og rett frem, men det er bare til den begynner å strø sine godbiter over skjermen. Da tar både gevinster, multiplikatorer og gratisspinn helt kontroll over slotmaskinen, og du trenger bare å nyte synet av innkommende mynter og gratisrunder! Det er i praksis ingen begrensning for hvor mange gratisspinn du kan få, siden spilleautomaten også tillater at gratisspinn akkumuleres under gratisrunder. Og husk at wildsymbolet gir dobbel utbetaling, samt at gratisspinnene alltid kommer med en 2x multiplikator – og dette gir gode muligheter for store gevinster. Morsom spillemaskin, uten tvil, men bakgrunnslydene er ingenting å skryte av, og de burde ha gjort en bedre jobb på dette området. Og med gevinstmulighetene skulle denne spilleautomaten passe greit for både småspillere og medium satsere. Antakelig vil ikke storspilleren synes at innsatsene og gevinstene er store nok – men hvem vet? Kanskje er dette spillet med sine klare, tydelige farger og raske spinn en storfavoritt hos mange high rollers allerede…