Spillutvikleren Yggdrasil
Yggdrasil er et forholdsvis ungt selskap, men de har likevel hatt tid til å lansere flere spennende spill. Fruitoids er et av de nye spillene fra selskapet, og spillet kan prøves både på datamaskinen og på mobilen. Man kan teste ut automaten som gratisspill, eller man kan satse ekte penger. Yggdrasil har blitt kjent for god og klar grafikk, og bruk av sterke farger. Dette spillet er et godt eksempel på det.
Spillet har verken jokersymboler eller spredte symboler, derfor passer det best for spillere som foretrekker enkle automater. Spillet ligner på klassiske fruktmaskiner, men selv om det ikke er nyskapende, er det et godt valg for alle som liker fruktmaskiner. Musikken er sprudlende og passe sprø, og passer fint til de pussige symbolene som spinner rundt på hjulene. Spiller er en ekte humørspreder, og spillfølelsen er også veldig god.
Innsatser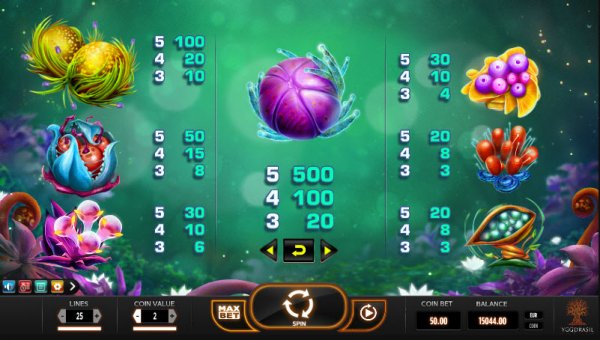 Fruitoids er ganske klassisk oppbygd, med fem hjul, tre symbolrader og 25 gevinstlinjer. Myntverdien kan stilles fra 0,01 til 2 euro, og spillerne kan selv velge hvor mange gevinstlinjer de vil aktivere. Minimumsinnsatsen er 0,01 euro per spinn, mens den største innsatsen er 50 euro per spinn. Som regel lønner det seg å aktivere flest mulig gevinstlinjer for å få flest mulig vinnersjanser.
Spill på disse online casinoene
Den lave minsteinnsatsen gjør dette til et rimelig spill, men man kan også prøve spillet med lekepenger før man satser ekte penger. Når man spiller med lekepenger kan man selvsagt ikke vinne ekte gevinster, men man kan teste ut spillet uten risiko, slik at man blir kjent med automaten før man eventuelt velger å spille med ekte penger. Gratisspill er en fin måte å teste ut spill på når man er nybegynner, eller dersom man leter etter et spill man har lyst til å satse penger på.
Symboler og gevinster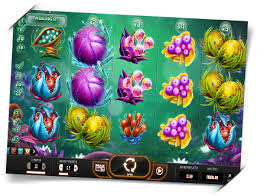 Fruitoids handler om frukt i verdensrommet. Dette temaet er både originalt og morsomt, og symbolene er iøynefallende. Fruktene suser rundt i galaksen, og spillerne skal prøve å få tre like frukter på rad. Vinnerrekkene må starte ytterst til venstre på skjermen. Når man får en vinnerrekke, blir disse symbolene stående i samme posisjon, mens hjulene spinner en ekstra gang. Det betyr at man har muligheten til å forbedre vinnerrekkene. Hvis en vinnerrekke forbedres med enda et symbol, blir dette også stående, mens hjulene spinner en gang til.
Med tre like symboler i samme kolonne, får man utdelt en multiplikator. Med tre like symboler på hjul 1 og 2, blir gevinstene multiplisert 2x. Tre like symboler på hjul 1, 2 og 3 betyr at gevinstene multipliseres 3x. Slik fortsetter det. Spillets teoretiske utbetalingsprosent er på 96,7 %. Den største gevinsten i grunnspillet er 500 mynter, men med multiplikatorer, kan denne gevinsten bli større. Spillet er ikke progressivt, men har en jackpot på 62 500 mynter.
Gratis omspinn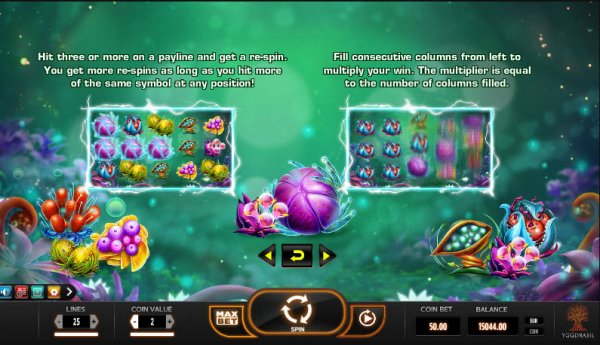 Utbetalingstabellen gir en oversikt over de ulike fantasifruktene, og viser hvor mye man kan vinne med 3, 4 eller 5 like av hver frukt. Dersom man får minst tre like, blir de like symbolene frosset fast, mens resten av symbolene spinner på nytt. Dersom man forbedrer vinnerreken, skjer det samme igjen, helt til vinnerrekken ikke blir forbedret. Da får man utdelt gevinsten man har vunnet.
Denne funksjonen koster ingenting ekstra. Gratis omspinn er ingen nyhet i spilleautomatenes verden, men dette er et ekstrainnslag som spillerne alltid setter pris på. I Fruitoids er omspinnene dessuten kombinert med en multiplikator. Dersom man klarer å fylle kolonner med det samme symbolet, multipliseres gevinstene. En kolonne går ovenfra og ned, og kolonnene må fylles fra ytterst til venstre. Dersom man klarer å fylle to kolonner med de samme symbolene (altså tre like symboler på begge de to første hjulene), dobles gevinsten, med tre kolonner, tredobles gevinsten, og så videre.
Oppsummering
Selv om spillet ikke byr på noe nytt, er spillfølelsen god. Spillet holder høy standard, og alle som liker fruktmaskiner bør prøve det. Spillet har ingen jokersymboler eller spredte symboler, og det har heller ingen bonusspill eller spesialinnslag. Spillet er enkelt og ukomplisert, og passer godt til nybegynnere. Spillerne kan også tilpasse spillets hastighet, og dette passer også for nybegynnere. Spiller som spiller mye, kan bruke autospinn. Da stiller man inn myntverdi og innsats, og velger antall spinn. Når man trykker på spinn, spiller automaten selv. Den glade musikken og de fargerike symbolene gjør dette til et oppmuntrende spill. Muligheten til å forbedre vinnerrekker ved hjelp av omspinn, gjør det litt ekstra spennende å få vinnerkombinasjoner. Yggdrasil har klart å lage et relativt enkelt spill som samtidig er både morsomt og annerledes. Perfekt for nybegynnere.