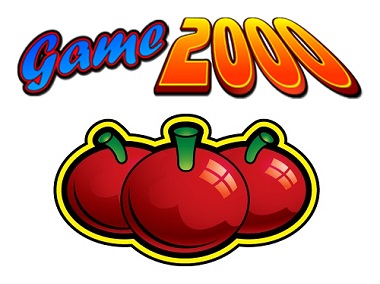 For de av dere som dagdrømmer om gode, gamle dager når man kunne valse inn på puben etter jobb og satse noen tiere på den lokale spilleautomaten – her får dere Game2000 fra Sheriff Gaming, som garantert vil vekke gode minner!
Temaet
Så fort man setter seg foran den fargerike spilleautomaten Game2000, vet man at bortglemte minner straks vil flyte opp igjen til overflaten. Det holder å bare titte raskt på Game2000 for å kjenne at det kribler i magen. Game2000 består nemlig ikke bare av èn, men to automater! Det blir nesten som å stå i en spillehall og nyte atmosfæren av håp og hell som ligger i luften. Game2000 er lagd i klassisk stil, med fargerike symboler og et rimelig enkelt design. Symbolene er også klassiske – de aller fleste spillere vil kjenne igjen mesteparten av disse. Røde kirsebær, gule sitroner, lilla druer, grønne vannmeloner, oransje appelsiner, bjeller og kroner i gull, plommer, firkløvere – hva mer kan be om? Bakgrunnen er mørk og man kan såvidt skimte en spilleautomat til på venstre side av vår maskin. Følelsen av å være i et kasino er så sterk på Game2000 at man kan nesten bli svimmel og glemme hvor man er! Sheriff Gaming er et ganske ungt selskap, men de har utviklet flere velgjorte spilleautomater de siste to årene – Game2000 kan lett sies å være deres aller beste skapning. Du finner ikke så mange heftige animasjoner og ei heller ingen bonusspill. Og det finnes ingen 3D-effekter, ei heller noen symboler vi er så vant med som wilds og scattere. Det er heller ingen gratisspinn å finne, og de yngste spillerne vil kanskje savne en fin bakgrunn og et skikkelig tema. De av oss som husker hvordan spilleautomatene var på sitt aller beste, rett før de ble forbudt i Norge, vil ikke bry seg det minste om de manglende moderne funksjonene på Game2000. Her handler det ikke om å være et supermoderne grafisk vidunder. Det handler om å ta et par steg tilbake og huske hvordan det startet, huske hvorfor spilleautomater ble så populære til å begynne med. Game2000 byr oss på nådeløs spenning uten å være en moderne spilleautomat. Om du vil gå litt tilbake i tiden og komme på grunnen til hvorfor man spilte på automater – da er Game2000 for deg. For handler det virkelig om 3D-grafikk og animasjoner? Nei, det handler om å ha det moro og vinne penger. Om å kjenne adrenalinet koke. Dette har Game2000 – en spilleautomat som de opprinnelige automatene var skapt.
Funksjonene og utbetalingen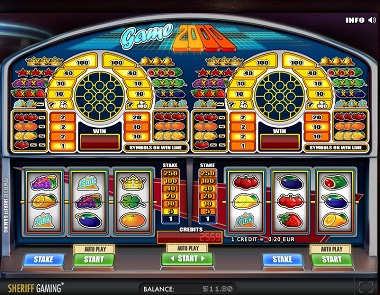 Det beste med de gamle spilleautomatene var at de alltid pøste på med penger. Folk kunne stå rundt en maskin i timevis og vente på at den skulle snu. Den spiste litt, og så ga den litt. Den tok og spyttet ut igjen. Mange timer kunne gå før man endelig fant ut om man hadde gått i minus eller pluss. Her har Sheriff Gaming også lykkes med å vekke til livs sommerfuglene i magen. Game2000 er enkel å forstå – midt på skjermen har du en Start-knapp som peker begge veier. Trykk på denne for å spinne begge skjermene samtidig, eller trykk på den Start-knappen som passer til hver side av automaten. Akkurat som i gamle dager, er det bare èn gevinstlinje over tre hjul. Du har muligheten til å satse 1 dollar per gevinstlinje, eller satse maksimalt og se 250 dollar spinne av gårde. Du kan vinne opp til 10 ganger pengene tilbake – altså 5000 dollar totalt etter å ha satset 250 dollar på hver skjerm. Utbetalingsraten ligger på 95,74%, som er minst dobbelt så høyt som de automatene vi hadde på Narvesen før i tiden. Det er bare fem knapper på maskinen – to for hver av skjermene og én i midten for å spinne begge. Man kan også finne en autoplay-funksjon, som er en herlig funksjon. Denne gjør livet lettere for de som ikke gidder å sitte og trykke hele tiden. Sett autoplay til 50 spinn, len deg tilbake og se minnene rulle forbi!
Spille disse online casino
Oppsummering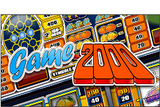 Ja, vi elsker denne automaten. Fargene, flyten, utbetalingene, det klassiske utseendet og de klassiske symbolene. De to skjermene man kan spille på samtidig gir Game2000 en utmerket atmosfære – setter man denne maskinen på fullskjerm vil man lett kunne forestille seg at man sitter på danskebåten og har flere automater gående samtidig. Med lave innsatser og høy utbetalingsrate er det vanskelig å tape, i hvertfall raskt. Nyt Game2000 en stund mens fortiden varmer hjertet og lokker frem et bredt smil. Sheriff Gaming har virkelig gitt oss en automat som vi kan glede oss til når vi er på vei hjem fra jobb om ettermiddagen.