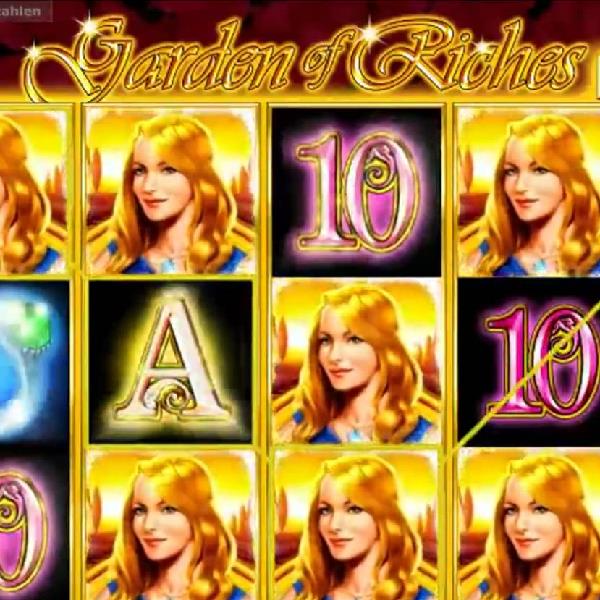 Tittelen på den aller nyeste spilleautomaten fra Novomatic er trollbindende fra først gang man hører om den. Spilleautomaten har fått tittelen Garden of Riches, som betyr kort oversatt Rikdommens Hage. Det er en virkelig flott tittel som tilsier at man har noe virkelig vakkert i vente, og så fort man begynner å spille Garden of Riches så forstår man at det er akkurat det man har foran seg. Novomatic, som er spillutvikleren som står bak denne herligheten, har virkelig stått på med utviklingen til denne spilleautomaten og de imponerer definitivt. Det er et virkelig flott tema man finner i Garden of Riches og det hjelper mye at temaet er utrolig godt presentert. Man har en flott spilleskjerm foran seg og det er en god grafikk, som virkelig løfter inntrykket av spillet. I tillegg så har man noen gode spesialfunksjoner som kan bli aktivert underveis, og det er med på å gi en enda bedre spilleopplevelse for spilleren.
Spillets gang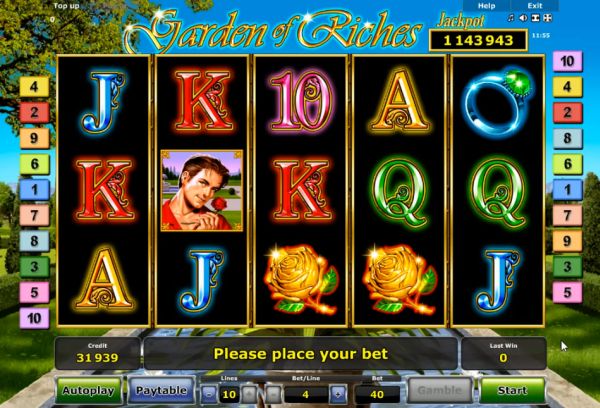 For å komme i gang med en spilleautomat så er det visse ting man må få justert først. Det er slik i alle spilleautomater at man på en eller annen måte må få justert innsatsen sin før man spinner i gang hjulene. Innsatsen og måten man justerer den på kan variere ut i fra hva slags oppsett man har i spillet. Novomatic har i Garden of Riches gått for et veldig klassisk oppsett innen spilleautomater. På spilleskjermen så finner man fem hjul, tre rader med symboler og over disse så har man 10 innsatslinjer. Oppsettet i seg selv er klassisk, til tross for et ganske lavt antall innsatslinjer. Likevel så er det slik at i Garden of Riches så kan spilleren justere det aller meste helt selv. Nederst på spilleskjermen så har man nemlig et oppsett med knapper og det er disse man bruker for å tilpasse innsatsen sin i spillet. Først og fremst så må man bestemme antall aktive innsatslinjer. Man kan til sammen ha 10 stykker, men man kan også velge å ha færre. Når man har gjort det så må man se på hvor mye man ønsker å satse per aktive innsatslinje. Det finnes en egen knapp for å justere dette. Til høyre for denne knappen så vil man se at man har en oversikt over hvor mye man satser totalt i en spillerunde. Når man er fornøyd med det så kan man enten velge å trykke på spinnknappen eller så kan man bruke auto play-knappen. Den gjør at spillet går av seg selv et bestemt antall runder.
Spilleskjermen og grafikken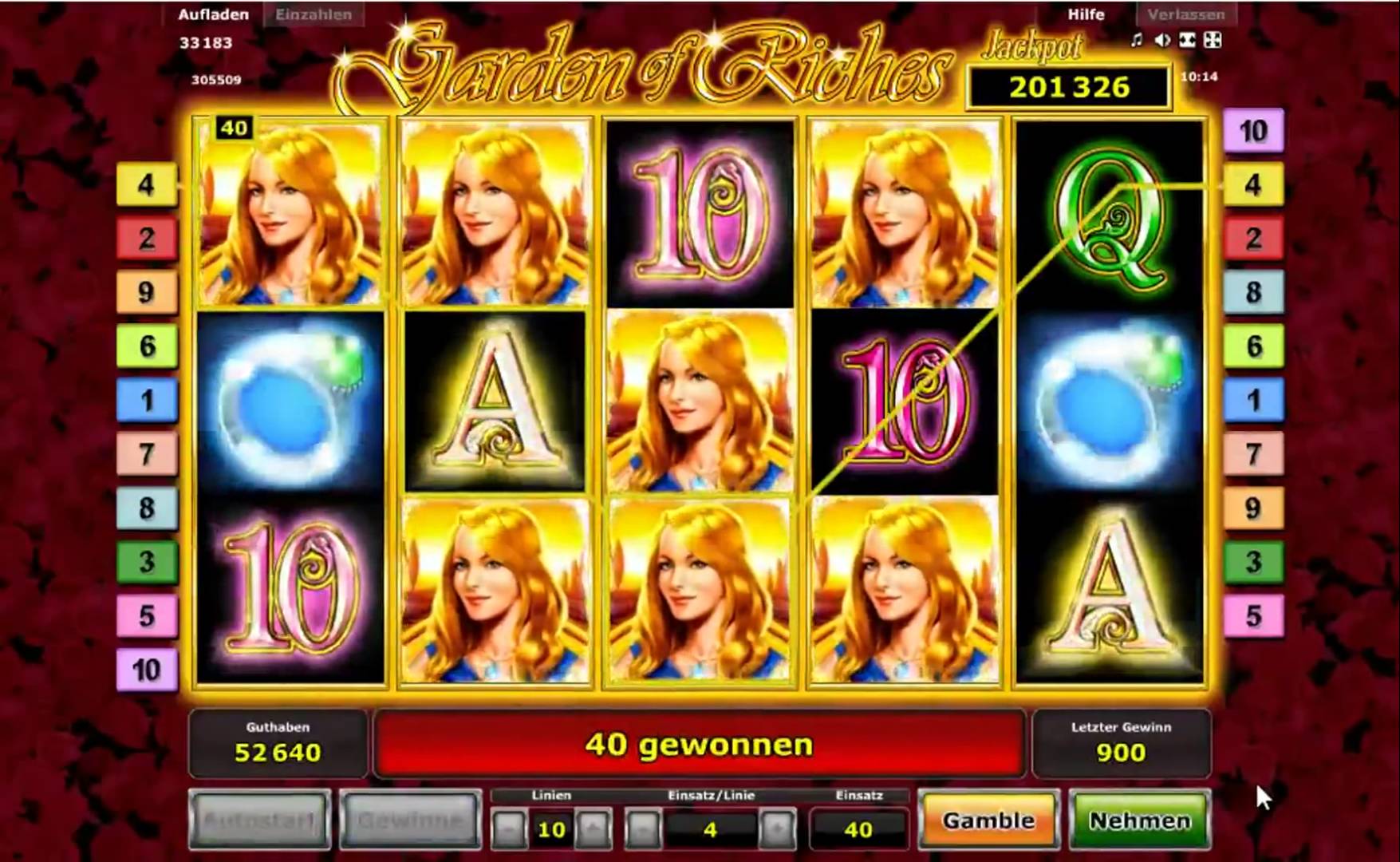 Spilleskjermen er det man sitter å ser på når man spiller på en spilleautomat og den gir et visst inntrykk av spillet. Novomatic har tydelig konsentrert seg om dette for spilleskjermen man finner i Garden of Riches er rett og slett litt imponerende. Det er flotte og rene farger som går godt sammen og det er tydelig en høy kvalitet på grafikken. Bakgrunnsbildet som man ser på spilleskjermen viser en nydelig hage. Det er tydelig at det er midt på sommeren, for alt er grønt og fint og det er en nydelig blå himmel som står over hagen. Det er en velstelt hage også, i alle fall ut i fra bildet man kan se. Nederst på bakgrunnsbildet, bak spillets hjul, så kan det se ut som det skjuler seg en nydelig fontene. På toppen av spilleskjermen har man spillets logo, som er formet i noen flotte gullbokstaver. Nederst på spilleskjermen så har man spillets knapper og midt i mellom der så finner man spillets hjul. Hjulene i spillet er laget med en sort bakgrunn, noe som står fint til de fargerike symbolene. Symbolene viser blant annet en vakker kvinne og en kjekk mann, i tillegg til en pute med en krone på og en nydelig rose. De resterende symbolene er hentet fra en vanlig kortstokk og er i virkelig flotte farger.
Spille disse online casino
Spillets spesialfunksjoner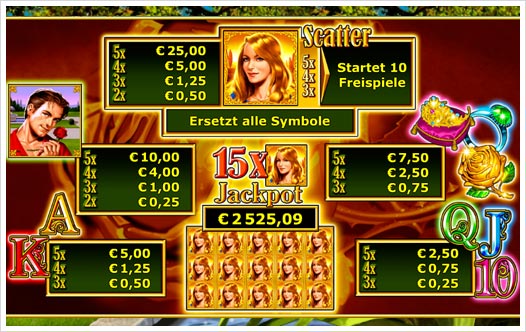 Man finner flere spesialsymboler i spillet Garden of Riches men det er et av symbolene som har litt mer betydning enn andre på hjulene. Scattersymbolet har nemlig flere funksjoner i spillet, som kan bidra til gode gevinster. For det første så betaler scattersymbolet ganske bra i seg selv. Man får nemlig 2000 mynter for en kombinasjon på fem stykker. I tillegg så aktiveres gratisspinnrundene i spillet med scattersymbolet, og man får da tildelt 10 stykker. De scattersymbolene som aktiverer gratisspinnrundene vil bli låst fast til hjulene mens man spinner seg gjennom de 10 rundene.