NetEnt viser sin kunstneriske side med et spill om Geishaer; kunstnere innen en eldgammel japansk kunstform som har sine røtter helt fra 1500- tallet. I noen spesielle deler av staten Kyoto vokste Geisha som underholdningen frem, og var kun forbeholdt de rikeste i landet. Også de som ikke hadde like mye penger søkte så klart etter underholdning, og dermed dukket det opp slike tehus i nærheten av disse delene i landet. I disse tehusene tilbød kvinner dans, sang og underholdning, og kalte seg selv for geishaer, et navn de fikk fra de første mannlige underholderne innen bransjen, som opptrådte i de eksklusive delene av byene. Idag har dette endret seg ganske så mye, og geishaer forbindes ikke lenger med prostitusjon, da den vestlige verden har fått en bedre forståelse av kunstformen.
Tema og grafikk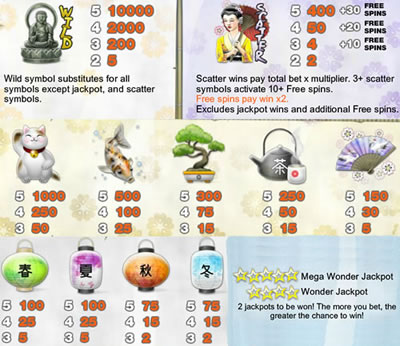 De symbolene som Geisha Wonders er bygd opp av, er ting som de aller fleste vil forbinde med de moderne geishaene – og også med selve landet Japan. Man kan se blant annet tekanner, japanske bonsaitrær, rispapirlamper og også en porselenskatt som vinker; nok et typisk asiatisk motiv. Selve spillet er blitt plassert i en typisk japansk hage, og i bakgrunnen kan man blant annet høre hvordan vinden lager musikk i klokkespillene. Når man da får en gevinst blir det også spilt av en lydeffekt som virkelig løfter det asiatiske temaet enda litt høyere. De spillerne der ute som kan litt om geishaer allerede, kan nok se veldig fort at symbolene som er blitt brukt i spillet ikke helt er riktig for tidsepoken. Scattersymbolet som skal forestille en geisha er nærmere sagt kun en lærling. Det er nemlig lærlingene som har sitt ansikt malt hvitt og har på seg fargerike klær, de ferdig utdannede geishaene har ikke hvitt ansikt, og de kler seg også mye enklere enn lærlingene. Men grafikken i denne sloten er virkelig flott laget, og den er tydelig arbeidet utrolig mye med.
Spesialeffektene

Som sagt allerede har også Geisha Wonders mange ulike spesialeffekter som ligner på Wonders-seriens andre slotmaskiner, altså wildsymbolene og scatterfunksjonen. Wildsymbolet som er blitt valgt ut til denne sloten er en statue av en buddah, som når den dukker opp på hjulene vil erstatte andre symboler, og som også kan være med på å gi spilleren den aller høyeste linjegevinsten i hovedspillet. Denne kan være på opp til 10.000 ganger innsatsen på spillelinjen. Om det ikke er imponerende muligheter for gevinster, så er det jammen ikke godt å si hva som er det. Når det kommer til hovedpersonen eller hovedkarakteren, er dette selvsagt en Geisha som har blitt valgt ut – og denne geishaen har også også fått æren av å være spillet scattersymbol. Dersom en spiller ender opp med å få fem av disse geishasymbolene på skjermen samtidig, blir det først og fremst delt ut en scattergevinst som vil være på 400 ganger innsatsen, og deretter vil man også få 30 gratisspinn. Om det blir sånn at minimum tre geisha-symboler dukker opp under en gratisspinn-runde så aktiveres enda et gratisspinn i tillegg. Dessuten blir alltid gratisspinn spilt med en gevinst-multiplikator på 2x aktivert.
Spille disse online casino
Jackpottene

Her i denne videosloten om er en del av Wonders-serien sammen med blant annet Icy Wonders og Tiki Wonders, og i tillegg til at disse spillene har lignende spesialeffekter deler de også på spillenes to jackpotter. Som nevnt deler de tre slotmaskinene i Wonders-serien to jackpotter, og dette betyr at spilleren faktisk kan velge hvilket av disse tre spillene som er mest underholdende å spille på, helt ut fra sine egne interesser – men likevel hele tiden være med å kjempe om den samme jackpotten som man kan vinne på de andre spilleautomatene. Det som er likt mellom disse tre er at det kreves fire stjerner for å klare å aktivere den mindre jackpotten, som har fått navnet Wonder Jackpot. Og dersom en spiller er så heldig å få fem stjerner vil dette betale ut spillets aller største gevinst, nemlig Mega Wonder Jackpot.
Konklusjon
Denne sloten har virkelig utrolig mye å by på, grafikken i spillet er utrolig flott og det gjør det også til en slot som faktisk er behagelig å sitte å spille på. Absolutt alle typer spillere vil kunne få noe ut av å spille denne slotmaskinen, enten man er en nybegynner som ønsker å prøve ut litt ulike spill, eller om man er en erfaren spiller som kanskje føler at man har funnet seg et nytt favorittspill.