Om spillet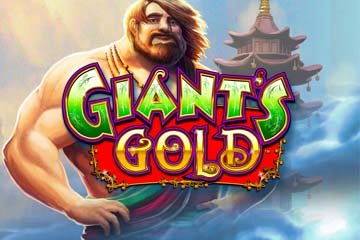 Giants Gold er en 5-hjuls spilleautomat med 100 innsatslinjer, er utviklet av Williams Interactive og er i serien Colossal Reels spilleautomater. Spillet har temaet sitt fra Jakob og bønnestengelen, og du finner kuer, kjempen selv, gjess, en bønnestengel og mer blant symbolene.
Oppsett og tema
Som alle spillene i Colossal Reels-serien har du to sett med hjul, et mindre med 5 x 4 sett til høyre og det store, «kolossale» 5 x 12 hjulsettet til høyre. Dette utrolig store hjulsettet åpner opp for mange flere vinnermuligheter enn ellers. Det er store likheter mellom spilleautomaten Giants Gold og andre i serien som Bruce Lee og Kiss. En bønnestengel full av wilds kan bli flyttet fra de vanlige hjulene til ekstrahjulene på høyre hånd, og dette øker antallet vinnerlinjer dramatisk. Når tre feature-symboler dukker på ett av hjulsettene, blir bonusspillet aktivert for muligheten for enda større gevinster. Likeledes utløses gratis spinn-funksjonene av tre scatter-symboler, i dette tilfelle gyldne egg. Eventyrtema i spilleautomatene online er populært for øyeblikket, og Williams Interactive vil hele tiden sette sitt spesielle preg på ledende temaer. Hovedspillet er gjort av fem hjul i fire rekker som blir koplet til ytterliger 5 av 12 sett med hjul som er perfekt for å få bønnestengelen selv med i spillet. Det hele kan høres komplisert, men fungerer ganske bra i virkeligheten.
Spillets detaljer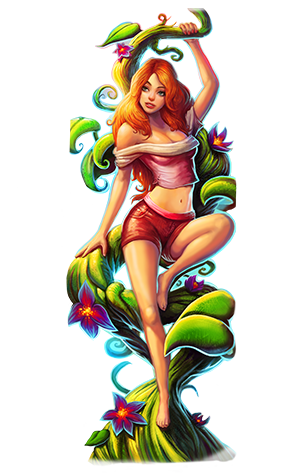 Mynteverdien på Giants Gold kan justeres, og du kan velge mellom 0.01 euro og opp til 2 euro eller tilsvarende. Giant Gold spilleautomaten blir av og til sett på som et klonet spill, en etterligning av andre lignende spill. Noen synes også at musikken som spilles under de gratis spinne- turene, er av det mest monotone slaget. Ikke desto mindre vil du finne en endeløs rekke med bonussymboler i de gratis spinne rundene og dette vil gi deg muligheter til enda flere gratisspinn. På dette tidspunkt vil du muligens komme til den samme konklusjonen som en del andre, at Giants Gold ikke betaler ut noe særlig gull i det hele tatt. Det er delte meninger blant spilleautomat-anmeldere om hvor mye det er å tjene på dette spilleautomatspillet online. Flere spilleautomatanmeldere gir uttrykk for at om du ikke er et fan av disse spilleautomatene fra Colossal Reel, har spilt Giants Gold i Vegas tidligere eller på ditt lokale casino, kan du med fordel finne deg noe annet å spille. Giants Gold har mange «Giants», men lite «Gold», hevdes det.
Spille disse online casino
Wild-symbolet er den ville bønnestengelen, og erstatter alle unntatt bonusfunksjonen (the feature symbol). Et hjul av wild-symboler på hovedhjulet overføres til det samme hjulet som det kolossale hjulsettet, og omskaper på denne måten alle symbolene til wild.
Bonusfunksjoner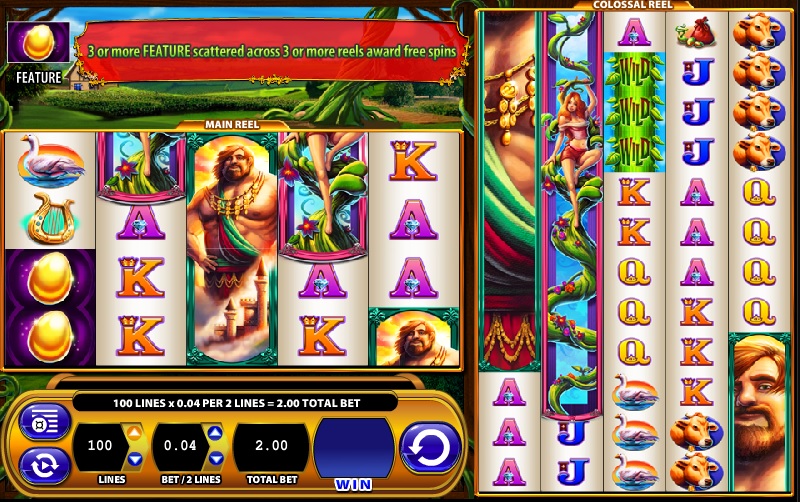 Scattersymbolet er det gyldne egget. Denne kommer til syne på hjul 1, 3 og 5 på begge settene med hjul. For å utløse gratis turene trenger du tre eller flere Gylne Egg-symboler spredt over tre eller flere hjul over begge Hjulsettene. Tre Gylne Egg-symboler gir deg fem gratisspinn, og for hvert ekstra Gyllent Egg-symbol som dukker opp, får du en ekstra gratis tur. Hvis du får 40 eller flere Gylne Egg, vil du få 100 gratisturer. Tre scattersymboler gir deg med andre ord fem gratisspinn. Hvert scattersymbol som kommer i tillegg, gir deg ytterligere en gratis tur. Gevinster på det Kolossale hjulsettet i løpet av gratis turene kan du multiplisere med 2 for å finne verdien av. Bonusfunksjonen med gratis rundturer kan bli utløst flere ganger. Visse posisjoner fra hjulene kan bli erstattet med tilfeldige symboler fra utbetalingstabellen.
Spillets gang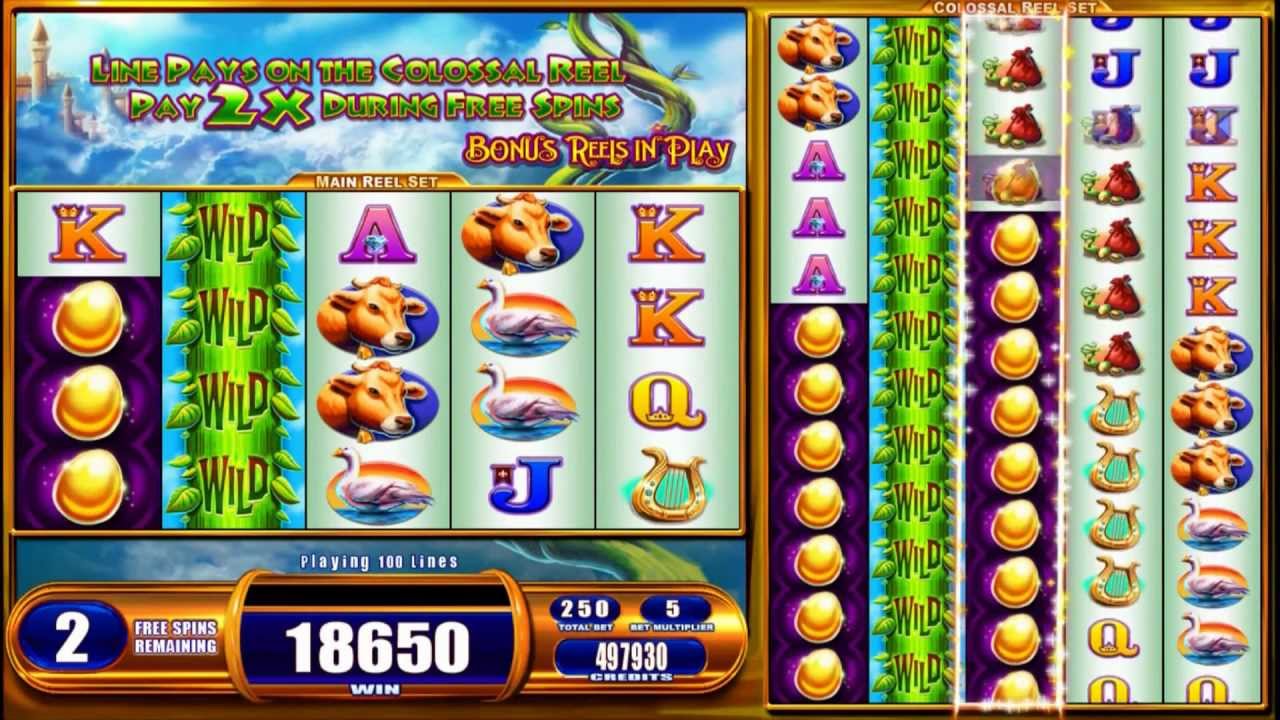 Bonussymboler viser seg på hjulene 1, 3 og 5 i hovedhjulene og på hjul 1, 3 og 5 i det kolossale hjulsettet. Hvilket som helst 4 wild-symboler som kommer til syne på hoved hjulsettet setter i gang en overføring av symboler, og forandrer hele det korresponderende hjulet på det kolossale hjulsettet til wild-symboler. Alle utbetalinger er evaluert etter overføringen av wild-symboler. Gratisspinnene i bonusprogrammet blir utløst når tre eller flere BONUS- symboler kommer til syne i hovedhjulsettet eller i det store hjulsettet. I løpet av gratisspinnene blir alle vinner kombinasjoner i det Kolossale hjulsettet gitt en fordobling av utbetalingene. Tre eller flere scatter-symboler gir en belønning på opp til 100 gratisspinn.
Konklusjon
Meningene er delte om hvor mye "gold"du kan tjene på spilleautomatspillet Giants Gold. Mange opplever Giants Gold som en god spilleautomat med gode vinnersjanser som kommer i bonusprogrammet og mulighetene til gratisspinn. Har du sans for et onlinespill med eventyrtema der bevegelsene kan gjøres med to hjulsett, et vanlig og et kolossalt, er dette spillet for deg.