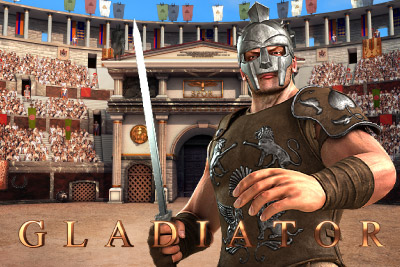 Mennesker har alltid hatt en fascinasjon av historiske hendelser og epoker, og verdenskulturen blir inspirert deretter. De populære epokene som er en gjenganger i blant annet film- og TV industrien, er det antikke Egypt, Hellas- og Roma. Den verdenskjente filmen Gladiatoren (2000) med Russel Crowe i hovedrollen, har startet en enorm interesse for det antikke Roma og deres gladiatorer. All oppmerksomheten rundt denne type tema, gjorde at film- og TV industrien begynte å produsere flere produkter som var Roma-inspirert. Kasinoverden er intet unntak. Når sant skal sies, har Hollywood alltid vært nysgjerrig på denne type tema. Av eldre filmer, finner vi de klassiske filmene Cleopatra (1963) med Elizabeth Taylor og Ben-Hur (1959). Av nyere TV serier finnes blant annet de populære seriene Rome (2005), Spartacus: Blood and Sand (2010) og mini TV serien Spartacus: Gods of the Arena (2011). Mange TV serier har dessuten ofte det antikke Roma som tema i en episode eller to.
Tema
Spilleautomaten fra spillutvikleren Microgaming sitt tema er direkte inspirert av Gladiatoren (2000), mens Gladiator-spilleautomaten fra spillutvikleren Betsoft fokuserer mer på gladiatorer generelt. Microgaming sin versjon av denne spilleautomaten har fått kritikk blant annet for at den ikke gir en tilfredsstillende actionfylt opplevelse, men det gjør spilleautomaten fra Betsoft. Dette legger man merke til med en gang man går inn på denne spilleautomaten.
Grafikk og lyd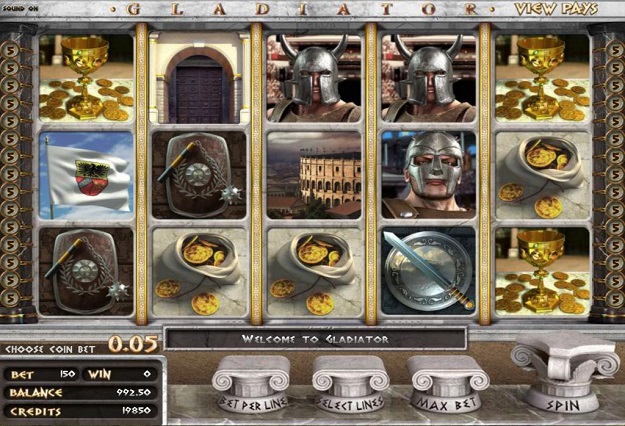 Både grafikken og lyden harmonerer herlig sammen for å være med på å skape en adrenalinfylt stemning rundt hele spillet. Bakgrunnsmusikken i spillet er også intens, men blir til tider avbrutt av et hoiende og entusiastisk publikum, samt trompet fanfarer. Animasjonene som blir spilt av i spillet når man får en gevinst er laget på en meget flott måte med en grafikk i 3D, som mest sannsynlig ikke finnes maken til på noen annen spilleautomat hittil. All annen grafikk i spilleautomaten er også i en 3D-lignende grafikk som har blitt brukt i andre spilleautomater tidligere fra Betsoft.
Spill på disse online casinoene
Innsats og oppsett
Selve spilleautomaten er satt sammen av fem hjul, tre rader og har hele 30 spillelinjer å velge mellom. Det som er litt spesielt er at 15 av disse spillelinjene går fra venstre og mot høyre siden, mens de resterende 15 spillelinjene er motsatt. Da går det fra høyre siden og mot venstre. Spilleren velger altså selv hvor mange av disse spillelinjene man ønsker å aktivere, og man kan også velge både myntverdien og antall mynt per linje. Den laveste innsatsen som er mulig å ha med alle spillelinjer aktivert er 0,30 euro eller tilsvarende i annen valuta, mens den høyest mulige innsatsen er på 150 euro.
Symboler og spesielle funksjoner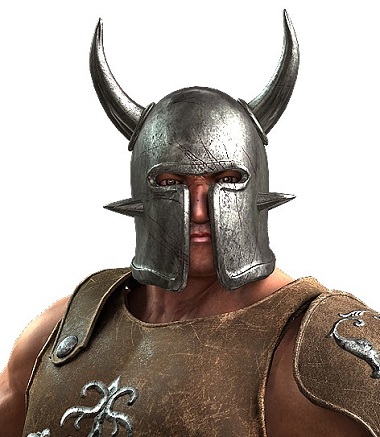 Når det kommer til ulike effekter og spesialsymboler i spilleautomaten, kan Gladiator friste med hele fem ulike spesialeffekter. Alle disse fem spesialfunksjonene kan være med på å gi noen flotte gevinster, i tillegg til en fin dose med ekstra underholdning. Blant annet er det et «princess»-symbol som aktiverer en helt spesiell type wildsymbol. Dersom dette symbolet havner helt øverst på noen av hjulene, blir det aktivert en animasjon hvor man vil få se en prinsesse kaste ut roseblader utover hele skjermen. Alle symboler som blir truffet av henne blir deretter forvandlet til wildsymboler, som i tillegg vil få en multiplikator på 2x. Den heltemodige gladiatoren på et symbol er i bunn og grunn det symbolet som har den aller høyeste verdien i spillet. Dersom symbolet skulle ende opp med å havne på det midterste hjulet, aktiveres også en spesialfunksjon. Det som vil skje da er at hele det midterste hjulet vil bli forvandlet til wild i form av stacked wilds.
Bonus
Dersom man får for eksempel tre eller flere symboler som viser en dør, blir et av spillets to bonusspill aktivert. Det ene kommer i form av et spill som har fått navnet «click me». Der skal man klikke på de ulike dørene for å avdekke de ulike bonusgevinstene som man kan vinne. Det andre bonusspillet som finnes i Gladiator har fått navnet Gladiatorstriden. Der skal man velge den gladiatoren man tror kommer til å vinne kampen som foregår ute på arenaen. Jo flere vinnende slag den gladiatoren spiller velger får inn på motstanderen sin, jo større gevinster klarer man å stikke av med.
Oppsummering
I det store og hele er dette en meget underholdende spilleautomat fra Betsoft. Den er fullpakket med action, har lekre detaljer med mange ulike spesialfunksjoner som man kan velge imellom og få aktivert. Spillet er rett og slett virkelig godt gjennomført i alt fra grafikk til lyd og de ulike effektene.