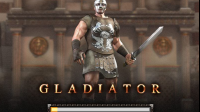 Gladiatorene var romerrikets superhelter, i alle fall de som overlevde kampene og fikk oppleve publikums hyllest. Den mest kjente filmen rundt teamet er utvilsomt «Gladiator», med Russel Crowe i hovedrollen, og det er nettopp denne filmen som er temaet i videosloten med samme navn. Flere av filmens hovedkarakterer dukker opp under spillets gang.
GRAFIKK OG TEMA
Filmen Gladiator kretser rundt gladiatoren Maximus, og det er derfor litt overraskende at ikke hovedpersonen får enda større plass i dette spillet enn hva han gjør. Karakterene som kjennes igjen fra filmatiseringen er blant annet keiser Commudus, Lucilla, slavehandleren og vanlige soldater.
Symbolene 9-K er i gull, og utvilsomt lekre å se på, men de hadde kunne vært fjernet. I stedet burde symbolene inneholdt heftige detaljer fra gladiatorene. Dette da det nå bare er to symboler som kan knyttes til tidsepoken og gladiatorer. De to bonussymbolene er gladiatorens maske og Colosseum. Disse passer utmerket inn, og forandres også til små videoklipp når de aktiveres.
Spillet foregår på Colosseum med jerngrinder som skiller de forskjellige hjulene. Det er ekstra lekkert at spillmenyen passer inn i temaet gjennom at knappene er i gull og sølv.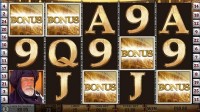 En forholdsvis rolig bakgrunnsmusikk bygger opp en spent følelse. Det føles som stille før stormen, og man kan nesten føle forventningen og spenningen blant det ventende publikummet. Da er det litt nedtur at den rolige stemningen fortsetter i samme takt, uten det forventede crescendoet. Ved gevinst spilles en liten glad melodisnutt, en snutt som det kan være vanskelig å forstå hvordan skal kunne passe inn i dette temaet.
I bonusspillet løftes gladiatoren opp mer i fokus. I amfiteaterbonusen øker musikken i intensitet, samtidig som det inneholder flere momenter, Her har spillutviklerne endelig truffet i temaet, men beklagelig vis er det kun her det kan oppleves.
Det er naturligvis ingen tvil om at spillets tema er Gladiator-filmen, når 5 av 7 grunnsymboler er personer fra filmen, men dette gjør samtidig at det heller blir et filmteam enn et gladiator-tema.
SPESIALEFFEKTER
To ulike bonuser er på plass i Gladiator. Amfiteaterbonusen aktiveres om minst tre symboler av amfiteater dukker opp et sted på skjermen. I tillegg til at bonusspillet aktiveres, kan spilleren vinne opptil 100 ganger innsatsen. Denne bonusen er spillets høydepunkt, både grafisk og spillmessig.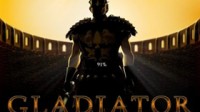 Spilleren forflyttes til inngangen hvor gladiatorene slippes inn på arenaen. Her gjør de seg klare for strid gjennom å plukke ned våpnene som henger på veggen, mens de venter på at gitteret skal gå opp. For spilleren vises her fire rader med fem ruter. Under hver rute finnes en gevinst, og et av følgende alternativ:
Spilleren velger automatisk alle ruter i kolonnen og vinner hva dette gir.
Spilleren får også velge en annen premie i raden ovenfor.
Spilleren får også velge en annen premie på samme rad.
Spilleren vinner premien og får gå tilbake til grunnspillet.
Hver rad har en spesiell bonusgevinst. Første rad avgjør hvor mange freespins spilleren vinner. Andre rad avgjør multiplikatoren under gratisomgangen. På den tredje raden avgjøres hvilket symbol som kommer til å erstatte det normale. På fjerde rad avgjøres hvilket symbol som kommer til å fungere som et ekstra wild-symbol.
Denne bonusen kan ikke tilbakeaktiveres under spillets gang. Derimot kan tre ekstra freespin vinnes om keiseren dukker opp under gratisrundene.
Under amfiteaterbonusen spilles musikk som skaper mer spenning enn under grunnspillet. Bonusspillet er også mye mer spennende og gir muligheter for atskillig større utbetalinger. Når bonusomgangen er slutt kan man se hvordan gladiatorene stormer inn til kamp, i en scene som er hentet fra filmen.
Den andre bonusen heter gladiatorbonus. Dette bonusspillet aktiveres om tre galdiatorhjelmer dukker opp på hjul 2,3 eller 4. Spillet velger tilfeldig ut ni hjelmer, der hver enkelt hjelm gir spilleren bonusgevinst på 1,3 eller 5 ganger innsatsen. Når alle hjelmer er vist er bonusomgangen over. I motsetning til amfiteaterbonusen gir ikke dette bonusspillet veldig mye i spillopplevelse. Spilleren får ikke selv velge, da alt skjer automatisk. Filmen Gladiator er action, men dette bonusspillet er langt derifra. Det er synd, for med dette teamet som bakteppe burde mange heftige spesialeffekter kunne blitt benyttet.
Wild-symbolet er det samme som symbolet som aktiveres i Gladiatorbonusen, nemlig hjelmen. Wild erstatter alle andre symbol.
FAKTA
| | |
| --- | --- |
| Tema | Filmen Gladiator |
| Hjul | 3 x 5 |
| Spesialeffekter | Wild, Scatter, to ulike bonusspill |
| Innsatslinjer | 1-25 |
| Innsats per linje | 0,01-10Euro |
| Maksinnsats | 250 euro |
| Maksgevinst | 200 000 euro |
| Jackpot | Nei |
| Teoretisk tilbakebetalingsprosent | 94,09 |
| Spillprodusent | Microgaming |
SAMMENDRAG
Videosloten Gladiator inneholder mye bra, har en del lekre detaljer og funksjoner, samtidig som spillets tema totalt sett ikke helt holder mål. At hovedrolleinnehaveren ikke gis større plass, at musikken ikke alltid passer og at det savnes mer action, gjør at spillet faller i karakter. Tilbakebetalingen pålydende drøyt 94 % er dessuten uvanlig lav.
Hos spillere som har sett filmen gis imidlertid heftige opplevelser når deler av filmen under spillets gang dukker opp i skjermen. Amfiteaterbonusen holder høy klasse, og særlig da i forhold til det litt skuffende grunnspillet.