De aller fleste, både barn og voksne, kjenner til sagaen om Gullhår og de tre bjørnene. Eventyret er riktig nok ganske så gammelt, men det var faktisk ikke før i 1837 at sagaen ble til slik den fortsatt er kjent i dag. I hovedrollen av denne sagaen finner man Gullhår, ei lita jente som en dag bestemmer seg for å begi seg ut på et eventyr i skogen, og hun ender opp med å gå seg vill. Etter en stund løpende rundt i skogen, kommer hun plutselig frem til et hus hvor absolutt alt hun finner er i tre ulike størrelser. Der iblant stoler, grøttallerkener og senger. Når bjørnene etterhvert kommer hjem, blir hun så skremt at hun løper hele veien hjem til moren sin.
Temaet

Spilleautomater som er basert på klassiske eventyr pleier å være meget populære. Det er jo ikke så rart, da det er noe gjenkjennelig og ved temaet. Man tenker kanskje tilbake til barndommen, der man ante fred og ingen fare, til den tiden der alt var uskyldig. Helt siden Goldilocks ble lansert på våren i 2012, har denne spilleautomaten blitt den aller mest populære spilleautomaten fra spillutviklerne hos Quickspin. En god grunn til at akkurat denne spilleautomaten har blitt såpass populær, er den flotte følelsen som de har klart å skape gjennom hele spillet. Grafikken, den enorme mengden med flott animasjon og lydbildet, er med på å skape en vidunderlig stemning på denne spilleautomaten. En annen god grunn, er de virkelig nye og unike spesialfunksjonene som de utrolig nok har hele fire ulike av denne gangen. Spillutviklerne fra Quickspin har virkelig fått et godt rykte på seg for å klare å skape noen virkelig vakre spilleautomater – Goldilocks and the Wild Bears er ikke noe unntak. Goldilocks er et av de aller flotteste spilleautomater innen hele dette temaet, og kategorien som finnes er og tilgjengelig på nettet i dag.
Symboler og bonusfunksjoner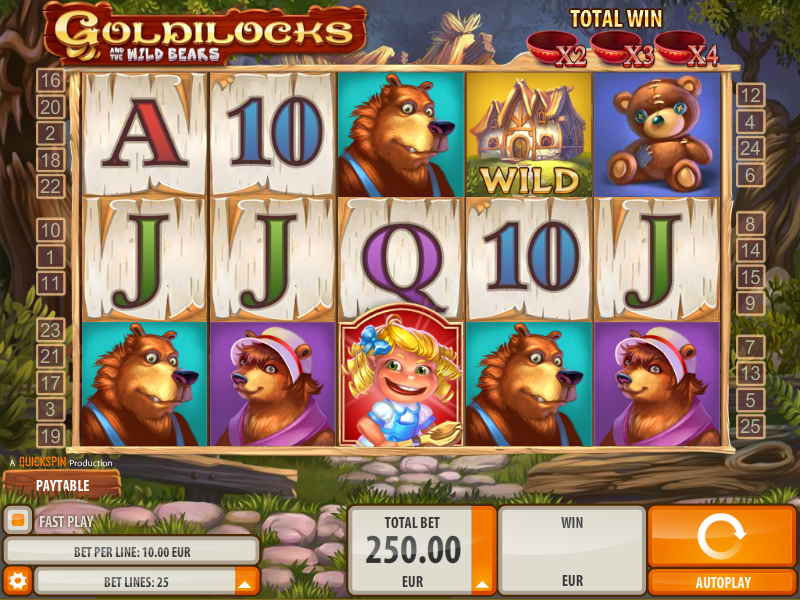 Symbolene man kan se på hjulene er vakre tegnede symboler, og animasjonene som har blitt laget er av topp kvalitet. Den eneste mangelen man kan trekke frem i dette spillet, er det at Goldilocks ikke har noen form for bakgrunnsmusikk. Denne spilleautomaten som har det lange navnet Goldilocks and the Wild Bears, kan friste med to ulike wildsymboler: Et gratisspinnsymbol i tillegg til noe som kalles for progressive spredningssymboler. Den såkalte «vanlige» wildsymbolet følger den ganske så vanlige malen. Symbolet erstatter altså alle symboler på hjulene, med unntak av spillets scattersymbol. Det vanlige wildsymbolet er også det symbolet i spillet som har den aller høyeste verdien av alle. Dersom man klarer å få fem stykker av disse wildsymbolene på en eneste spillelinje, vil det resultere i en utbetaling på 1 000 ganger innsatsen som man har valgt å ha per linje. Multiplikator-jokerne som har blitt nevnt tidligere, fungerer også i bunn og grunn som vanlige wildsymboler. De har i tillegg til det også en multiplikator koblet til seg. Dersom man da får tre slike multiplikator-jokere på hjulene, kan alle gevinster som blir aktivert med hjelp av jokerfunksjonen bli multiplisert med 4x. Til slutt har man spillets gratisspinnmodus, og dette blir aktivert når tre Goldilock-symboler dukker opp på hjulene. Når dette skjer vil man få 10 gratisspinn, og i tillegg en gevinst som vil være på tre ganger innsatsen. Mens gratisspinnene holder på å snurre, har man også muligheten til å få gjort om bjørnesymbolene til wildsymboler. Disse dukker opp når man samler opp progressive scattersymboler. Dersom man får opp symbolene som viser «mamma bjørn» og «lille bjørn» vil spillere også få enda noen flere gratisspinn. Eventuelle gevinster tredobles når dette scattersymbolet dukker opp og gir premie.
Spille disse online casino
Innsats og oppsett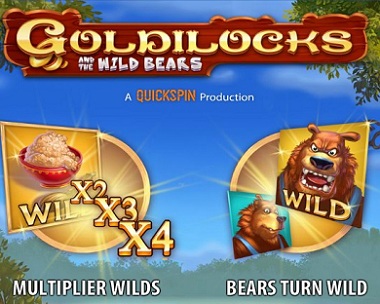 På samme måte som andre spilleautomater Quickspin står bak, er også Goldilocks en utrolig enkel og grei spilleautomat å komme i gang med. Dersom en spiller velger det maksimale antallet spillelinjer, som er på 25 stykker, behøver man kun deretter å klikke inn den summen man vil satse med totalt. Dersom man ønsker, kan man derimot justere antall aktive spillelinjer manuelt, og man kan satse så lite som 0,01 euro per spinn. Om man ønsker å ha litt større sjanser for å stikke av med noen riktig store og flotte gevinster, kan man satse opp til hele 250 euro i et eneste spinn om man har alle spillelinjene aktiverte.
Konklusjon
Goldilocks and the Wild Bears er som man kanskje har skjønt til nå, en utrolig gjennomført og flott lagd spilleautomat. I tillegg til at spillet har noen morsomme og spennende spesialeffekter å by på, er det aller beste at man vinner ganske så ofte. Dette betyr at man sjelden sitter og kjeder seg foran spilleskjermen.