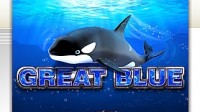 Her er det bare å ta på seg dykkeutstyret og komme seg ned under havoverflaten for når du spiller Great Blue så blir du tatt med til havets verden og får bli en del av den. Det er et undervanns eventyr som venter de som prøver ut spillet Great Blue som kommer fra spillutvikleren PlayTech. Her får spillerne en utfordring da de skal kjempe mot den velkjente spekkhoggeren, og forhåpentligvis så får spillerne med seg gode gevinster med seg underveis. Spillet har bonusrunder, gratis spinn runder, multiplikasjons funksjoner og både wild og scatter symboler. Dette er et spill som inneholder det meste som pleier å følge med i et slot spill.
Hvordan komme i gang
Great Blue er et slot spill som består av 5 hjul og 25 innsatslinjer. Målet er som kjent å få gode kombinasjoner med symbolene i spillet som da gir et resultat hvor man får utbetalt ulike gevinster. For å komme i gang med spillingen så må man først klikke seg inn på Click to Change knappen. Det er her spilleren kan sette sine innstillinger på innsatsen i spillet. Her kan spilleren velge hvor mye en ønsker å satse per linje og man kan også regulere hvor mange av innsatslinjene som skal være aktive når man spiller. Great Blue har også en Bet Max funksjon. Denne funksjonen gjør sånn at man automatisk spiller rundene sine med alle innsatslinjene aktive og det blir også satt automatisk max innsats på alle linjene, og så kan man bare begynne å spille. Når man har gjort klart sine ønsker i forhold til innsatsen så er det bare å trykke på spin og la spillet sette i gang.
Utbetalinger
Det er flere ulike kombinasjoner i Great Blue som gir gode utbetalinger til sine spillere. Det er flere multiplikasjons funksjoner som også er med på å øke gevinstene man eventuelt får. I spillet så kan man også finne en god oversikt over de ulike utbetalingene i spillet. Alle kombinasjoner med gevinst må starte fra hjulet lengst til venstre og symbolene i kombinasjonen må være på samme rad. Eneste som skiller seg ut her er kombinasjoner med Scatter symbolet i spillet. Scatter symbolene trenger ikke å være på samme linje for å betale ut en gevinst. Her trengs det kun at det dukker opp 3 eller flere scatter symbolet et eller annet sted på spillet for å få en utbetaling. Beløpet på utbetalingene blir beregnet ved at innsatsen per linje blir ganget med utbetalingen til akkurat den kombinasjonen. Hvis man er så heldig å få to vinnende kombinasjoner på samme linje så vil man så klart få en økt utbetaling. Hvis man får vinnende kombinasjoner på flere ulike linjer så blir bare gevinstene plusset sammen. Alle gevinster med scatter symboler blir ganget med den totale innsatsen.
Bonus og symboler
Great Blue har både wild og scatter symboler som gir fordeler mens man spiller. Spillet har også et bonus spill.
Wild symbolet fungerer slik det pleier, at det kan erstatte alle andre symboler, bortsett fra scatter og bonus symbolet. Wild symbolet fungerer altså som en joker. Wild symbolet er rett og slett med på å hjelpe på å få gode kombinasjoner. Det er flere ulike utbetalinger med wild symbolet i en kombinasjon.
Scatter symbolet i Great Blue dukker opp tilfeldig i løpet av spillet og hvor som helst på hjulene. Scatter symbolet er originalt fordi det ikke trenger å være i en kombinasjon der symbolene er ved siden av hverandre. Hvis man har 3 eller flere scatter symboler på skjermen samtidig så får man automatisk en gevinst. Gevinstene man får gjennom scatter symbolene har også en multiplikasjons funksjon som er med på å øke gevinsten.
Bonus spillet i Great Blue har mange fordeler for spilleren. Allerede i det man starter bonus spillet så får man tildelt 8 gratis spinn runder som har en multiplikasjons funksjon på ganger 2. Det vil si at gevinstene man eventuelt får i rundene blir doblet. Hvis det dukker opp 3 eller flere scatter symboler under gratis rundene så vil man automatisk får tildelt enda 15 gratis runder og multiplikasjons funksjonen blir værende. For å få enda flere gratis runder og for å få en høyere multiplikasjon så må man velge mellom 5 skjell som dukker opp på skjermen. Her skal man velge 2 av de 5, og inni hver av dem så er det enten flere gratis runder eller en høyere multiplikasjon. Man har hele tiden oversikt over rundene og multiplikasjonen øverst i høyre hjørne av spillet.