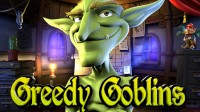 Videoautomaten Once Upon a Time handler om en modig ridder. Han skal blant annet holde plagsomme og grådige troll borte fra kongens skatter. Trollene klarer ikke å slå kloa i rikdommen i Once Upon a Time, men nå har trollene i stedet fått sin egen automat!
Det er Betsoft som har laget denne humoristiske automaten. I Greedy Goblins prøver trollene å stjele ting fra alvene. Trollene er ekle og slemme, mens alvene er snille, men du skal altså hjelpe de slemme i dette spillet. Dersom du heller vil hjelpe de gode, bør du prøve Once Upon a Time. Hvis du ikke bryr deg om at trollene er ekle og slemme, og heller vil hjelpe dem, kan du velge deres side i dette spillet.
Grafikk og lydeffekter
Betsoft er kjent for å lage fine videoautomater med herlig grafikk og gode effekter. De har heller ikke tatt noen snarveier da de lagde Greedy Goblins. Grafikken er virkelig førsteklasses, både bakgrunnsbildene, symbolene og animasjonene. Et av trollene har fått egne 3D-animasjoner, og dette trollet finner på mye trolleri og fanteri mens du spiller.
Musikken er også av ypperste klasse. Svært få automater har like bra musikk og lydeffekter som denne. Bakgrunnsmusikken er trolsk og mystisk, og skaper den rette stemningen. Effektene gjør også sitt for å bygge opp stemningen.
Innsatser og utbetalinger
Greedy Goblins har fem hjul, tre rader og 30 faste innsatslinjer. Du kan velge myntverdi og velge fem forskjellige innsatsnivåer. Minimumsinnsatsen er 0,60 euro. Maksimumsinnsatsen er 150 euro. Hvis du vil, kan du spille inntil 100 autospinn med den innsatsen du ønsker.
Trollet med rød hatt er mest verdt. Fem av disse gir deg hele 62 500 mynter. Fire av dem gir 1200 mynter, og tre gir 150 mynter. Det grønne trollet er verdt 6000 mynter dersom du får fem like. Fire grønne troll gir 450 mynter, og tre grønne troll gir 100 mynter. Soppen og kronen er like mye verdt. Fem like av et av disse symbolene gir 1200 mynter. Fire like gir 225 mynter, og tre like gir 75 mynter. Begeret og diamanten er også like mye verdt. Fem like av dem gir 750 mynter, fire like gir 150 mynter, og tre like gir 50 mynter.
Spesialinnslag
Greedy Goblins har to jackpotter, en jackpot i selve automaten, og en progressiv jackpot. Den faste jackpoten er på 62 500 mynter. Jackpotsymbolet for den progressive jackpoten er en alv. Hvis du får fem alver, og spiller med maksimumsinnsatsen, vinner du den progressive jackpoten. Hvis du ikke spiller med maksimumsinnsatsen, vinner du en fast jackpot.
Coin Drops er en funksjon som gir deg kontantgevinster. Hvis du får minst to gullmynter, vinner du en pengepremie. Gevinsten blir større jo flere mynter du får på skjermen. Fem mynter gir den største premien. Hvis det dukker opp to eller flere alvemynter, løper trollet for å hente dem. Dette fører til at nye symboler faller ned på de tomme plassene der myntene var, og du kan få nye vinnerkombinasjoner. Dette er vanlig i flere spilleautomater, men er alltid et morsomt innslag.
Sticky Wild Reels betyr at du får omspinn med wildhjul. Dette symbolet er et lite alvehus, og når det dukker opp, får du fra 1 til 3 omspinn med wildhjul. Alvehuset dukker opp forholdsvis ofte, og kan komme på alle hjulene. Under omspill dekker alvehuset hele hjulet. Du vinner mest mellomstore og små premier med denne funksjonen, men de er også kjærkomne.
Skiltet som ønsker velkommen til alvenes by, er gratisspinnsymbolet. Hvis du får tre eller flere skilt, vinner du gratisspinn. Du kan vinne 10, 15 eller 25 spinn, avhengig av hvor mange alveskilt du fikk. Spillet har også en fordobler, som kan gi deg inntil 10x fordobling.
Bonusrunden tar deg med til alveslottet. Du kommer til bonusspillet ved å få Hemmelighetens Bok på hjul 2 og 4. I alveslottet skal du klikke på ulike gjenstander for å vinne premier. Du kan fortsette å klikke helt til du ikke tør å risikere mer, eller er fornøyd. Da klikker du på Collect.
Med så mange spesialinnslag, kan du ikke forvente at alle skal bli aktivert første gang du spiller. Men da har du noe å glede deg til neste gang.
Hvis du liker mange spesialfunksjoner, og setter pris på god grafikk og lyd, er dette en automat for deg. Denne automaten er ikke blant de som har høyest utbetalingsfrekvens, men samtidig vinner du desto mer når du først vinner. Dersom denne automaten faller i smak, kan du også prøve originalen Once Upon a Time.