Tema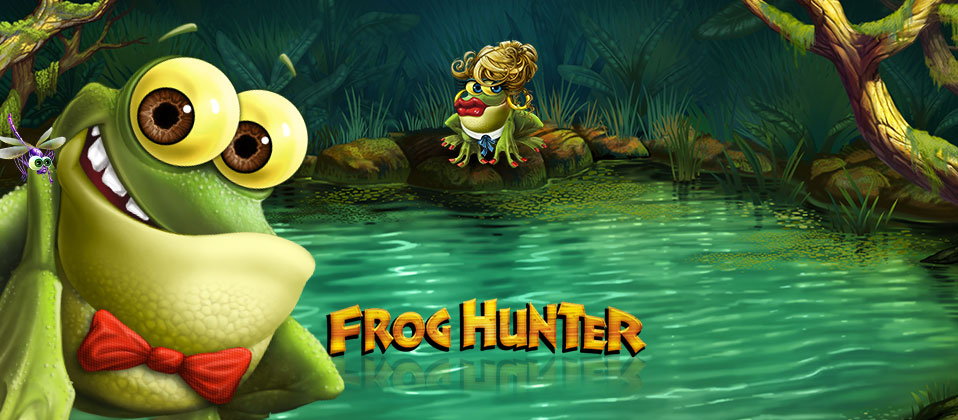 Må man virkelig bli tvunget til å velge mellom enarmede banditter og spilleautomater når man har lyst til å logge seg inn på nettet og spille på noen spilleautomater? Det synes nemlig ikke spillutviklerne fra Betsoft. Dette har de valgt å vise veldig tydelig med sin aller nyeste spilleautomat som har fått navnet Grodjakten. Her har de blandet sammen de klassiske, typiske elementene og funksjonene fra begge verdener, og har endt opp med et virkelig lekkert spill som klarer å by på en meget bra og spesiell følelse igjennom hele spillets gang. Grodjakten er nesten en tro kopi av Jack Vegas-spillet som har samme navn. Det er kanskje litt vanskelig å sette fingeren på hvilket tema Grodjakten egentlig har, men det handler stort sett om to frosker og en ivrig krokodille. Dette er ganske så klart når man ser symbolene i spillet, og også når man får muligheten til å spille på bonusspillet.
Symboler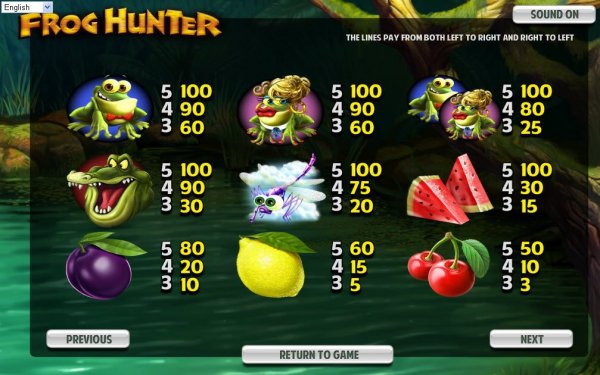 Grodjakten er en blanding av en klassisk enarmet banditt, som også kan kalles en fruktslot eller en fruktmaskin, og en spilleautomat, noe som merkes godt på utvalget av symboler som man kan finne på hjulene. Der kan man nemlig se alt fra kirsebær, vannmeloner og sitroner, til bilder av de dyrene som er i fokus i denne spilleautomaten; krokodiller, frosker og øyenstikkere, samt flere andre symboler. Hvem liker vel ikke denne artige blandingen? Både eldre og yngre spillere kommer til å elske dette herlige og uskyldige spillet.
Grafikk og lyd
Grafikken de har valgt å benytte i denne spilleautomaten er fargesterk og sprudlende med flotte, klare farger, og symboler med lekre detaljer og animasjoner. Lydeffektene gjennom hele spillet er satt sammen av autentiske lyder fra spillautomatenes verden. Her har de altså valgt å bruke mye av de klassiske elektroniske «pling» og «ding» lydene, og de korte gitarstrofene som dukker opp i ny og ne. I bakgrunnen kan man også høre en fin blanding av lyder fra frosker, fugler og andre insekter som lever sitt liv.
Spill på disse online casinoene
Bonus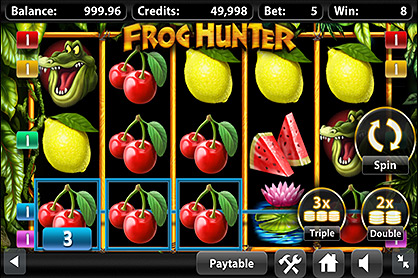 Grodjakten har to svært imponerende spesialeffekter som selvfølgelig kan gi spillere flotte ekstra gevinster. Her er det snakk om Dragonfly Bonus, og en annen som har fått navnet Water Lily Bonus. Det som er litt spesielt og som også er bra for alle spillere der ute, er at spesialeffektene blir aktivert med nokså korte mellomrom mellom hver gang. Den førstnevnte, altså Dragonfly Bonus, blir aktivert i spillet når symbolet som viser en øyenstikker, havner på hjulene til høyre for den mannlige frosken som har på seg en pen rød sløyfe, eller til venstre for symbolet som viser den kvinnelige frosken, som i stedet som har på seg sminke og har satt opp sitt hår. Om dette skjer, skal gevinstene til spilleren bli multiplisert med 2x om man har fått damefrosken, eller med 3x dersom man ender med den mannlige frosken. Så har man Water Lily Bonus, som virkelig er et helt unikt bonusspill som kan gi gevinster på mange ganger innsatsen spilleren har valgt på forhånd. Dette bonusspillet blir aktivert dersom man ender opp med å få tre eller flere symboler som viser en rosa vannlilje som havner på hjul og som ligger inntil hverandre. Når dette skjer er det spillerens oppgave i dette bonusspillet å klikke på disse vannliljene for å klare å hjelpe frosken over dammen. Det eneste man må passe på her er å være forsiktig med valgene man tar når det kommer til vannliljene. For under vannoverflaten ligger det nemlig en sulten krokodille og venter i spenning – i tilfelle noe godt skulle havne i vannet.
Gevinster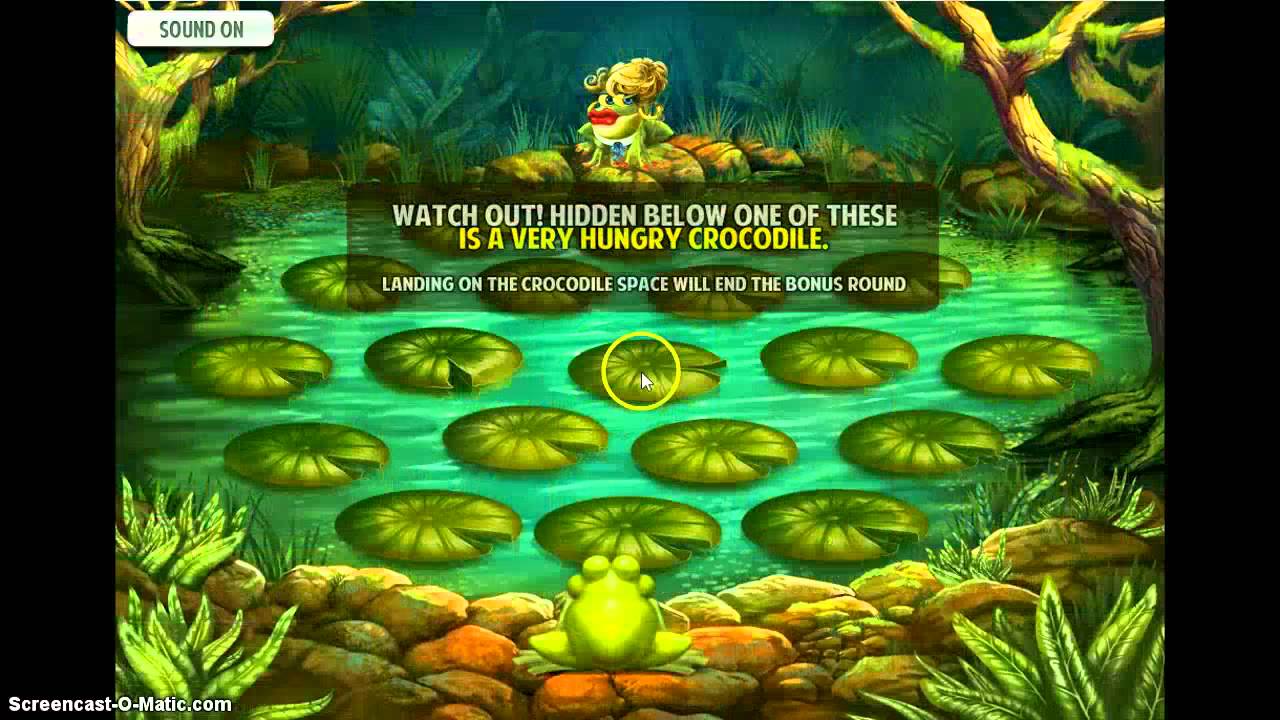 Bortsett fra disse to bonusspillene så har faktisk ikke Grodjakten noen andre spesialsymboler. Noe som er ganske så interessant og også greit å vite, er at hele 6 av de totalt 9 ulike symbolene i denne spilleautomaten har en utbetaling på hele 100 mynter dersom en spiller får en kombinasjon av 5 symboler. Dette er faktisk ganske så unikt for denne spilleautomaten da det er svært få andre spilleautomater som har en så jevn fordeling av spillets gevinster på så mange ulike symboler. Som man forstår er dette virkelig en spilleautomat som er utenom det vanlige.
Oppsummering
Det at Betsoft har blandet sammen spilleautomater med de klassiske fruktmaskinene har gjort at denne underholdene, fargerike og morsomme spilleautomaten som enhver spiller kan like, har dukket opp. Om man kanskje er ute etter noe litt utenom det vanlige og har lyst til å prøve noe nytt, så er dette virkelig spilleautomaten å prøve ut.