Finn fram hårsprayen og de gamle vinyl-platene på gutterommet — Guns N Roses har gjenoppstått! Et av tidenes mestselgende rockeband har dukket opp i nytt format — denne gangen som en heftig spilleautomat med ekte rockesanger og fete gevinster. Automaten leveres av den svenske utvikleren Net Entertainment, og byr på rockefest anno 1985! Her ligger med andre ord alt til rette for en skikkelig thriller, med gåsehud og fete riffs på gitaren.
---
Guns N Roses – Om spilleautomaten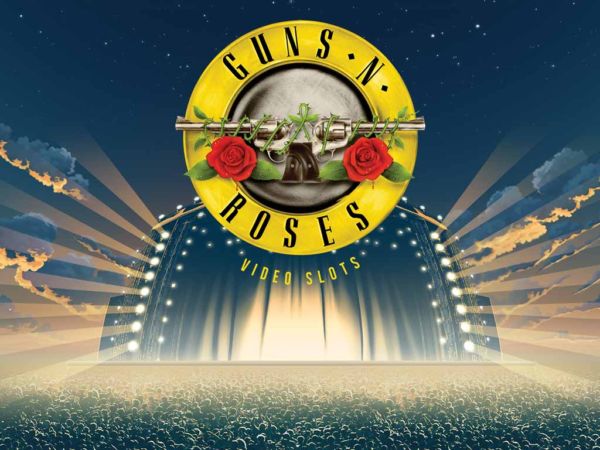 I dag skal det godt gjøres å møte på noen som ikke kjenner til det legendariske bandet Guns N Roses. Gruppa ble formet i Los Angeles i 1985 og bestod opprinnelig av Axl Rose, Slash, Izzy Stradlin, Duff McKagan og Steven Adler. Siden den gang har bandet blitt oppløst og gjenforent flere ganger samtidig som de har fortsatt å pepre hitlistene med mega-slagere. Fansen svimte nesten av i spenning, da Guns N Roses nylig avslørte turneplaner og mål om gjenforening — denne gangen samlet!
Men nok om selve bakgrunnshistorien, fordi nå er det spilleautomaten vi skal snakke om! Net Entertainment har brukt «storslegga» og laget et casinospill som får fram gåsehuden på både armer og bein. Guns N Roses er tross alt kongen av rockemusikk, og det blir enda bedre når ekte sanger inkluderes i spillet! I bakgrunnen hører man udødelige slagere som «Welcome to the Jungle», «Paradise City» og «November Rain».
Ikke for å glemme en hel haug med nye spesialfunksjoner, og et råkult spilldesign. Du vil  også raskt legge merke til animasjonene, med pistoler og roser som sløyfer seg rundt hverandre. Med multiplikator på inntil x 10 og millioner av kroner i toppgevinst har spilleautomaten Guns N Roses alt som kreves for å bli en norsk favoritt. Heng med videre når vi avslører hvilke hemmeligheter som skjuler seg i spillet!
---
Flere moduser – heftig design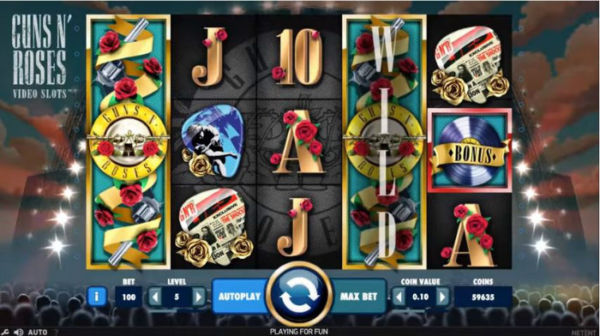 Gjør deg klar til å rocke som at det var 1985! Spillet gir deg følelsen av å være på en ekte Guns N Roses konsert med selve scenen i bakgrunnen. NetEnt har krydra spillet med råkule animasjoner og ekte klipp fra glansdagene til den amerikanske supergruppa — Og ingenting slår øyeblikket der Axl Rose rocker i bakgrunnen mens en fet gevinst ramler inn på skjermen.
Automaten Guns N Roses er en del av trilogien fra Net Entertainment der både Motörhead og Jimi Hendrix inngår.
Rent teknisk finnes det heller ingen store overraskelser — Guns N Roses har nemlig 20 gevinstlinjer, 5 hjul og 3 rader. Å justere innsatsen per spinn er lekende lett, takket være 10 innsatsnivå og en myntverdi som spenner fra 10 øre til 10 kroner. Totalt sett gir det spillet en minimum/maks innsats på 2 til 2 000 kroner per spinn. Kanskje ikke det beste for småspillere, men perfekt for de som liker litt ekstra fart og risiko!
---
Så mye kan du vinne
Maksgevinsten ligger på drøyt 2 250 000 kroner, som du kan dra i land ved hjelp av freespins og multiplikatoren på x 10. Det ligger sånn omtrentlig på samme nivå som de andre musikk-inspirerte automatene. Gevinstene lever opp til forventingene enda det skulle vært mulig å dra i land mer enn x 40 av innsatsen av gangen.
Ellers bør det nevnes at automaten har en teoretisk tilbakebetaling på 96,98%, som faktisk er ganske realt; målt opp mot andre spilleautomater.
Sykt mange spesialfunksjoner
Lenger nede har vi satt opp en «krydderliste» over alle spesialfunksjonene som skjuler seg i spillet. Vi kan ærlig talt ikke huske noen andre spill som kommer i nærheten, målt i antall bonuser og wilds — kanskje med unntak av Aliens.
Enda det er lett å drukne i de forskjellige bonusene er det ikke noen mangel på struktur og oversikt…snarere tvert i mot. Her har NetEnt klart å finne balansen mellom design og spesialfunksjoner — med et resultat som virkelig imponerer. Spillet flommer over av wild symboler, og det er ytterst sjeldent at det oppstår «tørkeperioder» uten wilds.
Liste over wild-funksjonene
Wild funksjon 1 – Expanding: Her er det Guns N Roses logoen som har tatt på seg jobben som wild, med evnen til å ekspandere utover hele raden. Samme hvor det havner kan du vente deg en hel rad fylt av deilige wild symboler.
Wild funksjon 2 – Appetite for Destruction: Navnet på den ikoniske plata fra bandet passer bra for denne wild funksjonen som dukker opp helt vilkårlig underveis. Et kors med bilde av band-medlemmene fører med seg 5 wild symboler på skjermen. I tillegg får du en gratis freespin med i pakken, som gjør det mulig å vinne noen riktig fine gevinster.
Wild funksjon 3 – Legend Spins: Denne funksjonen aktiveres helt tilfeldig underveis, og gir deg 3 freespins til å prøve lykken. Her vil bandmedlemmene automatisk gjøres om til wild symboler hvis de havner på utvalgte steder på skjermen. Axl, Duff og Slash forvandles til wilds på henholdsvis hjul nummer 3, 1 & 5 og 2 & 4. En god porsjon flaks skal til for å lykkes, men det er fortsatt fullt mulig.
Wild funksjon 4 – Solo Multiplayer: Helt ut av det blå kan gevinstene multipliseres mellom x4 og x10, så fort du vinner med 3-4 like symboler på samme gevinstlinje. Her ser vi stort potensiale for at du kan vinne ekstra fete gevinster.
Se for deg at du drar i land en gevinst på X15 av innsatsen, og deretter får en x10 multiplikator med på kjøpet. Satset du 100 kroner blir det jo snakk om 15 000 kroner på ett enkelt spinn!
Bonusene er kronen på verket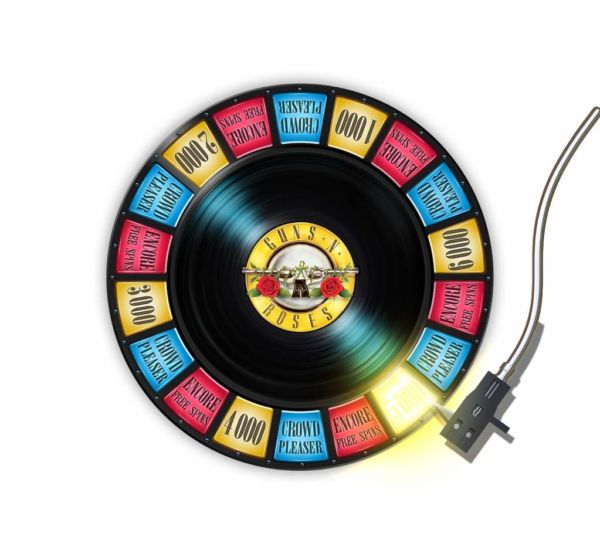 Vinyl platene: Samler du sammen 3 vinylplater (eller flere), vil du sette i gang et lykkehjul med tilfeldige gevinster; listet opp nedenfor:
Crowd Pleaser bonus – Crowd pleaser er gjort opp av 3 nivå der du må klikke på musikkinstrument for å avsløre innholdet. Her er det mulig å dra i land kontantgevinster sammen med freespins.
Cash Coins bonus – Vi ser ikke helt poenget i denne bonusen, hvertfall sammenlignet med andre muligheter i spillet. Gevinstene skuffer…
Encore freespins – Du skal nesten våre trollmann for å få tak i denne bonusen, men den er også verdt det for den heldige. Len deg tilbake i stolen og motta 10 freespins, der et tilfeldig medlem av gruppa blir til expanding wild under hvert spinn. Mikser du denne med multiplikatoren kan det fort bli snakk om ekstra store gevinster.
Konklusjon
Her har NetEnt bydd opp til rockekonsert med et av verdens beste og mestselgende band gjennom tidene. Vi lot oss imponere fra start med det råkule designet og animasjoner som vekkes til live på skjermen. Et vanvittig utvalg av bonuser og wild symboler er kronen på verket og gjør Guns N Roses til en av de desidert beste spilleautomatene lansert i 2016.
Anbefales på det varmeste!