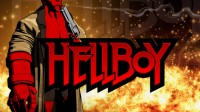 Hellboy er en demon som ble til gjennom et ganske så mislykket eksperiment som ble foretatt av nazistene på slutten av andre verdenskrig. Dette eksperimentet ble til for at de skulle prøve å avle frem en demon som kunne vende krigen til deres fordel. Det er i hvert fall slik historien er kjent.
Hellboy skiller seg ut fra de fleste andre seriefigurer med spesielle egenskaper fordi Hellboy ikke er en skapelse fra verken Marvel eller DC Comics, men fra Dark Horses Comics. Det er i hvert fall de som har rettighetene til Hellboy. Utviklerne som har laget spillet, som da er Microgaming, har holdt seriefigurens karakter godt gjennom hele spillet og har også en lisens for både grafikken og lyden. Det som er kjennetegnet på figuren Hellboy er det at han har en uvanlig stor høyrearm og i tillegg til dette er sterkere enn de fleste man noen gang har hørt om.
Grafikk og lyd
Hellboy er på mange måter en ganske enkel videoslot. Symbolene i spillet er tegnede, og animasjonene i spillet er vel ikke av det helt moderne slaget. En ting som kommer helt klart frem i spillet er at Hellboy er en tegneseriefigur, til tross for at det er laget to filmer om han også. Det hadde jo tross alt vært merkelig hvis Microgaming ikke hadde tatt hensyn til dette. Lydeffektene i spillet er mildt sagt utmerkede og det gjelder både bakgrunnsmusikken og lydeffektene. Bakgrunnsmusikken er faktisk en ordentlig lekker historie som er i perfekt harmoni med spill ideen. Dette gir en god følelse til de som spiller.
Innsatser
Hellyboy har 5 hjul, 3 rader og 20 innsatslinjer. Som spiller så velger du selv hvilken myntverdi du vil spille med og man velger også hvor mange mynter man ønsker å spille med på hver innsatslinje. Laveste innsatsen i spillet er på 0,20 euro og høyeste innsats er på 100 euro. Spillet har en auto spill funksjon, hvor du da kan spille opp til 500 spinn helt automatisk.
Effekter og spesialsymboler
Hellboy har tre finfine spesialfunksjoner, nemlig bonusspillet Underworld, gratis spinns som aktiveres helt tilfeldig og wild symboler. Maxgevinsten i Hellboy ligger på sanseløse 1 235 950 kr.
Hellboy har faktisk to ulike bonusfunksjoner. Her er det som nevnt over spillet Underworld, og i tillegg gratis spinn spillet som heter Supermode. I tillegg så har jo Hellboy wild symbolene som dobler alle gevinstene og kan faktisk betale opp til 10 000 mynt i gevinst.
Underworld bonus spillet aktiveres når du får minst 3 av spillets scatter symboler på hjulene. I selve bonusspillet så er målet for spilleren å komme seg forbi fiendtlige drager og demoner, for å finne en hellig statue. Det finnes totalt fire nivåer man kan komme seg gjennom. Det høres kanskje ut som bonusspillet er en form for actionspill men sånn er det altså ikke. I prinsippet så skal man kun trykke på ulike former og håpe på at man klarer å komme seg gjennom alle de fire nivåene, og dette da for å klare å ta hjem så mye gull som mulig.
Gratis spinn spillet kan aktiveres når som helt, etter man har spinnet hjulene. I motsetning til de fleste andre video slot spill så er det ikke scatter symbolene som aktiverer gratis spinn spillet i Hellboy. For hver gang gratis spinn spillet blir aktivert så får man 10 gratis runder. I tillegg til dette så er det tre posisjoner på hjulene som blir til wild symboler og wild symbolene blir på samme sted gjennom alle gratis rundene.
Til sist så finnes det også en kvitt eller dobbelt funksjon i video slot spillet Hellboy. Dette går ut på at når man først har vunnet en gevinst, så får man faktisk muligheten til å prøve å doble gevinsten sin, eller faktisk firedoble, men her kan man faktisk også være så uheldig at man mister den opprinnelige gevinsten. Dette er en funksjon hvor det gjelder å ha litt is i magen.
Hvor kan man spille Hellboy
Hellboy kan spilles på ulike nettkasinoer, som blant annet Vinnarum. De fleste nettkasinoer tilbyr også ulike bonuser til sine spillere.
Sammendrag
Hellboy videoslot er naturligvis et perfekt spill for alle de som er fans av Hellboy. Men det skal også sies at andre kan også ha stor glede av dette spillet. En veldig trivelig funksjon er jo gratis spinn funksjonen der spilleren har ganske gode sjanser for å få litt ekstra gevinster. Vi tror at Hellboy selv hadde nok vært ganske så fornøyd med dette spillet og hvordan Hellboy selv fremstår.