Tema og Grafikk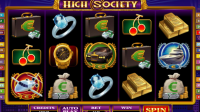 For de der ute som ikke er helt sikre på hva High Society egentlig betyr, så er dette det engelske uttrykket for det fine folket og de velstående i samfunnet. Så her så gjør ikke mellomklassen et forsøk engang på å få kommet inn i denne klubben, og heller ikke de nyrike pleier å få noen stor velkomst i denne eksklusive klubben. Så som en forstår er altså High Society et betegnelse på de som er ekstremt rike og en må ha vært det under flere generasjoner, det er dette som er temaet denne videosloten baserer seg på. Når det kommer til grafikken som er blitt valgt i dette spillet så er hele spillet i en ganske så mørk og kanskje litt dyster fargeskala med både svart og lilla som er fargene som dominerer her, kanskje dette for å gjøre det hele enda litt mer mystiskt. Symbolene i spillet er derimot i litt gladere og mer fargesprakende, symbolene som er blitt valgt er blant annet pengesekker, diamant ringer, luksusbiler og ulike stabler av gull og sølv. Grafikken som går igjen i spillet er generelt veldig behagelig å se på og passer rett og slett perfekt til temaet i spillet.
Bakgrunnsmusikken i spillet er også blitt valgt med omhu, her er det en lounge følelse på musikken med noen tegn til jazz her og der. Dessverre så kan denne musikken føles ganske så repetitiv i lengden når en spiller, og lydeffektene i spillet går også i samme jazzende sjanger som bakgrunnsmusikken.
Innsatser og Alternativ
Denne videosloten som kommer ifra Microgaming består av fem hjul, tre rader og har til sammen 25 ulike spillelinjer en kan velge mellom. En kan som spiller selvfølgelig også justere alle disse tre ulike innsatsalternativene, noe som vil si antallet innsatslinjer, myntverdien og også antall mynt en ønsker å satse per linje. Når en da har en myntverdi som går helt ifra 0, 01 og opp til 0, 10 og hele 20 ulike innsatsnivåer så kan en tilpasse innsatsen sin akkurat som en måtte ønske. Med andre ord så er det virkelig noe her for enhver lommebok. Den aller laveste innsatsen en kan ha er på 0, 25 euro og kan da gå opp til hele 50 euro eller tilsvarende i andre valuta. I automaten så vil en også finne en autosnurr funksjon som gjør at en kan spille mellom 2 – 9999 automatiske snurr hvor en her også kan tilpasse innsatsen og også innstille noen vilkår for når og om den skal slutte å snurre.
Spesialsymboler og Effekter
I denne sloten High Society så kan en finne både Wild symboler, Scatter symboler, to ulike free spins som en faktisk har muligheten til å velge mellom, ulike multiplikatorer og en hel rekke med andre ekstrafunksjoner og ulike morsomme ting. Som sagt så har altså High Society to ulike spesialsymboler som er Wild symbolene og Scatter symbolene. Her så er Wild symbolet i form av selve logoen for hele spille og denne kan dukke opp både på hjul 1 og også på hjul 5 og erstatter alle andre symboler i spillet med unntak av Scatter symbolet. Scatter symbolet i spillet er da en seddel på 100 € og dersom en får minimum to slike symboler så betaler dette opp til 100 ganger innsatsen en hadde, men dersom en får tre slike symboler så aktiverer en deretter free spins modus hvor en kan bestemme helt selv hvilket av de to ulike free spin modusene en ønsker å spille på. Dersom en velger free spins med «Super Wild Reels» så får en spille enten 10, 15 eller 20 spins med «Wild» hjul. Et av de tre hjulene som er i midten blir dekket av jokere og etter det så kan dette også skje med hjul 1 og hjul 5 som gjør at de også vil bli jokerhjul. Om en derimot velger free spins med «Super Multiplier» så får en deretter spille 10 free spins med økende multiplikatorer, hvor høye disse multiplikatorene kan bli på det meste avgjøres i bunn og grunn av hvor mange Scatters som gjorde at hele free spin funksjonen ble aktivert. Dersom en skulle klare å få enda noen Scatters på hjul 1 og 5 samtidig så blir det aktivert 10 nye free spins.
High Society er virkelig et underholdende spill med noen nye funksjoner som en ikke har sett tidligere, og grafikken og lyden i spillet er med på å gi hele spillopplevelsen en litt eksklusiv følelse, og det er det vel ingen spillere som har noe imot.