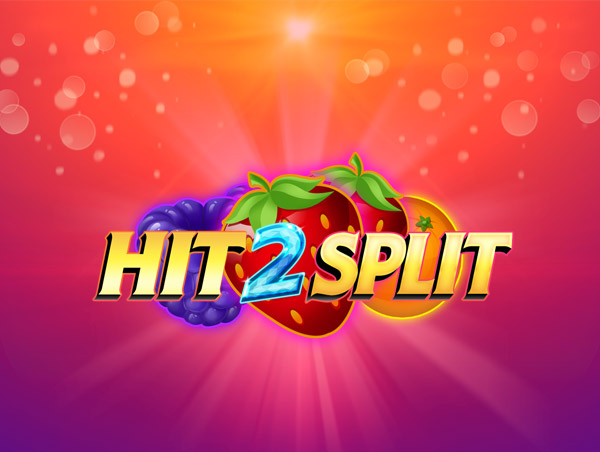 Hit 2 Split er en helt unik videoslot som kommer fra spillutvikleren Net Entertainment. Det som gjør spillet helt unikt er at det kun går an å spille dette spillet på ett nettkasino, og det er hos Unibet. Unibet er hittil eneste nettkasinoet som kan tilby denne spilleautomaten og det gjør jo at spillet er ganske ettertraktet. Det er helt klart et spill man ikke finner overalt, og det gjør automatisk at man vender seg til Unibet for å prøve det ut. De spillerne som velger å spille hos Unibet, og faktisk prøver ut Hit 2 Spilt kommer til å få seg en gledelig overraskelse. Net Entertainment har gjort en god jobb med dette spillet. De har nemlig tatt utgangspunkt i en tradisjonell spilleautomat, hvor man har ulike frukter som symboler, men Hit 2 Spilt er ingen tradisjonell spilleautomat. Faktisk, når man ser på spilleskjermen, så er det som om man har fremtidens spilleautomat foran seg, og det er helt klart positivt. Net Entertainment har virkelig tatt klassiske spilleautomater til et nytt nivå i Hit 2 Split, og underholdingen er helt klart til stede.
Spillets spesialfunksjoner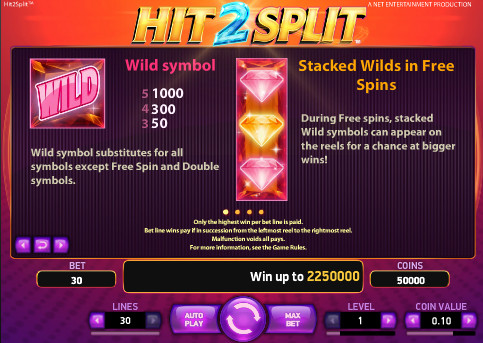 Det er to spesialfunksjoner i Hit 2 Split og det er wildsymbolene og gratisspinnrundene. Men hvis man ser nøyere etter så vil man oppdage at det egentlig er lagt til en annen spesialfunksjon. Symbolene som spinner rundt på hjulene har nemlig alle en helt spesiell funksjon. Man har noen høytbetalende symboler på hjulene og disse dukker alltid opp som doble på hjulene. Man trenger minst tre høytbetalende symboler for å få en gevinst, og med tanke på at de dukker opp i par så er det ganske enkelt å få en gevinst på hjulene. I tillegg så kan symbolene kombineres. Altså, man kan få en gevinst hvis man har to doble og et enkelt symbol på et hjul. Wildsymbolet er likevel det aller mest spesielle symbolet i spillet. Wildsymbolet er i form av en rosa diamant som har teksten wild skrevet over seg. Wildsymbolet fungerer først og fremst som spillets joker og kan derfor erstatte alle andre symboler på hjulene. Wildsymbolet ser ut til å dukke opp ganske ofte på hjulene, noe som helt klart er til spillerens fordel. En annen fordel med wildsymbolet er at den har en høy verdi i seg selv, man får faktisk 1000 mynter hvis man klarer å få en kombinasjon på fem stykker.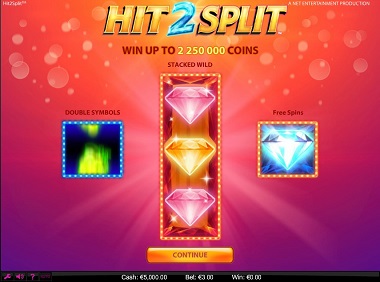 Gratisspinnene i spillet blir aktivert av gratisspinnsymbolet, som er i form av enten en eller to diamanter. Dette kommer da helt an på om man får symbolet opp som enkelt eller dobbelt symbol. Gratisspinnsymbolet gir ut to former for gevinster. Får man tre eller flere gratisspinnsymboler på hjulene så vil man få tildelt en kontantgevinst og hvis man får fire eller flere så vil man få tildelt gratisspinn. Kontantgevinsten man får med tre eller flere gratisspinnsymboler vil ligge på to ganger innsatsen man har i spillet. Får man fire eller flere gratisspinnsymboler så vil man få mellom 10 og 30 gratisspinn, i tillegg til at kontantgevinsten kan være på så mye som 10 ganger innsatsen man har i spillet. Underveis i gratisspinnene så kan man ende opp med å få stablede wilds på hjulene. Det vil si at wildsymbolene kan ende opp med å dekke et helt hjul.
Spille disse online casino
Spillets oppsett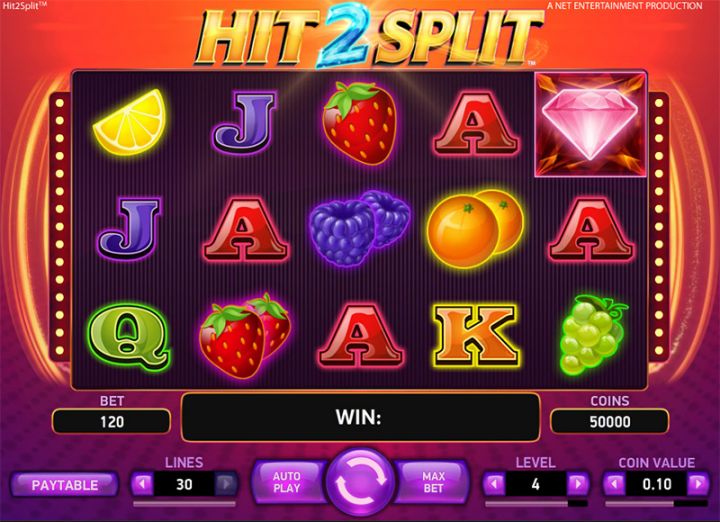 Oppsettet som man finner i Hit 2 Spilt er veldig klassisk når det kommer til spilleautomater. Man har fem hjul, tre rader med symboler og det er lagt på 30 innsatslinjer totalt. Dette er et fast oppsett, men spilleren kan selv velge hvor mange innsatslinjer som skal være aktive mens man spiller. Dette er det første man justerer, før man går videre til å justere innsatsen man ønsker å spille med. Myntverdien er det første man må justere, før man ser på hvor mange mynter man ønsker å satse per aktive innsatslinje. Velger man å spille med alle 30 innsatslinjene aktivert så vil man kunne ha en innsats på mellom 3 kr og opp til 750 kr i en spillerunde. Ønsker man å spille med høyest mulig innsats så kan man benytte seg av «bet maks»-knappen som man finner nederst på spilleskjermen. I tillegg til denne knappen så finner man en annen knapp som gjør spillingen enda enklere, nemlig autospinnknappen. Den gjør at man kan først justere innsatsen sin, for så å la spillet gå av seg selv et bestemt antall runder. Det gjør at man ikke trenger å tenke på å spinne i gang hjulene for hver spillerunde i spillet.