Historien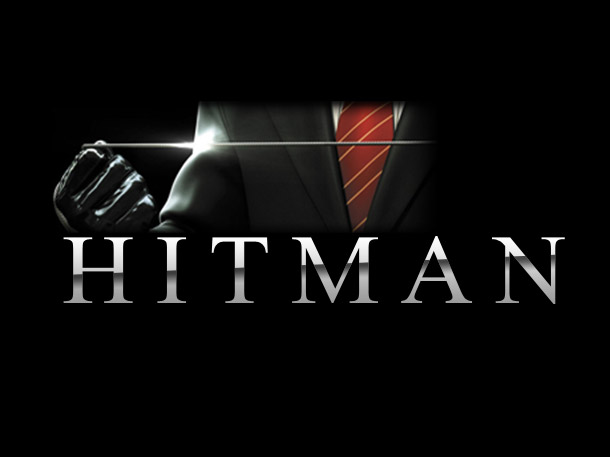 I dette kasinospillet er det Agent 47 som er hovedpersonen, og dette er den samme mannen som er hovedpersonen i dataspillet Hitman. Hitman er utviklet av det danske spillselskapet IO Interactive med Microgaming software. Agent 47 får altså oppdrag av sin hemmelige arbeidsgiver, som går under navnet The Agency, og oppdragene som han får går ut på å drepe mennesker i USA, i Stillehavsområdet, samt i Asia, og det er altså der spilleren av dette spillet kommer inn i bildet. Målet til spilleren er nemlig å lykkes med å gjennomføre alle disse ulike oppdragene som har blitt delt ut av The Agency.
Tematikk og grafikk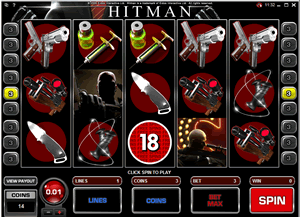 I denne videosloten som har fått samme navn så er da også målet å drepe de aller mest ettertraktede målene, men det er derimot ikke like mye blod og blod som det er i PC-spillet. Det dreier seg istedet mer om å samle på bonussymboler, å tjene seg opp gratisspinn og å satse riktig for å komme seg til de høyeste gevinstene i spillet. Det at denne videosloten har fått sitt tema fra PC-spillet med samme navn er ganske tydelig med en eneste gang man åpner slotmaskinen: Opptil flere av spillets symboler er nemlig Agent 47 som står klar med ulike våpen, og noen andre symboler er blant annet noen av de våpnene som han benytter til sine oppdrag – som for eksempel kniv, en giftsprøyte, snøre, gevær og pistol. Alle disse ulike symbolene presenteres mot en mørkerød bakgrunn som matcher helt perfekt bakgrunnen som for øvrig består av sort. Dette røde og sorte temaet går igjen i både spillmenyen, videoslotens symboler og også bakgrunnen til slotmaskinen, noe som gjør det hele veldig grafisk flott og skaper en visuell sammenheng.
Lydbildet
Noe som dette spillet får ekstra ros for er det at bakgrunnsmusikken som er valgt ut virkelig er med på å få opp stemningen og spenningen i forhold til hele spilleopplevelsen. De som har sett filmen med det samme temaet vil nok kjenne seg igjen i en god del av opplevelsene i spillet, men også for de som ikke har sett filmen enda kan det anbefales å ha virkelig høy lyd når man skal sette igang å spille. Så i det store og hele så er faktisk både grafikken fargemessig utrolig flott laget, og musikken er også med på å gi masse karakter og stemning gjennom hele spillet.
Spill på disse online casinoene
Bonusspill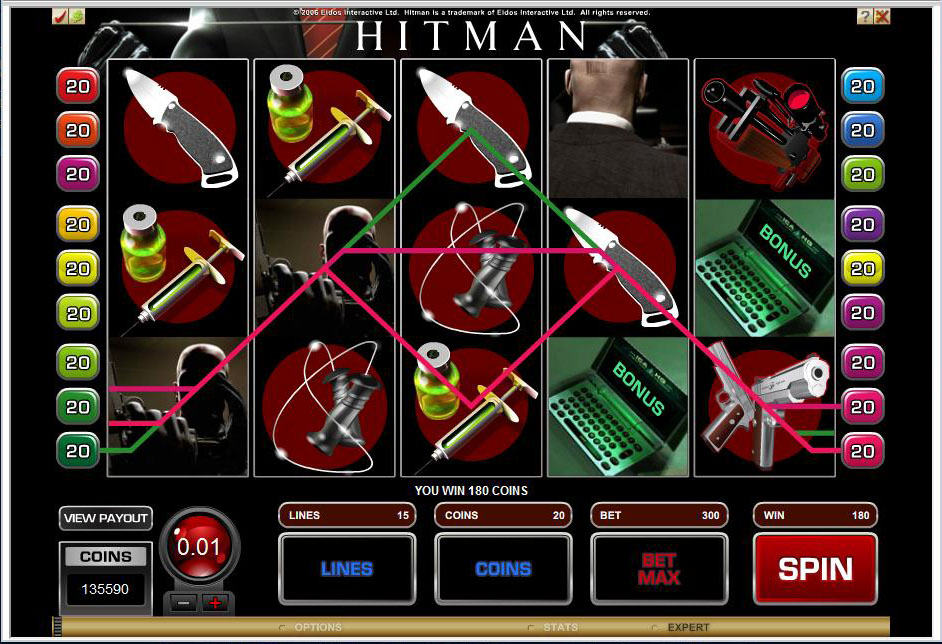 Bonusspillet som har fått navnet «contract bonus» er også virkelig med på å løfte opp hele spillets tema på en utrolig bra måte, da spilleren skal velge hvilket offer som skal skytes for deretter å dele ut en bonusgevinst. Så er det et annet bonusspill som har tittelen "symbolbonus"; denne funksjonen er derimot ikke koblet til temaet på noen som helst måte. Noe annet som er ganske morsomt og unikt med denne slotmaskinen er at et av symbolene, som fremfor alt er rettet til de som er kjent med Hitman fra tidligere, er gratisspinn-symbolet. Det er nemlig dette klistremerket som settes på spillets fremside for å informere om at dette spillet har 18-års aldersgrense.
Hitman har altså flere ulike bonusspill, men det er altså det førstnevnte kontraktbonus-spillet som gir ut spillets aller høyeste gevinst som er på svimlende 270 000 mynter. Denne bonusen blir aktivert når bonussymbolet som kommer i form av en PDA hvor man kan lese teksten "bonus", som vises på hjul 3, 4 og 5. Spilleren får da velge en målskive, altså en fiende som skal skytes. Det finnes fem ulike fiender, og hver av dem viser en intervall på bonusgevinster som deles ut dersom akkurat den fienden blir drept. I dette moduset kan altså spilleren velge å enten ta en sikker gevinst ved å velge en fiende med intervallet 1500 – 22500, eller velge å sikte høyt og ta en som har intervallet 600 – 60 000. Bonusgevinsten blir da multiplisert med den totale innsatsen på den spinnet som aktiverte bonusen, og etter dette flyttes bonusspillet til et annet rom, hvor en tilfeldig multiplikator kan øke gevinsten enda litt mer.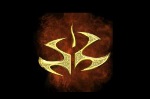 Så er det det andre bonusspillet med navnet symbolbonus, denne bonusen blir aktivert dersom tre gull amuletter blir vist på hjul 1, 2 og 3 og spilleren får etter dette velge en av disse gullamulettene som atkiverte bonusen og vil dermed få bonusen som gjemmer seg bak akkurat den amuletten.
Oppsummert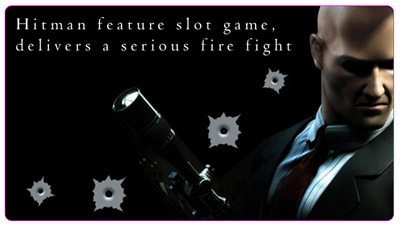 Det at spilleren selv får velge intervall i bonusspillet er en utrolig spennende og underholdende effekt som er med på å gjøre at spilleren kjenner seg mer som en virkelig del av spillet istedet for at en tilfeldig bonusgevinst ender opp med å bare bli delt ut. For de som kjenner Hitman fra tidligere er dette uten tvil en fulltreffer. For de som ikke har hatt denne gleden tidligere er denne spilleautomaten en god førstegangs opplevelse av denne suksessen fra IO Interactive. De høye utbetalingene gjør det til en passende utfordring også for high rollers.