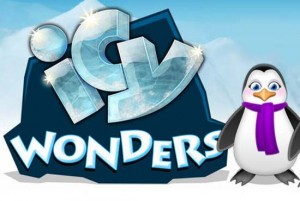 Med små søte pingviner sammen med andre sjarmerende dyr fra de kaldere delene av verden, er det ikke mange spillere som klarer å motstå deres sjarm. Her har nemlig Net Entertainment kommet med en videoslot som har fått navnet Icy Wonders – og det er disse polare dyrene som er hovedkarakterene i sloten. Spillet er faktisk også et av de tre spillene som inngår i Wonders-serien fra Net Entertainment, og de andre to er Tiki Wonders og Geisha Wonders. Jackpottene til disse tre videoslotene er koblet sammen, noe som gjør at det er faktisk mulig å vinne fra den samme jackpotten fra alle de tre ulike spillene. De som spiller på en eller flere av disse spilleautomatene kommer også til å se en god del likheter når det kommer til både spesialeffektene. Også blant annet utdelingen av gevinster er sammenlignbar. Stort sett er det som skiller disse tre slotmaskinene fra hverandre, grafikken.
Tema og grafikk
Helt nøyaktig hvor Net Entertainment har tenkt seg at Icy Wonders faktisk utspiller seg, er nokså vanskelig å si, men mest sannsynlig er det nok under forhold som man finner på steder som Grønland og Island – med tanke på utvalget av spillets symboler. Her finner man symboler som en isbjørn, en eskimohund, en vakker eskimojente, en hvalross og en iglo. I tillegg til disse symbolene inneholder også spillet bokstavene J til A som, helt i tråd med temaet, har frosset fast i isblokker. Så kan man se rundt hjulene at det bare er is overalt, og helt øverst blir det presentert for spillerne akkurat hvor store spillets to jackpotter, Mega Wonder Jackpot og Wonder Jackpot, er akkurat der og da. Det som er litt ekstra stas med denne videoslotens grafikk er de istappene som markerer sidene på de ulike hjulene som symbolene snurrer frem på.
Lydbildet
Når man er inne i hovedspillet i denne slotmaskinen kan man faktisk høre noen pingviner skvatre, fuglefløyt og også havet som bruser i bakgrunnen. Disse bakgrunnslydene som har blitt valgt ut passer dermed helt perfekt til dette temaet, da man mest sannsynlig ikke hører noe særlig mer enn akkurat det i det virkelige livet – dersom man skulle befinne seg langt ut i naturen i islagte øder.
Spille disse online casino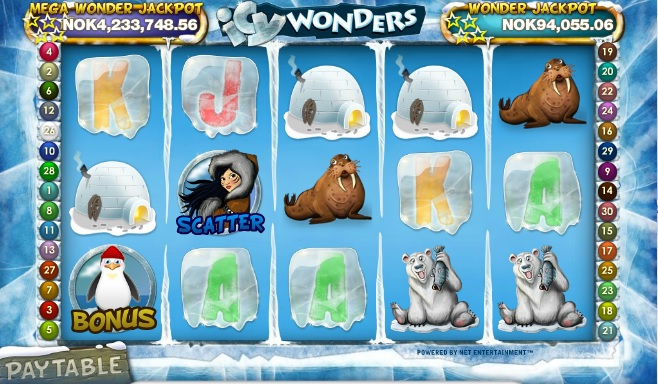 Når det kommer til bonusspillet i Icy Wonders så holder også lyden i bakgrunnen seg til disse pingvinene og havets brus, men det er i tillegg noen flotte lydeffekter som er helt annerledes. Når bonusspillet starter å spille, blir det spilt av en ganske så stille og rolig type musikk, og når man klikker på en pingvin i spillet kommer det en lydeffekt som får det til å høres ut som om man klemmer på en gummiand av noe slag. I dette tilfellet er det jo da en pingvin og ikke en and som det er snakk om, og når det kommer til akkurat denne lydeffekten, kommer nok mange spillere til å være uenige om hvordan det oppleves. Mange kommer nok til å synes at denne lydeffekten av en gummipingvin bare livner opp spillet litt og gjør en litt morsom vri på det, mens det er nok også en god del spillere som kan ende opp med å oppfatte denne lyden som både barnslig og unødvendig, men slike ting er det jo alltid uenigheter om.
Bonusspillet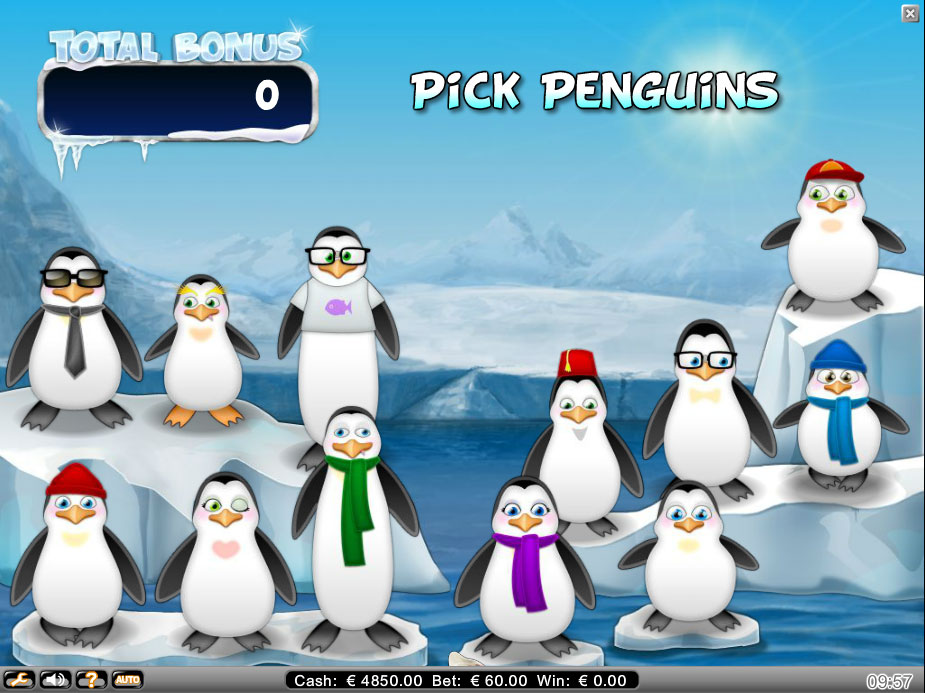 Når det kommer til spilleautomatens bonusspill blir denne aktivert dersom tre eller flere pingviner dukker opp på rad, og spillet flytter seg da til en isblokk hvor 12 pingviner står klare. Deretter skal spilleren velge seg ut en av disse pingvinene om gangen, hvor en bonusgevinst mellom 20 og 600 gjemmer seg. Bonusspillet fortsetter fisk etter fisk til man velger en pingvin som viser frem et fiskeskjelett, da er bonusrunden over.
Oppsett og innsats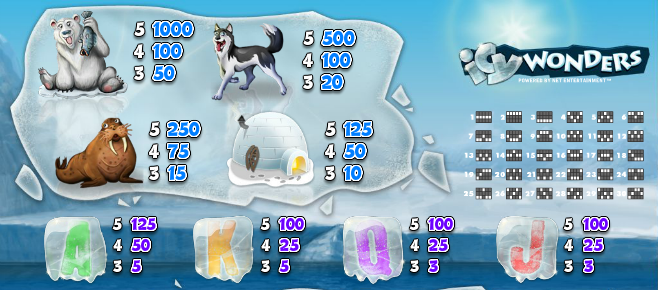 Selve oppsettet til Icy Wonders er ganske så klassisk med spillets fem hjul, tre rader og 30 spillelinjer å velge mellom. Når det kommer til innsatser så kan man variere innsatsen per linje mellom 0,1 kr og opp til 5 kr per spillelinje, og den maksimale innsatsen som er mulig er på 600 kr. Som sagt så er Icy Wonders en ganske klassisk spilleautomat som inneholder både de klassiske wildsymbolene og en scatterfunksjon, i tillegg til dette har spillere jo som nevnt allerede også muligheten til å vinne jackpottene i spillet. Wildsymboler i denne sloten viser en hval som titter opp gjør et snurr av glede på isen, og symbolet viser også teksten "Wild" så det er ikke vanskelig å få øye på dette symbolet. Som spillets scattersymbol kan man se en eskimojente, og på det aller meste kan altså spilleren få hele 30 gratisspinn fra dette symbolet; dette oppstår dersom fem eskimoer viser seg på hjulene samtidig. Alle gevinster som man får fra gratisspinn gir i tillegg til dette en dobbel utbetaling – med unntak av gevinster som man eventuelt får fra jackpot, bonusspill og ekstra gratisspinns som man måtte få underveis i gratisspinnene.