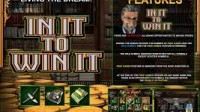 I Norge sier vi ofte at det viktigste er ikke å vinne, men å delta. Denne videoautomaten forkaster dette ordspråket. Her handler det bare om å vinne og gjøre suksess! In it to Win It er utviklet av Microgaming, som er et av de store navnene innen kasinoprogramvare. Microgaming lager alle typer kasinospill, og er blant de mest erfarne spillutviklerne. De lager spill med varierte temaer, og lanserer flere nye spill hvert år.
Denne automatens tema er rikdom, noe symbolene tydelig viser. Her dukker det opp privatfly, seddelbunker med seddelklemmer av gull, fine biler og alt en rikmann kan drømme om. Sprederen er en velkledd herremann som antakelig er både rik og vellykket. Kanskje han er eieren av herregården som vises på spillskjermen.
Grafikk og innsatser
Det er ingen 3D-grafikk i dette spillet, men det betyr ikke at grafikken er dårlig. Symbolene har fine animasjoner som kommer til sin rett når man vinner. Bakgrunnsbildene er også fine. Lyden er god, men kunne sikkert vært enda bedre. Det er ingen bakgrunnsmusikk i spillet, og få lydeffekter. Noen foretrekker selvsagt å spille uten lyd, og de vil sikkert sette pris på stillheten. Men for mange spillere er lyden en viktig del av spillet. Den skaper stemning og bidrar til underholdningen.
Videoautomaten har 5 hjul og 3 rader. Dette er ganske vanlig. Mer uvanlig er det at det er 100 innsatslinjer i spillet. Du trenger ikke å satse på dem alle, det velger du selv. Hvis du bare ønsker å spille på 63 linjer, velger du 63 linjer. Myntverdien kan stilles fra 0,01 til 0,50 euro/dollar/pund. Det er fem verdier å velge blant. Du kan satse fra 1 til 250 euro per spinn, dersom du satser på alle linjene. Du kan selvsagt satse på bare noen få linjer, men du vinner bare på vinnerkombinasjoner som dukker opp på aktive linjer, altså linjer du har satset på.
Spesialinnslag og gratisspinn
Spredersymbolene og gratisspinnsymbolene er veldig viktige i dette spillet. Sprederen er hovedpersonen i spillet, en rikmann som antakelig eier alle luksussymbolene som dukker opp på hjulene. Spredersymbolet kan også gi deg gevinster. To spredere gir 500 mynter, tre gir 1250 mynter, fire gir 5000 mynter, og fem spredere gir hele 25 000 mynter.
Minimum tre spredere aktiverer også gratisspinnfunksjonen. Men før du begynner å spille gratisspinn, må du sjekke hvor mange spinn du fikk, og hvilket symbol som er valgt som ekstra wild. For å finne antall gratisspinn, klikker du på en valgfri reiseveske. Veskene inneholder enten 10, 15, 20 eller 25 gratisspinn. De viser også hvilket symbol som blir wildsymbolet ditt.
I vanlig spill er spill-logoen wildsymbol. Dette er også det nest mest verdifulle symbolet, bare slått av sprederen. Men i gratisspinnrunden får du et annet wildsymbol i tillegg til spill-logoen. Det gjør det enda enklere å få vinnerkombinasjoner, for det er i gratisspinnmodus du har aller størst vinnersjanse i dette spillet.
Etter hver gevinst kan du velge om du vil beholde gevinsten, eller om du vil prøve å doble den. Dersom du klarer å doble gevinsten, kan du prøve på det samme igjen, og firedoble den. Du kan fortsette slik så lenge du tør, men dersom du mislykkes, mister du gevinsten. Du trenger ikke å ta denne risikoen hvis du ikke vil. Du kan i stedet velge å beholde gevinsten, og gå tilbake til vanlig spill igjen.
Gevinster og oppsummering
I dette spillet får man også utbetaling for bare to like. To spill-logoer, to privatfly, to biler eller to seddelbunker gir 5 mynter. Fem av spillets logoer gir 2500 mynter, fire spill-logoer gir 250 mynter, og tre like gir 125 mynter. Privatflyet gir 2000, 200 og 100 mynter for henholdsvis 5, 4 og 3 like. Fem biler gir 1500 mynter, fire gir 150 og tre gir 75 mynter. Fem seddelbunker gir 1000 mynter, fire gir 100 mynter og tre gir 50 mynter.
Du kan vinne fine premier i vanlig spill, men det er når du spiller med gratisspinn at du virkelig kan vinne stort. In it to Win It har kanskje verken den beste grafikken eller den beste lyden, men det er likevel en fin automat som byr på underholdning og spenning. Spillet har ingen progressiv jackpot. Spillets egen jackpot på 25 000 mynter er den største premien man kan vinne. Hvis man spiller med høy myntverdi, kan jackpoten gi en fin premie.
In it to Win It er en fin automat. Den tilbyr ikke like mange bonusinnslag og spesialfunksjoner som enkelte automater, men den er vel verdt å prøve.