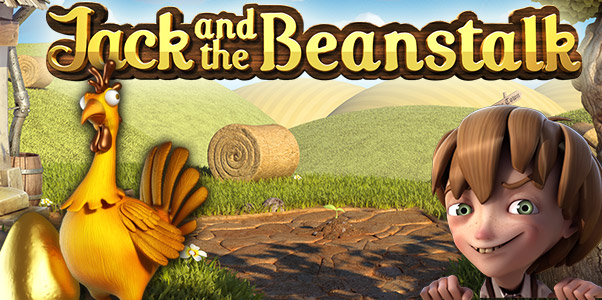 Jack and The Beanstalk er en gammel folkehistorie som handler om den fattige gutten Jack. En dag så bytter han til seg et magisk frø på et marked og snart vokser det opp en bønnestengel som strekker seg opp forbi skyene. En dag så klatrer Jack opp denne bønnestengelen, men på toppen så er det ikke bare og skyer å se, men også et stort slott der kjempene bor. Jack stjeler med seg både en høne som legger gullegg og en gullharpe, og løpet kjapt bort derifra. Og spillet begynner i det Jack skal til å løpe fra kjempene.
Grafikk og tema
Spillet starter opp med en flott intro som er godt animert, hvor man får følge Jack i begynnelsen på den spennende historien, alt dette blir vist før spillet faktisk begynner. I introen så ser man Jack som løpet for livet med gullhøna i armene, og det er denne som skal gjøre Jack rik for resten av livet. Bortsett fra det at introen er så bra laget at den kunne ha vært tatt ut fra en animasjonsfilm, så viser den også grunnlaget for symbolene man ser videre i spillet.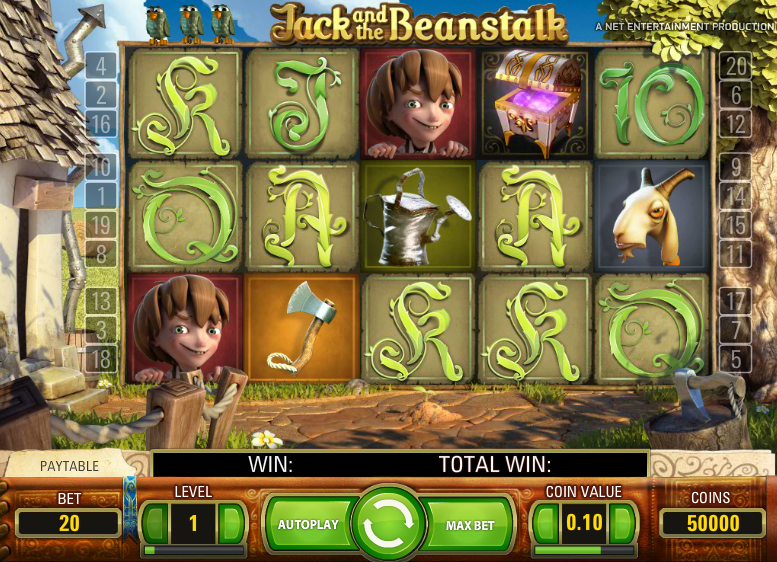 Akkurat som introen så holder grafikken i spillet også en høy standard. Spillet utspiller seg i trehagen foran Jacks hus, med trær og asfaltert sti som rammer inn hjulene i spillet. Det som gir spillet et ekstra pluss er det at det iblant flyr en fugl eller sommerfugl over spillet og gjennom hullet i taket så kan det iblant titte frem en liten fugl. Dette er små detaljer som gjør at grafikken vises i topp klasse.
Spille disse online casino
Symbolene i spillet er tegnet i forhold til spillets tema og her finner man så klart symbol med Jack, men også av hans geit, en vannkanne og av kjempen. Bønnestengelen er også med, men er da det som former tall symbolene som er i spillet.
Bakgrunnsmusikken under introen lover godt men dessverre så dabber det litt av lengre ute i spillet og til sist er det bare litt fuglekvitring man hører i bakgrunnen. Derimot så er det gode lydeffekter i det man får en gevinst på en av linjene og også under bonusspillet.
Spesialeffekter
Jack and The Beanstalk har flere spesialfunksjoner som virkelig er med på å høyne spilleopplevelsen.

Spillet har mange av de originale effektene, slik som wild symbol, scatter symbol og så klart et bonusspill. Men alle disse er jo så klart godt tilpasset til spillets tema og funksjon. Jack and The Beanstalk har også et spill hvor man kan vinne gratis spinn runder.
Scatter symbolet i spillet er et symbol av en kiste som er full av lilla edelstener som virkelig gnistrer. Det er dette symbolet som kan aktivere gevinsten av gratis spinn runder. For å få disse så må man få en kombinasjon med dette symbolet, på 3 eller flere. Da vil gratis spinn rundene bli aktivert og man vil få 10 gratis runder. Hvis man er så heldig å få enda en slik kombinasjon under gratis rundene så vil man få tildelt 5 ekstra gratis runder. Antallet gratis runder er kanskje litt merkelig med tanke på det lave antallet, men dette kompenseres med at man også kan få gratis runder med wild symbolet.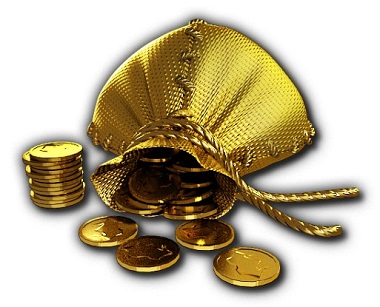 Wild symbolet i spillet er spillets tittel, nemlig Jack and The Beanstalk. Wild symbolet tredobler alle gevinster hvor wild symbolet er en del av kombinasjonen. I tillegg til dette så kan man få flere gratis runder hvis wild funksjonen er en walking wild. Det som menes med walking wild er det at hvis wild symbolet for eksempel er på hjul fire, så deles først linjegevinsten ut, og så flytter wild symbolet på seg til et annet hjul, og da får man en gratis runder. Så deles linjegevinstene ut på nytt og wild symbolet fortsetter å flytte på seg helt til det forsvinner forbi det første hjulet og ut av spillet. På det meste så kan da spilleren få enda 4 gratis runder hvis wild symbolet dukker opp på hjul 5.
Bonusspillet kommer man til hvis man klarer å finne noen nøkler under gratis spinn rundene. Nøklene kan kun dukke opp på hjul 5 og ulike antall nøkler gir ulike gode gevinster. Hvis man for eksempel har 6 nøkler så blir alle kommende wild symboler til gullhøner og blir da til stacked wilds som har en multiplikator på ganger 3. Hvis man får 9 nøkler så forvandles wild symbolene til gullharper og får en expanding wild funksjon og samler da nøkler under alle gratis spinn rundene.