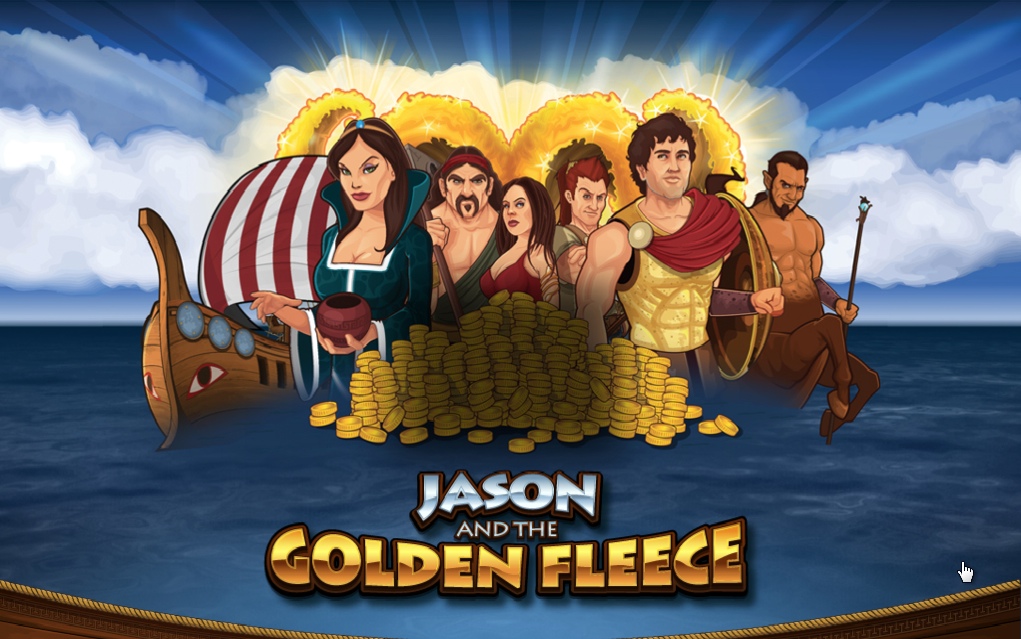 Legenden om Jason og det gylne skinn er kjent for mange. Det gylne skinnet kom, i følge legenden, fra en bukk som var etterkommer av Theophane og Poseidon. Skinnet dukker opp i flere myter fra antikkens Hellas, men for Jason var skinnet ekstra verdifullt, ettersom det kunne gjøre ham til konge av Kolchis.
Argonautenes reise var full av undere. De møtte merkelige og farlige vesen, blant annet sirener og en rasende drage. Legenden om det gylne skinnet er ikke nødvendigvis basert på ren fantasi, ettersom det finnes geiter med gyllent skinn i Kina. Kanskje hadde noen sett slike geiter, og tok dem med i legenden om Jason.
Det er Microgaming som har laget denne videoautomaten. Spillet har massevis av spesialfunksjoner, og det virker som spillutviklerne virkelig har satt seg inn i legenden om Jason, ettersom bonusfunksjonene involverer de viktigste karakterene fra legenden. Spillet har også wilds, spredere og gratisspinnfunksjon.
Spill på disse online casinoene
Grafikk og lydeffekter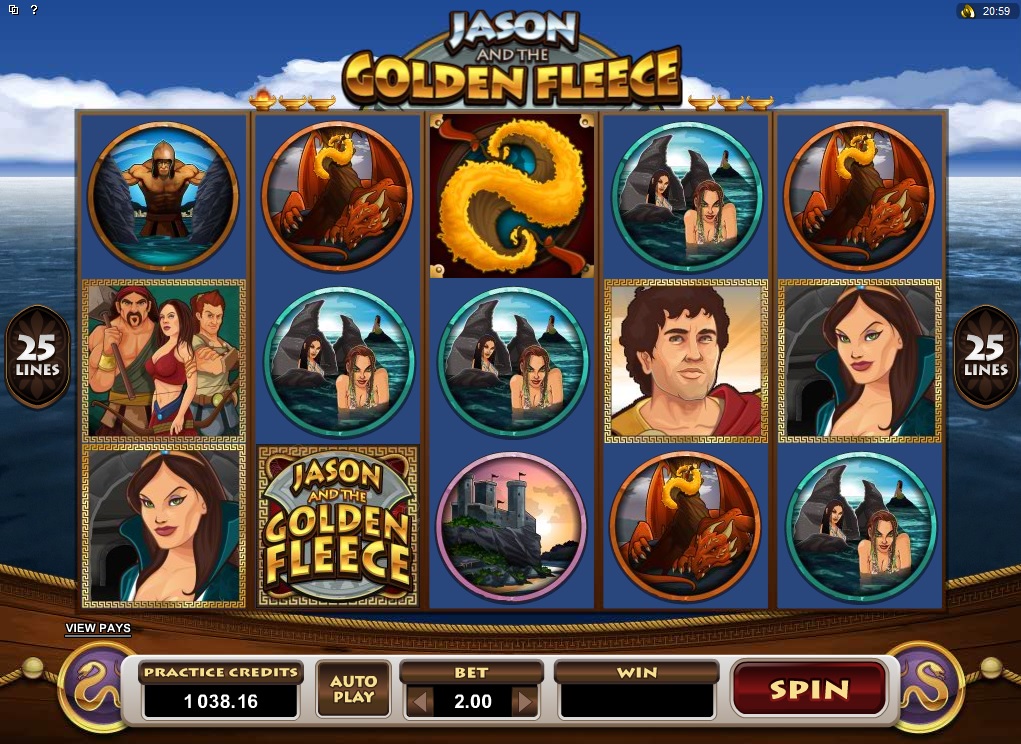 Jason and the Golden Fleece har mange fine symboler, hentet fra legenden om jakten på det berømte skinnet. Du finner selvsagt Jason selv på hjulene, i tillegg til Medea, båten Argo og byen Kolchis. Skinnet er et spredersymbol.
Lyden er svært godt laget, med en Hollywood-inspirert bakgrunnsmusikk, og mengder av lydeffekter både i det vanlige spillet og for bonusfunksjonene. Spillet er et eventyr i seg selv, særlig på grunn av alle bonusspillene. De kan gi deg virkelig store gevinster dersom du er heldig.
Innsatser og utbetalinger
Denne videoautomaten har fem hjul, tre rader og 25 innsatslinjer. Antallet innsatslinjer er fast, men du kan velge myntverdi fra 0,10 til 5 kroner per mynt, og satse inntil 10 mynter per linje. Minsteinnsatsen per spinn er 2,50 kr, mens maksimumsinnsatsen er hele 1250 kr. Du kan spille inntil 9999 autospinn. Du kan også stille inn autospinnene slik at de stopper dersom du vinner eller taper et visst beløp, eller kommer til bonusspillet.
Du kan vinne inntil 1 100 000 på et spinn.
Spesialinnslag og bonuser
Dette spillet har mange spesialfunksjoner. Spillet har både wilds og to spredere. Wilds fungerer som i andre spill, ved at de erstatter andre symboler for å gjøre det lettere å vinne. Spillets logo er en spreder. Tre eller flere av denne sprederen utløser gratisspinnfunksjonen. Da får du 10 gratisspinn, med tredoble utbetalinger. Gratisspinnene kan også gjenutløses mens du spiller med gratisspinn.
Skinnet er den andre sprederen i spillet. Dette aktiverer bonusspillet Jasons Reise. Der legger du ut på reise sammen med Jason. Det dukker opp et kart med seks steder. Disse stedene markerer seks bonusspill, og hver gang du kommer til bonusspillet, flytter Jasons skip seg til et nytt sted.
Bonusspillene du kommer til, er litt forskjellige. Første gang du kommer til bonusspillet, skal du peke og klikke for å finne premier. Neste gang skal du matche fire like. Deretter dukker det opp fire andre bonusspill, før du kommer til starten av reisen igjen. Bonusspillene har ulike navn, og kan gi deg fine premier.
Iolcus skjoldbonus kan gi deg inntil 75 000 kr i gevinst, hvis du velger de rette skjoldene. Dette er det første spillet, der du skal peke og klikke. Du kan velge 6 skjold, alle med ulike gevinster skjult bak seg.
Mysia bonus gir deg inntil 62 500 kr dersom du matcher 4 like elementsymboler. Du skal klikke på de skumle flygende harpyene, og finne elementet de skjuler. Du kan også vinne en fordobler i dette spillet.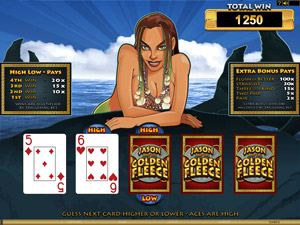 Det tredje bonusspillet er Symplegades skipsvrakbonus, som også kan gi deg inntil 62 500 kr i gevinst hvis du gjør de rette valgene. Du blir tilbudt en premie, og skal velge om du vil beholde den eller takke nei. Du kan takke nei inntil to ganger.
Kretabonusen kan gi deg inntil 100 000 kr, ved at du spinner et hjul. Sirenebonusen kan gi deg inntil 185 000 kr dersom du gjetter riktig kort. Du skal gjette om det neste kortet som deles ut blir høyere eller lavere enn det forrige. Hvis du snur alle kortene, kan du vinne en storgevinst. Du kan få ekstra bonuser for tre like, straight eller flush.
Colchis heksebryggbonus kan gi deg inntil 95 000 kr, hvis brygget du blander får dragen til å sove lenge nok.
Oppsummering
Med hele seks bonusspill, har du mye å glede deg til. De gjør spillet interessant og spennende, og svært få, om noen, tilbyr noe lignende. I tillegg til dette, kan du vinne gratisspinn, og inntil 1,1 millioner på ett spinn. Her er det ingen grunn til å nøle!