Tema og Grafikk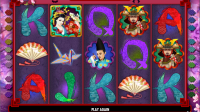 Denne videosloten som går under navnet Jewel of the Arts er en utrolig vellagd og veldesignet slot med stor fokus på både grafikken i spillet og også på lyden og lydeffektene. IGT har altså klart å levere kvalitet nok en gang med denne sloten, for de leverer tross alt alltids fine og attraktive slots men dessverre så legger de som regel ikke inn så altfor mye arbeid når det kommer til lyden i spillene dems, men heldigvis så har de ikke tatt noen snarveier når det kommer til Jewel of the Arts. Grafikken i spillet er gjennomgående fargeglad og har en høy oppløsning som gir en følelse av gjennomgående høy kvalitet. Spillet byr også på en helt unik opplevelse når det kommer til bakgrunnsmusikken og Jewel of the Arts inneholder også mengder av ulike lydeffekter gjennom spillets gang. Blant symbolene som har blitt valgt ut til spillet så finnes det til sammen fem høytbetalende symboler hvor en er i form av en geisha, en annen forestiller en samurai. I tillegg så kan en finne både en vifte og også en papirsvane som er gjennomført i den klassiske kunsten av origami.
Innsatser og Alternativ
Jewel of the Arts videosloten består av fem hjul og totalt 20 ulike spillelinjer som er fordelt over tre rader, som spiller så har en mulighet til å justere antallet linjer men en har ikke muligheten til å gjøre det linje for linje uten at en må velge mellom noen forehåndsbestemte antall. Innsatsen for de ulike linjene er 0, 10 og opp til 10 euro noe som innebærer at innsatsen kan variere mellom 2 – 200 euro dersom en aktiverer alle spillelinjene, noe som gjør at dette også er en slot for high rollers. Dersom en velger å benytte spillets auto spin funksjon så kan en spillet opp til hele 50 spins helt automatiskt.
Effekter og Spesialsymboler
I likhet med de fleste andre videoslots som kommer ifra IGT Gaming så er Jewel of the Arts ikke akkurat overbelastet med bonusfunksjoner. Spillet har kun to ulike spesialsymboler og et free spin modus. Det er i det store og hele egentlig alt dette spillet tilbyr, men likevel så holder egentlig dette i massevis, for som en vil oppleve når en spiller dette spillet så er ikke disse ekstrafunksjonene bare bare. Spillets Wild symbol er den som forestiller en geisha, når hun dukker opp på hjulene så erstatter hun alle de andre symbolene med unntak av bonussymbolet, som inneholder teksten «Fan Dance Bonus» som som kan oversettes direkte til viftedanse bonus. Dersom en får minimum to av disse bonus symbolene i spillet et sted på de tre hjulene som er i midten så vinner en nemlig x2 innsatsen. Om en derimot klarer å få tre av disse bonus symbolene så blir et free spin modus aktivert. En får kun tre free spins, noe som egentlig er litt rart men samtidig så er du garantert å få ganske så fine gevinster, spesielt på det tredje og det aller siste spinnet. For det er nemlig sånn at Fan Dance Bonus spilles med jokerhjul og stablede symboler. Når en er inne i det første free spin så kommer hjul 2 fra venstre side til å være joker hjulet, det vil si at Wild symbolet tar absolutt alle posisjonene på dette hjulet. Iløpet av det andre spinnet så kommer hjul 2 og også hjul 3 til å være joker hjul og under det aller siste spinnet så er nemlig alle tre hjulene som er i midten «Wild». Alt dette vil si at en nemlig da si at en er garantert en gevinst på en hel rad spillelinjer med minimum fire symboler på hver linje. Den høyeste gevinsten en da kan få dersom en skulle få spillets høyest betalende symbol, nemlig logoen for selve spillet, stablet på hjul 1 og 5. For da er en nemlig aktivert alle 20 spillelinjer og med 1000 mynter i sats per linje så inner en virkelig storgevinsten i spillet.
I denne sloten så kan en med andre ord dykke dypt inn i eksotiske og spennende kulturer som er temaet for sloten. Her så er det Japan som er i fokus med sine mystiske geishaer som er kvinnelige underholdere som er godt opplært i ulike kunstformer. Men fremfor alt så er altså en geisha alltid godt utdannet innen tradisjonell japansk kultur, i tillegg så er musikk og dans i fokus. Dette kan nok enkelt og greit være en av de aller beste videoslots til IGT som er kommet på en stund og selv om spillet ikke har mengder med bonusfunksjoner så går det ikke langt mellom gevinstene i hovedspillet.