Finstem gitaren og finn fram den gamle platesamlingen din, for her venter det en spilleautomat langt utenom det vanlige! Jimi Hendrix er en hyllest til den amerikanske rockelegenden, som døde så altfor ung – i en alder av 27 år. Her er det mange ingredienser fra musikkens verden som blandes sammen, med et forrykende resultat! Spilleautomaten leveres av den svenske spillgiganten Net Entertainment, og lever så til de grader opp til forventningene våre. Fet musikk, herlige animasjoner og en legendarisk stemning er det som venter når Jimi Hendrix inntar skjermen din!
---
Om spilleautomaten Jimi Hendrix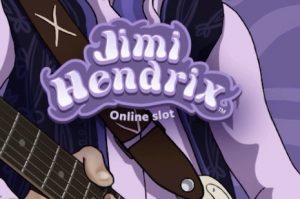 Avhengig av hvilke musikkeksperter man spør, blir Jimi Hendrix ofte omtalt som verdens beste gitarist…gjennom tidene! Til tross for sitt korte og turbulente liv rakk han å snu musikkbransjen på hodet takket være udedølige låter som Voodoo Child, Purple Haze og Fire. Hendrix' kjappe rytmer og tonevarianter er faktisk en viktig inspirasjonskilde den dag i dag for unge fremadstormende gitarister. Musikken hans spenner over en rekke sjangere – noe som inkluderer blues, rock og electronica.
Her kommer endelig spilleautomatenes svar på den amerikanske legenden, og resultatet skuffer aldeles ikke! For det første er spillet fylt til randen av autentiske låter som man kjenner igjen fra de gamle LP-platene. For det andre har Net Entertainment lyktes i å kapre deler av stemningen fra 1960-tallet, der Woodstock, flower power og hippy-generasjonen stod i førersetet. Hvis det var mulig å destillere ren nostalgi – da ville nok spilleautomaten Jimi Hendrix være det nærmeste man kommer! Så len deg tilbake i godstolen og fyll opp kaffekoppen – du vil nok ikke reise deg med det første!
---
Design og innsatser
Rent teknisk er det ikke noen nyheter å spore på skjermen, enda hjulene beveger seg på en kul og annerledes måte. Spillet er bygget opp med et klassisk utseende der 20 faste gevinstlinjer er spredt ut over 5 hjul og 3 rader. Å satse et beløp man kan leve med er heller ikke vanskelig takket være spillets 10 unike innsatsnivå og selve myntverdien. Sistnevnte strekker seg fra hele 10 øre til 10 kroner per stykk, og gjør det lett å finne en sum man er komfortabel med. Her trenger du ikke å satse alle pengene på én streng for å si det enkelt!
Når vi legger sammen tallene ender Jimi Hendrix opp med en min/maks innsats som strekker seg fra imponerende 1,6 til 2 000 kroner for hvert enkelt spinn! Det er sannelig ikke dårlig, og gjør det såre enkelt å finne en et innsatsbeløp man er komfortabel med. Jimi Hendrix passer derfor bra for alle spillere, uavhengig av tykkelsen på lommeboka!
---
Fete Gevinster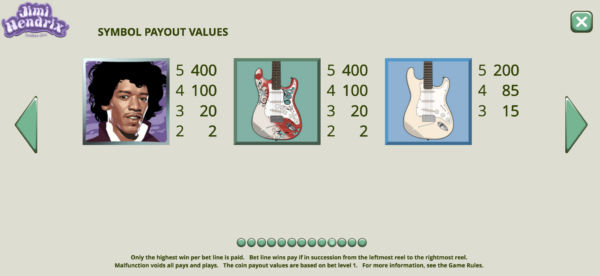 Du kan dra i land noen riktig fine gevinster, der toppgevinsten er satt til 800 000 kroner ved maks innsats. Beløpet er kanskje litt lavt når det sammenliknes med maksinnsatsen på 2 000 kroner, men burde likevel friste de fleste! De største gevinstene er knyttet til sjefen selv (Jimi) og gitarene med forskjellig farge. Og som vanlig – jo mer du satser, jo mer vinner du!
---
Spesialfunksjoner
NetEnt har i kjent stil valgt å krydre spillet med noen saftige spesialfunksjoner. Vi har tatt en titt på hvilke godsaker som skjuler seg i spillet, og gir deg alle detaljene du leter etter. I Jimi Hendrix brygger det opp til bonusfest, noe du raskt vil forstå når du fortsetter lesingen!
Wild symbolet
Ingen casinospill er det samme uten wild symbolet, og Jimi Hendrix er slettes ikke et unntak. Ikke overraskende er det sjefen selv som har tatt på seg jobben som jokeren i spillet. Wild symbolet har den høyeste enkeltstående verdien i spillet og erstatter alt annet med unntak av bonuser og scatter.  Du kan vinne inntil 4 000 mynter per gevinstlinje, som tilsvarer 40 000 kroner ved maks innsats. Wild symbolet er nøkkelen til toppgevinsten i spillet på 800 000 kroner (40 000 kroner x 20 gevinstlinjer). Drar du i land storgevinsten har du sannelig råd nok til å investere i en skikkelig gitar!
Purple Haze
Spilleautomaten har tre forskjellige bonusfunksjoner som aktiveres med jevne mellomrom underveis. Med litt flaks kan de hjelpe deg dra i land enorme gevinster fra tid til annen, der særlig Purple Haze er til god hjelp! Så fort symbolet lander på hjul nummer én, vil en rekke andre symboler gjøres om til wilds. Da blir det fort snakk om store gevinster hvis du i tillegg har noen verdifulle gitarer på skjermen foran deg!
Red Guitar 
Hendrix er viden kjent for den røde fender mustang gitaren som han jevnlig opptrådte med! Da passer gitaren også sykt bra som bonussymbol med sjansen til å vinne inntil 4 000 kroner per gevinstlinje. Og det stopper ikke der – fordi 4 like gitarer vil aktivere re-spins, der hjulene fortsetter å snurre helt fram til nye identiske gitarer ikke lenger dukker opp. Fyller du opp hele skjermen med symbolet kan du vente deg 80 000 kroner i gevinst!
Pick a win
Pick-a-win er en litt snodig funksjon, og aktiveres med minst 3 scattere på skjermen samtidig. Her kan du selv velge blant 4 forskjellige bonuser med varierte gevinster! Du kan ende opp med alt fra kontantgevinster til en rekke freespins der gevinstene bestemmes av innsatsen når «pick-a-win» funksjonen først ble aktivert.
---
Nydelig design og musikk
Du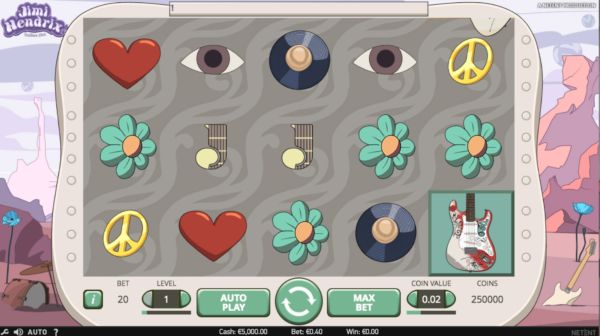 vil nok raskt legge merke til musikken som spiller i bakgrunnen, med autentiske toner fra selveste Jimi Hendrix! Sjelden finner man spill som inkluderer ekte lyd fra musikk-legender, enda Net Entertainment har satt seg mål om å endre på akkurat den biten! Jimi Hendrix er del av en rockeserie fra NetEnt, som blant annet inkluderer spilleautomatene Guns N Roses og Mötorhead. Målet er å gjenskape den samme stemningen vi forbinder med de legendariske bandene, og Jimi Hendrix leverer underholdning over all forventning!
Legg også merke til den animerte introen der Jimi jammer av gårde mens hjulene spinner i full fart. Alt er knyttet sammen på en nydelig måte, med mål om å skape ekte 60-talls stemning fra start. Alt i spillet passer overens med både musikk, bakgrunn og symboler. Det sender tankene av gårde til 1960-tallet der «Peace, Love and Drugs» var det som dominerte musikken. Hvor er Janis Joplin og The Beatles når vi trenger de liksom?
---
Leverer Jimi Hendrix varene som lovet?
Vår anbefaling er enkelt og greit at du prøver spillet! Men det ligger også et par viktige forutsetninger bak den konklusjonen! For det første har spillet en litt lav ratio med tanke på innsats/gevinst. Maksinnsatsen på 2 000 kroner blir for høy når toppgevinsten er satt til magre 800 000 kroner. Med andre ord burde du ikke spille Jimi Hendrix dersom målet er å vinne ekstra fete gevinster, da mange spilleautomater byr på enda større summer.
For det andre passer spilleautomaten best for ekte musikk-elskere og de som kjenner til rockelegenden fra tidligere. «Halve moroa» er å kunne slappe av med fete Hendrix-riffs mens man ser hjulene spinne av gårde på skjermen foran seg. Og hvem vet – kanskje er du den heldige som stikker av med toppgevinsten i spillet? Da har du hvertfall råd å investere i en ekte rød fender mustang!