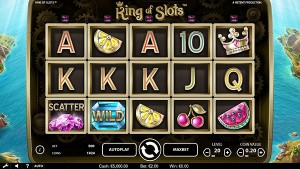 Net Entartainment har utviklet spilleautomaten King of Slots KUN for det suksessfulle skandinaviske nettkasinoet Casino Saga! Det eventyrlige nettkasinoet ble oppstartet i 2014, og opplegget deres er et øyrike av forskjellige rollespill og kasinospill. Selvsagt trenger et øyrike noen som kan styre øya, nemlig en konge.
Symboler
Fargene som blir mest brukt er gull og rosa. Her finner man standardsymbolene 10, J, Q, K og A. Disse er utformet simpelt, med forskjellige metalliske farger som smelter sammen. Gull, sølv, rødt og blått. Bildesymbolene er av en rosa vannmelon, laget av edelsten. Frøene består av mørkere stener. Skallet på vannmelonen er diamanter. Man får ikke akkurat lyst til å slurpe i seg vannmelonen, for å si det slik! Kirsebærene er rosa, med gullstilk, og et gullblad. Sitronen er gul, og med skall av gull, utsmykket med noen diamanter. Disse godbitene er ikke ment for å smakes på, men bare nytes synet av. Litt dårlig nytt til kongen den dagen solen skinner sterkest, og han gjerne ville hatt noen forfriskninger. Kanskje kongen på haugen har hatt et lite besøk av Kong Midas? Gullkronen til kongen, er selvsagt også med. Den har rosa steiner, og er dekket av diamanter. Scattersymbolet består av tre skinnende rosa-lilla diamanter, og wildssymbolet en turkis edelsten.
Design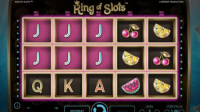 I bakgrunnen hører man fuglekvitter og bølger som slår mykt mot land. Kongen av spilleautomatene sitter trolig i sitt slott på høyeste topp av øya, og ser ned mot den fortryllende isblå sjøen. Øya som omringer spilleautomaten, er i tropisk grønn, gul, og varme gråbrune farger. Selve spillet oser av rikdom og luksus. Fargene og gjenstandene er gull, sølv, og trollbindene stener i forskjellige farger. Det er nesten slik at diamantene fyker ut fra skjermen, da det nesten ikke er plass til dem i spilleautomaten, så mange det er! Bakgrunnen på selve spilleautomaten er brun, og tittelen av gull. K'en i ordet «King» har en krone på toppen. Spilleautomaten har et enkelt og behagelig utseende, med artige bildesymboler. Hadde det ikke vært for øya som var i bakgrunnen, kunne spilleautomaten hatt et litt for enkelt design. Til å være selve kongen av spilleautomatene, forventet vi kanskje et litt mer overdådig utseende. I stedet for mørk brun, kunne kanskje bakgrunnen ha vært i skattekammeret til kongen? Innsiden av slottet, eller i en eksotisk hage? Standardsymbolene kunne også blitt oppgradert, slik at de sto i stil til bildesymbolene.
Spill på disse online casinoene
Funksjoner og utbetalinger
King of Slots har 26 gevinstlinjer, fem gevinsthjul og tre rader. Gevinstlinjene kan man ikke justere, da den er låst. Man kan derimot velge myntverdien og innsatsnivået. Myntverdiene er fra 0.01 og opp til 10. Man må ha minimum 1 mynt per linje, og maksimum 10 mynt. På autospinn-funksjonen, blir man behandlet som en konge. Her kan man lene seg tilbake, mens man ser autospinnene rulle opp til 999 ganger! Wildsymbolet i spillet dukker plutselig opp, helt tilfeldig! Den har ingen annen funksjon enn å erstatte andre symboler, utenom scattersymbolet.
Gratisspinn og bonus
King of Slots har en såkalt respinn-funksjon. Dette betyr at man får ett ekstra spinn, men man er ikke garantert å få en gevinst under gratisrunden. Man opplever denne når man får en vinnerkombinasjon på gevinsthjulene. Gratisspinnene blir trigget når scattersymbolene glitrende vises på skjermen. Hva enn du vinner under gratisspinn-rundene, blir summen tredoblet! Scattersymbolet gir i tillegg en pengepremie. Også her kan man få respinn. Om man skulle være så heldig å få en respinn for hvert gratisspinn, har man mulighet til å vinne en hel haug med penger, dette uten å betale selv! Som om ikke det var nok, vinner du store summer, vil et hav av juveler sprette opp. Hvor fantastisk er ikke dette?
Den endelige konklusjon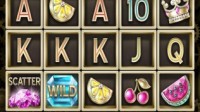 Kongen av spilleautomatene sitter på en hel haug av gull, diamanter, edelstener og andre skatter. Likevel er han litt beskjeden, da meste parten av hans skatter er gjemt i slottet. En liten smakebit av det han eier får vi et glimt av i alle fall. Man blir blendet av vakre edelstener, gull og diamanter, og noen er utformet som frukt og bær. Vi skulle ønske kongen hadde bedt oss inn på teselskap i hagen hans, utflukt i hans slott, eller sett et av hans mange skattekamre. Dette i stedet for å stirre på det brune bildet hans. King of Slots har 26 gevinstlinjer og fem gevinsthjul. Spilleautomaten har dessverre ikke jackpot, men gratisspinn samt en «re-spinn» funksjon, og her kan man vinne en del penger.