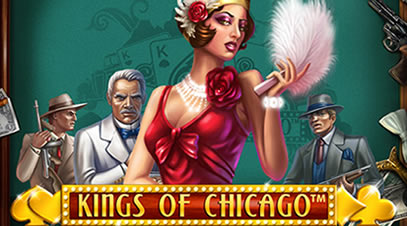 Kings of Chicago er en videoslot som kommer fra den velkjente spillutvikleren Net Entertainment. Denne spilleautomaten har blant annet en god del unike og annerledes effekter. Selve spillet er bygd opp av spillekort, og utspiller seg på en av Chicagos ulovlige spilleklubber – eller gamblinglokaler, som det også kan kalles. Det som gjør akkurat denne slotmaskinen såpass unik er at spilleren skal forsøke å få pokerhender ut fra de kortene som blir delt ut. Dette er altså annerledes i forhold til å få så mange like symboler på rad som mulig, som er det som er vanlig når det kommer til andre videoslots. Spillet er derfor helt perfekt for de spillerne som også liker poker, men som gjerne vil gjøre sine spill enda mer spennende ved å spille på videoslots i tillegg.
Spillets gang
Da målet for denne slotens spillere som sagt er å få så bra pokerhånd som mulig, finnes det jo absolutt ingen symboler som snurrer rundt på noen av hjulene i Kings of Chicago. Dette spillet fungerer slik sett annerledes enn andre spilleautomater, i stedet kan spilleren høre hvordan kortstokken blir blandet sammen og ser deretter når kortene blir delt ut på bordet i tre rader hvor det vil være fem kort i hver rad. Symbolene i denne videosloten er med andre ord vanlige spillekort, og det gjelder for spilleren å få en god samling på hånden for å klare å vinne noen fine gevinster.
Tema, grafikk og lyd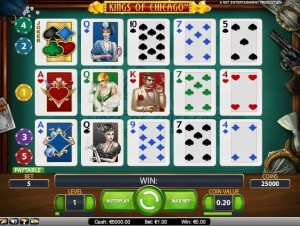 Hele Kings of Chicago foregår på et klassisk, grønt spillebord, hvor kortene i spillet sammen med resten av bordets og kortenes detaljer skal få spillere inn i den riktige stemningen som hører til spillets tema. Her kan man blant annet se ulike kasinochips, diamanter og også en pistol. Det skal også legges til at spill var ulovlig i Chicago i lang tid, og på den tiden var det altså gangsterkonger og mafiabosser som drev de ulovlige spilleklubbene. Det er nettopp dette som spillets navn «Kings of Chicago» viser til, og det er i en av disse undergrunnsoperative, ulovlige klubbene spillet foregår. Som bakgrunnsmusikk har Net Entertainment gjort utrolig gode valg som passer helt perfekt til spillets tema. Man kan nemlig høre pianomusikk som blir spilt i bakgrunnen i løpet av hele spillet, og dette gir spillerne en herlig følelse av å være inne på en slik spilleklubb en gang i løpet av 50-tallets Chicago. I tillegg til dette har Kings of Chicago fått utrolig flott, temarettet og fargesterk grafikk, med et par uvanlige animasjoner, helt fra begynnelse til slutt – nok en detalj som gjør at hele temaet fremstår som veldig godt gjennomført.
Spille disse online casino
Spillets oppsett
Som nevnt allerede så finner man flere detaljer i Kings of Chicago som gjør at akkurat denne slotmaskinen skiller seg ut i mengden av flotte, morsomme og spennende slots der ute. For det første vinner nemlig ikke spillere av å ha flere like symboler av samme type på rekke og rad: I dette spillet gjelder det nemlig å få en så bra pokerhånd som mulig på de fem spillelinjene som finnes på skjermen. Derfor har det jo absolutt ingen betydning for gevinsten hvilken rekkefølge kortene dukker opp i – gevinst blir det så lenge de dukker opp på samme gevinstlinje. Det som ikke er helt uventet som et utviklervalg i denne videosloten, er det at jokeren i kortstokken selvfølgelig har fått bli wildsymbolet i Kings of Chicago. Jokeren erstatter da, som vanlig, alle andre symboler i spillet – og dessuten fordobles også absolutt alle gevinster som man får hvor jokeren er inkludert i den gevinstgivende kombinasjonen.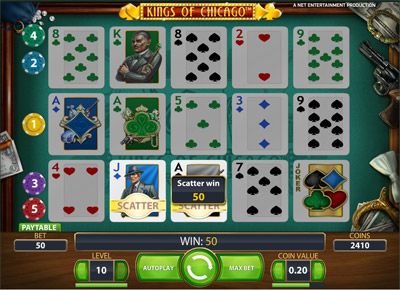 Scatteren i Kings of Chicago er den som kan gi spilleren gratisspinn, og denne finnes faktisk i flere ulike utførelser, da scatter-symbolet legger seg over spillekortene vilkårlig. Det viser seg da som vanlige spillekort, men med en linje av gull som er markert med "SCATTER". Dersom man får minimum tre scattere på samme spillrunde, får spilleren det som kalles for «free deals» i denne videosloten. Det vanlige ordet som pleier å bli brukt når man snakker om slotmaskiner, er nok gratisspinn, men da kortene deles ut i stedet for å rulle frem på hjul kalles denne delen av spillet i Kings of Chicago for "free deals". Spilleren kan på det aller meste tjene opp til 30 "freedeals", dette vil skje dersom fem scatterkort dukker opp samme tid på bordet. I likhet med wildsymbolet i spillet, fordobles også gevinstene man får mens man spiller "free deals".
Oppsummert
Alt i alt så er virkelig Kings of Chicago en skikkelig bra videoslot, som attpåtil har klart å sette sammen poker og slotmaskin på en utrolig underholdende og spennende måte.