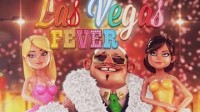 Spill er jo generelt ikke tillatt for person som er under 18 år, og det gjelder definitivt for spillet Las Vegas Fever. Her er det et godt antall lett kledde damer, alkohol, og mange ting som egentlig hører hjemme i en strippeklubb. Og det er også mye mer! For deg som har den riktige alder, og som vet hva Vegas har å tilby, så byr Las Vegas Fever på en riktig lekker spillopplevelse for kundene.
Det er mye som er unikt med spillet Las Vegas Fever. En ting som er meget spesielt med spillet er faktisk selve hjulene som er med. Det finnes totalt 5 hjul i spillet, men de 4 første hjulene er det som blir brukt i hovedspillet, mens det siste hjulet i spillet er det som blir brukt under bonusspillet. Hvis man da i tillegg legger til stablede symboler, et free spins spill og et bonusspill så forstår man vel at det finnes mye spennende å oppdage i Las Vegas Fever.
Grafikk og lyd i Las Vegas Fever
Det er Sheriff Gaming som står bak produksjonen til spillet Las Vegas Fever, og Sheriff Gaming er ikke akkurat kjent for å ta snarveier når det kommer til spillutvikling. Sheriff Gaming har skapt en veldig lekker videoslot spill som faktisk gir spilleren litt av den autentiske Vegas følelsen. Til venstre i spillet så ser man en ekte "high roller", som virkelig vet hva man gjør og hvordan man er i Las Vegas. Til høyre i spillet kan man se to vakre damer. Alle de tre sistenevnte har skikkelig kule effekter som følger figuren i løpet av spillet, og disse bare bidrar til å gjøre spillopplevelsen enda mer involverende.
En ting som mangler i spillet er en riktig god historie bak spillet og dens tema. Fokuset er lagt til alt det som innebærer å synde og som man kan oppleve i Vegas. Dette inneholder spill og dobbel, drinker og besøk på steder som er forbudte for barn.
Innsatser i Las Vegas Fever
Las Vegas Fever har fem hjul i spillet, og 4 av dem er aktiverte når man spiller hovedspillet. Det er 15 innsatslinjer i spillet og disse er faste, det vil si at man ikke kan regulere disse til ønsket innsats når man skal spille. Som spiller kan man i midlertidig justere både myntverdien og myntantallet man ønsker å satse per linje, og da er innsatsen enkelt å regulere. Laveste mulig innsats man kan ha er 0,15 euro og den høyeste innsatsen man kan ha er på 75 euro. Med et så bredt spekter av innsatsmuligheter blir dette et spill som virkelig passer de aller fleste spillerne. De eneste som kanskje må finne seg et annet spill er de som er ekte "high rollers".
Effekter og spesialsymboler i Las Vegas Fever
Den funksjonen som er i aller mest fokus gjennom hele spillet er bonushjulet. Det hele fungerer slik at hvis man får en gevinst når man spiller hovedspillet, altså med de 4 første hjulene, så blir det 5 og siste hjulet aktivert. I bonushjulet så finnes det mange multiplikasjons symboler som kan øke gevinst man vinner med opp til 5 ganger. Det finnes også to ulike spesialsymboler som kan gi spilleren en sjanse til å snurre på lykkehjulet, og dette kan være med på å øke multiplikatoren enda mer.
En annen unik sak i Las Vegas Fever er de stablede symbolene. Seks av symbolene tar opp to posisjoner på hjulene og dette leder til kun større vinnersjanser. Med både lite eller mye flaks så kan faktisk de fire hjulene i hovedspillet ende opp med å være så å si hel dekt med et og samme symbol.
Free spins spillet i Las Vegas Fever starter opp når man får minst 3 scattersymboler på hjulene. Scattersymbolet er symbolet av en slotmaskin. Hvis man får 3 scatter symboler så får man 15 gratis spinn runder. Med fire scatter symboler så får man hele 25 gratis spinn. I gratis spinn rundene så er det en helt ny oppsetting av symboler, som betaler ut betydelig høyere gevinster enn de vanlige symbolene som er i hovedspillet.
Sammendrag
Hvis man er en spiller som liker å prøve videoslot spill som har mange unike funksjoner, så er Las Vegas Fever spillet for deg. Noen snurr er nesten pålagt også hvis man kun har en liten interesse for hvordan det føles å spille i Las Vegas. Denne videoslotten komprimerer alt det Las Vegas har å tilby av opplevelser og har gjort det om til en vakker og vellydende skapelse som byr på en god spillefølelse.