Om spillet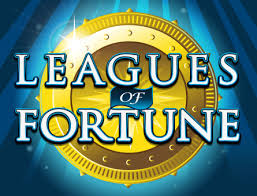 Leagues of fortune er en 5-hjuls spilleautomat med opp til 1024 måter å vinne på. Spilleautomaten er produsert av Microgaming, og er tradisjonen tro en eksepsjonell spilleautomat med spennende muligheter for høye premier. Dette er et format som gir flere muligheter til å vinne enn de tradisjonelle innsatslinjene. Spillet har et maritimt tema, som minner om temaet fra Jules Vernes 'En verdenomseiling under havet'. Spillet låner mange elementer fra boken, og er like fantastisk i dets detaljer. Spillet er presentert med pen og detaljert grafikk samt episk musikk som virkelig poengterer det nautiske temaet. Det er flere symboler som forekommer, som en kaptein, en dykker, en ubåt, et nautisk kart, samt vanlige symboler som ess, konger, dronning, knekt og 10. Spesielle symboler inkluderer Leagues of Fortune-symbolet og en kiste som er gjemt på havets bunn – gratissnurr og scatter. Spillet har vann som beveger seg i bakgrunnen, og detaljer som ser ut som de kommer rett fra Nautilus sin tid.
Spillets detaljer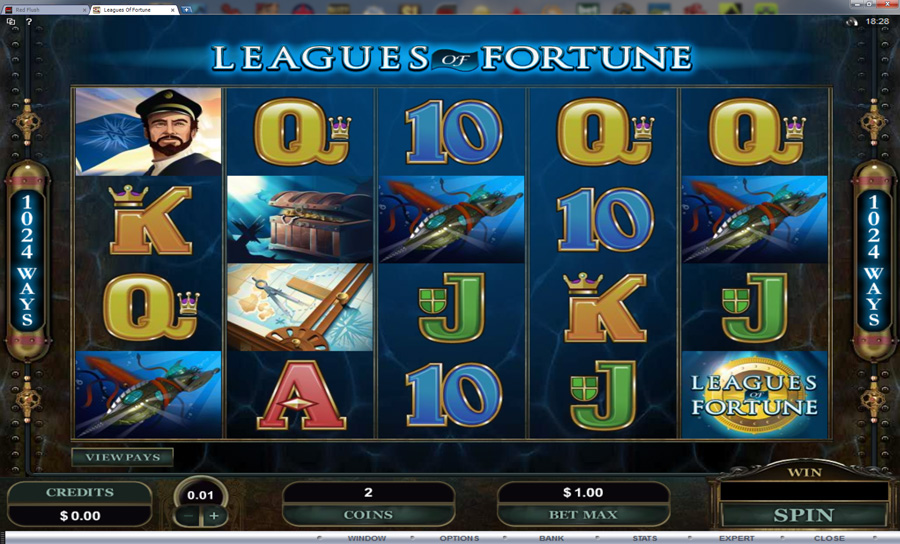 I spillet kan du velge mellom myntverdier fra 0.01 til €0.10. Du kan satse fra 0.50 til 50 per spinn. Spillet utbetaler fra venstre til høyre med symboler som følger etter av hverandre. Spillet har mange muligheter til å vinne, og en fantastisk bonus med muligheten til å få høye utbetalinger. Spillet egner seg godt for low rollers såvel som også for high rollers på grunn av de potensielt høye premiene man kan vinne ved maksimum innsats. Spillet har en "maks innsats"-knapp som gjør det enkelt å gå for de høye gevinstene fra starten av. Spillet gir deg mange muligheter til å vinne med sine 1024 måter.
Det symbolet som betaler mest i spillet er fem kister på havets bunn, disse gir 3 750 mynter, og kisten betaler i hvilken som helst posisjon. Beløpet du vinner blir multiplisert på de totale antallet mynter som ble satset. Leagues of Fortune-symbolet er det nest mest betalende, som betaler 150 mynter. Symbolet erstatter også alle andre symboler bortsett fra kisten på havets bunn.
Spill på disse online casinoene
Bonusfunksjoner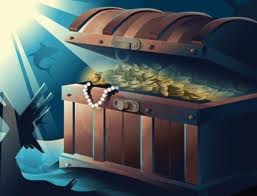 Spillet har en bonusfunksjon der, dersom du får tre, fire eller fem kister, får du gratisspinn. På havets bunn bor det en enorm blekksprut som gir lykke og velferd til de som krysser hans vei. Hans gyldne tentakler vil utløse gratisspinn-premien. Alle gevinstene under disse gratisspinnene vil gi en multiplikator på 5x. Du kan vinne opp til 750,000 mynter under denne bonusfunksjonen. Beløpet du vinner i spillet kan igjen dobles ved å gamble det. Når blekkspruten velger ut premien din kan du være så heldig å få opp til 35 gratis snurr. Dette gjør bonusspillet her til en fantastisk mulighet til å få en nervepirrende høy gevinst, spesielt om man går for den maksimale innsatsen. Spillet anbefales på det sterkeste både på grunn av dette og kombinasjonen av episk og flott musikk med et gjennomført tema som bringer deg ned til havbunnen med ubåter, gjemte kister, dykkere og hele fanfaren rundt dette med tematisk korrekte detaljer. En flott bonusfunksjon som vil gi deg sjanser til å vinne samt lykken ved å finne skatten på havets bunn.
Spillets gang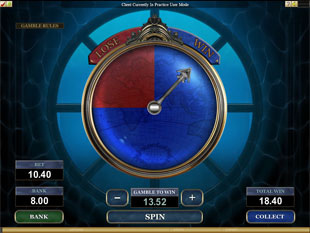 Spillet tilbyr en innovativ gamblefunksjon der du kan velge å justere oddsen selv. Du kan gamble opp til 20x innsatsen din per snurr av det du gambler. Du kan også trykke bank for å velge å spare halvparten av veddemålet ditt. Du trykker på start for å få nålen til å spinne. Dersom nålen lander på det blå området vil gevinsten blir øket til mengden som er vist i 'gamble to win'-boksen. Dersom nålen lander på det røde området taper du summen som ble gamblet, og gamblingen avsluttes med den sparte mengden av mynter. Dersom du trykker 'collect' vil du få utbetalt gevinsten din og det ender gamlefunksjonen. Du kan fortsette å gamble gevinsten din til gamble-grensen er nådd. Når det kommer til wilds kan Leagues of Fortune-logoen stables opptil fire ganger på et hjul, noe som gjør at vinnersjansen høynes mye, siden den erstatter et hvilket som helst annet symbol med unntak av skattekisten. Dette gir mange flere vinnersjanser også.
Konklusjon
Leagues of Fortune presenterer en visuelt appellerende og polert fasade, som er kombinert med filmatisk musikk – men det er ikke nok med det; spillet i seg selv tilbyr også potensielle høye utbetalinger gjennom et sterkt bonusspill, og et utradisjonelt gamblingsspill. Dette spillet gir også flere måter å vinne på enn innsatslinjer med sine 1024 måter. Absolutt en fantastisk spilleautomat fra Microgaming som vil passe til de som ønsker å vinne stort, og for de som liker det nautiske temaet.