Om spillet

Legend of Olympus er en 5-hjuls spilleautomat med 20 innsatslinjer fra Rabcat, et relativt ukjent studio som bygger på 3D-plattformen fra Microgaming. Den har, som navnet tilsier, et fokus på de greske gudene på Olympus. Historien er basert på at Hades har kommet opp fra underverdenen og ønsker å ta over Olympus, og ingen av gudene har klart å bekjempe ham – men med din hjelp har de en mulighet. Hjulene er satt inne et gresk tempel, hvis side er ødelagt siden den hører til Hades, guden av underverdenen.
Symboler og oppsett
Spillet tilbyr et scattersymbol, et wildsymbol, samt gratisspinn og et bonusspill. Spillet har følgende symboler med de greske gudene veldig godt representert; Zeus, Hades, Poseidon, Aphrodite, Ares pg Hermes. I tillegg finner man skjold, spyd og mynter, et drikkebeger i gull og en hjelm. De spesielle symbolene i spillet er Zeus, som gir gratisspinn, Hades som er wildsymbolet og en gylden mynt som aktiverer et bonusspill. Ved en vinnende kombinasjon ser du noe av de nyeste og beste effektene på en spilleautomat – helt på topp i teknologi. Spilleautomaten har Zeus som følger med fra venstre side av tempelet i skyene, mens Hades er på høyre siden i mørke omgivelser som indikerer underverdenen.
Spillets detaljer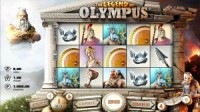 Legend of Olympus lar deg satse på fra 1 til 20 innsatslinjer, samt å satse fra 0.01 til 2.00 € per linje. Dette gir en maksimal innsats på 40 €, som tilsvarer omtrent 320 NOK, per snurr. Spillet har en maks innsatsknapp som er grei å bruke for å kunne oppnå de høyeste utbetalingene! Vinnende kombinasjoner baseres på 2, 3 eller flere kombinasjoner av like symbol ved siden av hverandre og på en aktiv innsatslinje. Den vinnende kombinasjonsutbetalingen beror på utbetalingsindeksen kombinert med innsats per linje, og er maksimalt på 20.000 mynter i bonusspill, og 40.000 mynter med de høyest betalende symbolene – Poseidon og Hades. Spillet har også en gamblingfunksjon som kan brukes for å høyne gevinsten man har vunnet. Wilds danner en egen kombinasjon men kan også erstatte alle andre symboler, bortsett fra gratisspinn -og bonusutløsende symboler. Hver gang du får utbetalt et beløp vil både Hades og Zeus vise sin glede i hvert sitt hjørne. Spillet er vennlig mot de som ønsker å spille med en lavere innsats, og gir samtidig nok spenning og muligheter til de som ønsker å satse mer, med en maksgevinst på 20.000 mynter i bonusspillet. De symbolene som gir høyest utbetaling er fem Hades- eller Poseidonsymboler med 40.000 mynter på begge to. Hades er wild, og erstatter et hvilket som helst symbol bortsett fra bonus og gratissnurr. Det symbolet som betaler nest mest er Ares med 2.000.
Spille disse online casino
Bonusfunksjoner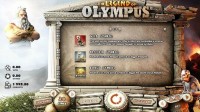 For å aktivere bonusspillet må du får tre gylne mynter. Dette vil aktivere bonusspillet i en ny skjerm. Dersom du får fem bonussymboler blir du brakt til underverdenen, og der må du betale to mynter til fergemannen for å krysse elven Styx. Tre gylne snurrende mynter kommer frem, og du må stoppe alle tre for å se hvor mange som er gylne. Dersom i det minste to av disse er gylne så fortsetter du til den neste delen av bonusspillet. Der dukker tre kister opp. Hver av dem garanterer en gevinstutbetaling, mens mengden beror på hvor heldig du er. Du har bare et valg, så gjør det rette for høyest gevinst! Dette er Hades' skatt som er gjemt dypt nede i underverdenen. Denne runden kan også bli startet under gratisspinn.
Spillets gang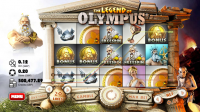 Dersom tre gratisspinn dukker opp på skjermen vil dette utløse runden med gratisspinn. Du kan få opp til 14 gratisspinn. Zeus kaster lyn på Hades, og hvert treff øker antallet gratisspinn du får. Hades forsvinner da bort fra spillet under gratisspinnene, siden han har blitt midlertidig blitt overvunnet av Zeus. Gratisspinnene kan forlenges dersom du får tre ny gratisspinn-symboler. Gevinstene i gratisspinnene beror på innsatsen og antall linjer satset på i spinnet som utløste gratisspinnene. Du kan også gamble gevinsten din ved å velge fargen til det neste kortet. Dersom du gjetter korrekt farge, dobler du gevinsten din. Hvem har vel ikke drømt om å finne Hades sin skatt og komme fra det med livet i behold – samt å hjelpe gudene på Olympus til å holde Hades unna? Nå har du sjansen!
Konklusjon
Legend of Olympus er en pen spilleautomat som har høye utbetalingsindekser, og som er på topp når det kommer til de visuelle effektene i spillet. Karakterene i spillet er interessante og godt utformet, og musikken passer godt til temaet i spillet. Spillet tilbyr også tilfredsstillelsen ved å ta seg ned i underverdenen og ta Hades sin skatt. Du hjelper også gudene til å hindre Hades sin plan om å ta over Olympus.