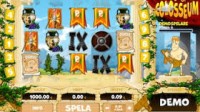 Legends of the colosseum er en videoslot som har blitt produsert og utgitt av Paf, og spillet er også holdt av til kun Paf. Denne automaten kommer man altså aldri kunne spille på noe annet sted enn hos Paf sine egne sider. En del av Pafs egenproduserte spill holder ikke noe spesiell klasse, selv om det skal sies at utbetalingene i spillene pleier å være ganske høye, mens noen av dem kan klassifiseres som klassikere. Legends of the colosseum byr på ulike godsaker, slik som interaktivt bonusspill, muligheten for å vinne hele 150 gratis spinn runder og spillet har også et lydbilde som virkelig imponerer. Hvis man ikke er medlem på Paf Casino så gjør man lurt i å bli det nå, og prøve ut Legends of the colosseum. Hvis man ønsker å vite litt mer om spillet først, så er det bare å lese videre.
Tema og grafikk
Tittelen til spillet forteller jo ganske så tydelig hva denne videosloten handler om. Paf har helt enkelt produsert et videoslot spill som omhandler gladiatorspill og den klassiske arenaen Colosseum som befinner seg i Roma.
Innen man begynner å spille spillet så får man aller først velge utseende til din helt egen gladiator. Du velger først kjønn og så velger man hvilken folkestamme man ønsker å tilhøre. Her kan man velge mellom romer, egypter, kelt, nordlending eller spartan. Når dette er gjort så trer man inn i et romersk tempel der innsatsalternativene presenters, som om de er uthugget i stein, og her ser man også hjulene som er rammet inn av kolonner. Til høyre for hjulene står spillerens gladiator på en pidestall. En litt kul greie i spillet er det at gladiatoren driver med litt hyss mens man snurrer hjulene. For eksempel så kan man se han eller hun drive å jage en irriterende flue som snurrer omkring.
Grafikken er den beste hittil når det kommer til videoslots fra Paf. Alle symbolene er godt detaljert og er også alle animert på ulike måter. Lyden i spillet er enda bedre. Paf har lagt inn flere spesialskrevne bakgrunnslyder i spillet. I hovedspillet så får man også høre en vakker og stemningsfull lydklipp med ulike strengeinstrumenter. I bonusspillet så øker tempoet litt og stemningen endres og da får man høre en kamplåt med trommer og trompeter.
Innsatser og alternativ
Legends of the colosseum har fem hjul og tre rader med symboler og 9 innsatslinjer. Når man spiller så er alltid alle innsatslinjene aktivert og den eneste endringen man kan gjøre når det kommer til innsatsen er å selv regulere hvor mye man ønsker å satse per linje. Laveste innsatsen er på 0,09 euro og høyeste innsatsen er på 9 euro. Legends of the colosseum er altså perfekt for de spillerne som ikke har så stor spillekasse å rutte med.
Spesialsymboler og effekter
Legends of the colosseum har flere ulike funksjoner, blant annet et interaktivt bonusspill der du faktisk spiller mot andre Paf spillere. Gratis spinn runder finner man også. Det eneste som man egentlig savner i spillet er et jokersymbol.
For å aktivere gratis rundene så må man få minst 3 av free spinn symbolene på hjulene. Jo flere symboler, desto flere gratis runder kan man få. Når symbolene og hjulene har stoppet så skal man klikke på en av de for å da se hvor mange gratis spinn man har å spille med. Med tre free spinn symboler så får man 5, 10 eller 15 runder. Med fire symboler så får man 10, 20 eller 30 runder. Med fem symboler vinner man 50, 100 eller 150 runder.
Bonusspillet blir aktivert når man får minst to bonussymboler hvor som helst på en innsatslinje. Når dette skjer åpnes det en annen skjerm og her velger man motstander. Jo vanskeligere motstander man velger, jo høyere vinnersjans har man, men dette utgjør likevel ikke noe forskjell på størrelsen på gevinsten.
Hvis man vinner mot sin motstander så kommer man både til å få med en kontantgevinst og også samlet opp en del poeng. Neste gang man da kommer til bonusspillet så kan man velge en tøffere motstander og da har man en enda større vinnersjanse.
Innen man blir tatt med tilbake til hovedspillet så får man også klikke seg gjennom noen esker med spørsmålstegn som dukker opp på skjermen. Noen av disse eskene kan inneholde gratis spinn runder mens andre av dem kan være tomme. Med litt flaks her så kan man altså få enda noen flere gratis runder som kan da komme til å gi ut flere gevinster.