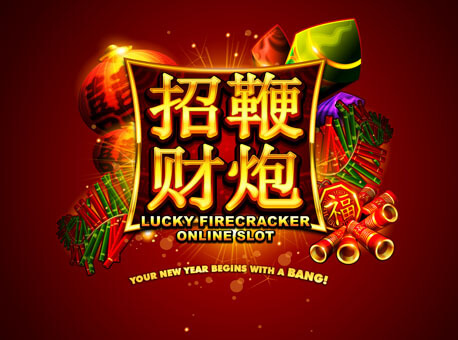 Feir det kinesiske nyttår sammen med Microgamings nye spilleautomat Lucky Firecracker! Vi gikk inn i geitens år 19. februar tidligere i år. Microgaming er en av spillutviklerene som siden 1994 har vært et av de beste på nettspill, og det merkes. Geitens år bringer med seg hell. Lucky Firecracker har hele 243 gevinstlinjer, og fem gevinsthjul med tre rader. Jackpotten er på 90 000 mynter. Dette er et fyrverkeri av et spill! Lucky Firecracker blir sammenlignet med et annet nytt spill fra Microgaming, Gung Pow. Disse to spillene er nesten identiske. Musikken og grafikken er så og si helt lik! Forskjellen på Lucky Firecracker og Gung Pow er blant annet jackpotten, som er på 90 000 mynter, sammenlignet med Gung Pows 30 000.
Opprinnelsen av fyrverkeriet
Selv om det var italienerne som oppfant fyrverkeriet slik vi kjenner det i dag, var det kineserene som på 600-tallet utviklet kruttet. Målet deres var egentlig å lage noe som kunne gi dem evig liv. Det de laget, ble brukt til å jage vekk slemme ånder, ved å sette fyr på det på nyttår.
Symboler og detaljer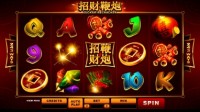 Spilleautomaten har standardsymbolene 9, 10, J, Q og K. Disse er fargerike, og flotte og se på. Likevel kunne symbolene kanskje ha hatt et litt mer kinesisk preg over seg. Resten av spillet er vakkert laget, så hvorfor ikke lage et litt kulere design til standardsymbolene? Andre symboler Lucky Firecracker har, er en rød kinesisk lanterne (Kom loy), stjerneskudd og, selvsagt, fyrverkeri. Wildsymbolet en skrift skrevet på kinesisk. Man kan kun få dette symbolet på det andre og fjerde gevinsthjul. Scattersymbolet er det eneste wildsymbolet ikke erstatter. Scattersymbolet er en rund gullmynt, med et hull, og man trenger tre eller fler på skjermen for å utløse gratisspinn-rundene. Det er 15 gratisspinn, med 3x multiplikator. Denne gullmynten, er i følge kinesere en lykkemynt. Denne mynten bestemmer hva personens skjebne er!
Spill på disse online casinoene
Utseende og grafikk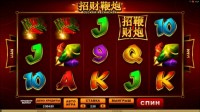 Selve utseende er rødt, og logoen er av gull. Bakgrunnsmusikken er enormt fengende, og kan avspilles i mange timer uten å gå lei. Musikken gjør opp for mye av den kinesiske stemningen i spillet, og man begynner etter en stund å lure på hvor man er i verden. Kina? Ikke det?? Fargene er for det meste i rød, eller rødlige farger og gull. Selv om symbolene er stilige, og passer perfekt til temaet, kunne Microgaming kanskje ha gjort de litt mer livlige. Det er jo tross alt snakk om det kinesiske nyttår! Det var nok meningen at Lucky Firecracker skulle være av et litt enkelt design, men det hadde vært kult med nattehimmel full av fyrverkeri og/eller røde lanterner. Det hadde også vært kult med en liten animasjons-intro av noe slag. Litt om historien bak det kinesiske nyttår? Noen papirlanterner som slippes i luften? Drage? Fyrverkeri? Sant nok, når en vinner gratisspinn, fyres fyrverkeri!
Funksjoner og utbetalinger
Lucky firecracker har har 243 gevinstlinjer, og fem gevinsthjul med tre rader. Siden spilleautomaten har et variert antall myntverdier, passer spillet for de som ikke er redd for å bruke litt penger, de forsiktige, og de midt i mellom. Myntverdiene er 0.01, 0.02, 0.05, 0.10, 0.20, 0.25, 0.50 og 1. Den høyeste myntverdien er 50 mynter per gevinstlinje, og den laveste 0.25. Det høyeste man kan satse per spinn er 250 mynter.
Gratisspinn, bonus og jackpot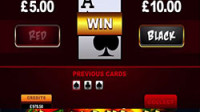 Det som er litt kult, er at spillet har en gamble-funksjon. Når man har vunnet, kan man satse denne summen, og håpe på hell! Man trykker på gamble-knappen, og et nytt vindu åpnes. Deretter må man gjette riktig farge på kortene som blir vist. Har du hellet med deg og vinner, dobles det man satset. Gamble-runden avsluttes enten om man har gjettet alle mulige riktige, eller at man gjetter feil. Gjetter man feil, taper man også innsatsen. Gratisspinn-rundene kan bli til litt av et fyrverkeri, da jackpotten kan bli vunnet her. Den heldige vinner kan da stikke av med 90 000 mynter! Grunnen for at spillet har 15 gratisspinn, er fordi det kinesiske nyttår feires i løpet av 15 dager.
Geitens konklusjon
Man har mulighet til å vinne en god del penger på dette spillet, med en jackpot på 90 000 mynter, 243 gevinstlinjer og 5×3 gevinsthjul! Bonus-funksjonen er også underholdene. Musikken er meget fengende, og utseende på spillet passer til temaet. Det som dessverre er tilfelle, er at Microgaming har utgitt to nesten identiske spilleautomater samtidig. Det de i det minste kunne ha gjort med Lucky Firecracker, var å forbedre grafikken, gjøre den litt mer spennende og levende. Kanskje også slengt på en animasjons-intro, som kunne omhandlet en historie relatert til det kinesiske nyttår.