Lunaris – en veldig annerledes spilleautomat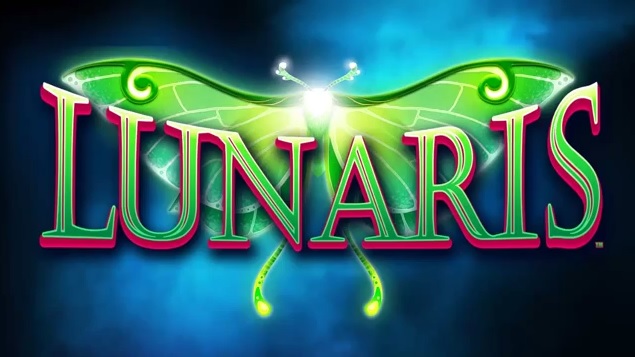 En gang i blant kommer det ut en spilleautomat som virkelig skiller seg fra mengden. Nå som det finnes mer enn fem hundre forskjellige spilleautomater der ute, er det viktig for spillutviklerne å tenkte kreativt. Lunaris er et godt eksempel på en original spilleautomat – den er lagd av WMS Gaming, som ellers ikke har lagd altfor mange unike maskiner.
Tema, symboler og animasjoner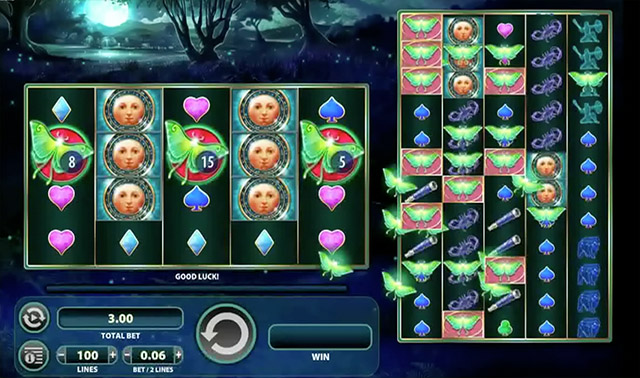 Lunaris kan se litt primitiv ut ved første øyekast, mest med tanke på den store overskriften og bakgrunnen bak symbolene, men så fort man ser seg rundt vil man forundre seg litt. Bakgrunnen ser ut til å være en magisk skog, en skog man ikke finner på jordkloden. Kanskje er dette selve poenget? Lunaris ser litt utenomjordisk ut, og symbolene med ulike stjernetegn peker mot at WMS har tenkt i astronomiske baner. Det er dog ikke dette som virkelig skiller Lunaris ut fra mengden – det er den store skjermen til høyre som gjør den spesiell. Her vil du nemlig se fem utrolig store rader med symboler som beveger seg i takt med spillet. Symbolene på de to vidt forskjellige skjermene blander seg sammen ved hjelp av flygende lys, noe som gir Lunaris en harmonisk og avslappende atmosfære. Fargene er også godt utvalgte – de er nøytrale og fine samtidig som de passer ypperlig inn. Symbolene kan strekke seg over et helt hjul samtidig, vakre blomster i nydelige farger dukker opp for å gi deg store gevinster. WMS har også gjort en spesiell vri på de tradisjonelle kortsymbolene – her finner du hjerter, ruter, spar og kløver i stedet for knekter, damer, konger og ess. Det mest eventyrlige symbolet kommer i form av et ansikt i midten av en ring med stjernetegn. Dette symbolet aktiverer funksjonen der ulike tegn flyttes mellom de to skjermene for å danne store kombinasjoner.
Magiske gratisspinn på rekke og rad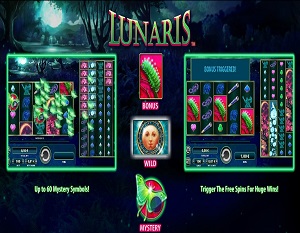 Lunaris er jammen meg ikke gjerrig! Her har man en høy utbetalingsrate, ikke minst på grunn av de 100 gevinstlinjene som strekker seg på kryss og tvers av de to skjermene. Med hele 10 gevinsthjul er det også ekstra store sjanser for å stikke av med deilige gevinster – alt man må gjøre er å aktivere alle gevinstlinjene og sette hjulene i spinn. Etter kun noen få runder vil du se den grønne sommerfuglen – denne aktiverer en runde gratisspinn der alle gevinster er mangedoblede. Med litt flaks kan du sette en kombinasjon av seks sommerfugler for deretter å se 25 gratisspinn settes i gang med en 25-dobling av alle gevinster. Etter en slik runde vil man garantert sitte igjen med en glad følelse i kroppen og kanskje noen sommerfugler i magen til og med. Som om dette ikke skulle være nok, kan man tjene inn flere gratisspinn underveis om sommerfuglene fortsetter å dukke opp – det betyr at drømmen om millionene er innen rekkevidde! WMS Gaming har alltid satset på å tiltrekke seg vidt forskjellige spillere ved hjelp av brede innsatsmuligheter, og Lunaris er ingen unntak. Her kan man spille med noen få tiere eller satse straks over tusenlappen per spinn om man ønsker. Valget er ditt, spørsmålet er hvor langt du vil bevege deg inn i den magiske skogen.
Spille disse online casino
Avslappende spilleautomat med fokus på himmelen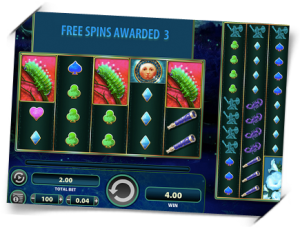 Lunaris er ment for de som liker å titte opp på himmelen, særlig ved nattetider. Stjerner, stjernetegn, planeter og utenomjordiske ansikt blander seg med vakre blomster, sommerfugler og kikkerter. Lunaris hadde vært ekstra spennende om et passende bonusspill hadde vært inkludert, men WMS har vel tenkt seg at man skal kunne sette på autospinn-funksjonen og koble helt av mens hjulene er i gang. Med så mange gevinsthjul er det vanskelig å følge med på alt som skjer, derfor kan det være deilig å la hjulene leve sitt egne liv. Utbetalingene er hyppige og gode, altså er det rimelig lav risiko for tap. Lunaris kan dermed nytes av både storspillere og andre spillefrelste kasinomennesker.
Konklusjon
La deg trollbinde av denne vakre maskinen, prøv den ut i dag og sjekk om Lunaris vil belønne deg. Hvorfor holde seg til massene når man endelig kan teste ut en spilleautomat du aldri har sett maken til? Lunaris er en fantasifull spilleautomat med originale trekk, den gir ut drøssevis av gratisspinn som nærmest garanterer deg en god gevinst, samt et tema som aldri går av moten. Med et mangfold av heftige spilleautomater på nettet er det vanskelig å finne en favoritt – derfor er det viktig å lage seg en favorittliste. Lunaris bør absolutt stå på denne, til de tidene du blir lei av konvensjonelle maskiner. Noen runder på Lunaris vil på nytt vekke interessen for spillemaskinenes verden hos spillere flest. Ta noen runder og la deg forbause av WMS Gamings nyeste spill!