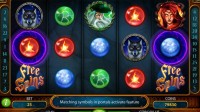 Spillutvikleren Net Entertainment er kjent for gode ideer og spennende og gode spill. Nesten hver nye spilleautomat fra dette svenske selskapet inneholder et nytt spesialinnslag. Magic Portals er ikke noe unntak. Her dukker det opp en funksjon som heter Wild-forandring, og når den aktiveres, har man muligheten til å vinne virkelig store gevinster.
Men Magic Portals kan by på mer enn dette. Man kan blant annet vinne gratisspinn. I tillegg kommer gevinstene relativt ofte. Med jevnlige utbetalinger trenger man ikke å spille dusinvis av spinn før man vinner noe. Det passer for de utålmodige spillerne, som ikke orker å spille lenge dersom de ikke vinner noe.
Grafikk og lydeffekter
Som spillets navn tilsier, handler Magic Portals om magi og magiske portaler. Det er usikkert om det ligger noen historie bak spillet, men det er kanskje ikke så viktig. Symbolene er trollmenn, trollkvinner, drager og magiske kuler som har samme farge som de tre magikerne.
Bakgrunnsmusikken er lavmælt og stemningsskapende. Lydeffektene gjør det de skal, og passer med det som skjer i spillet. De dukker ikke bare opp tilfeldig, men tilpasser seg det som skjer. Magic Portals ser bra ut, og lydene gjør den enda bedre. Dette er et kvalitetsprodukt med god og klar grafikk, og velvalgte lyder.
Innsatser og utbetalinger
Magic Portals er klassisk bygd opp, med de vanlige fem hjulene og tre rader. Det er til sammen 25 innsatslinjer, som ikke kan justeres. Man kan derimot stille inn myntverdien fra 0,10 til 10 kroner, og satse fra 1 til 10 mynter per rad. Dette gir en minsteinnsats på 2,50 og en maksimumsinnsats på 2500 kroner. Det betyr at den passer for de fleste spillbudsjetter.
Du kan velge inntil 1000 autospinn. Autospinn betyr at du velger myntverdi og antall mynter per linje. Så velger du antall spinn, og lar automaten spille selv. Du trenger altså ikke å trykke på knappen for hvert spinn. Dette passer bra for de som spiller mye, eller gjør andre ting mens de spiller. Du kan stille inn når autospinnene skal stoppe, for eksempel dersom du vinner gratisspinn. Autospinnene kan også stanse automatisk dersom du taper viss mye eller vinner viss mye.
Den røde trollkvinnen gir de høyeste utbetalingene. Fem like av disse symbolene gir 500 mynter, fire like gir 150 mynter og tre like gir 25 mynter. Fem like av den grønne trollmannen gir 300 mynter. Fire like gir 125 mynter, og tre like gir 20 mynter. Fem like av den blå trollkvinnen gir 200 mynter, fire like gir 100 mynter, og tre like gir 15 mynter.
Spesialinnslag og bonuser
To av spillets spesialinnslag skiller seg ut fra de andre. Dette er Wild-forvandlingen og gratisspinninnslaget. Den midterste posisjonen på det første og det femte hjulet er nøkkelen til å aktivere begge disse funksjonene. Disse posisjonene er såkalte portaler, som aktiverer spesialfunksjonene.
Wild-forvandling aktiveres av to like symboler i disse posisjonene. Når dette skjer, blir alle symbol som ligner på disse, bli til wilds (gjelder ikke gratisspinnsymbolene). Denne forvandlingen kan gi deg store vinnermuligheter.
Gratisspinnfunksjonen blir aktivert hvis du får gratisspinnsymboler på de to posisjonene. Du vinner alltid 10 gratisspinn. Når du spiller med gratisspinn, får du to ekstra portaler på det femte hjulet. Det gjør det mye lettere å aktivere Wild-forvandling.
Oppsummering
De to unike funksjonene i Magic Portals er morsomme, men det kan ta noen spinn før du skjønner hvordan portalene fungerer. Heldigvis trenger du ikke å holde orden på alt som skjer. Spillet viser jo automatisk vinnerrekker, og regner ut gevinster. Spillet sier også fra når du kommer til spesialinnslag.
Magic Portals er imponerende godt laget, men vi er jo vant til kvalitet og kreativitet når vi spiller et spill fra Net Entertainment. Vi tror du kommer til å like Magic Portals. Spillet er i hvert fall verdt å teste ut, enten du vil spille med lav innsats eller høy innsats.
Den teoretiske utbetalingsprosenten er på 96,6 %. Net Entertainment er kjent for høy utbetalingsprosent, men husk at dette er den gjennomsnittlige utbetalingen over tid. I perioder kan man vinne mer eller tape prosentvis mer enn dette.
Den største utbetalingen er på 64 000 mynter. Gevinstens pengeverdi avhenger av verdien av myntene man spiller med. Myntene man vinner har alltid samme verdi som myntene man spiller med. Med lav myntverdi, blir gevinstbeløpene små, med høyere myntverdi, blir gevinstene større.
Net Entertainment har laget nok et flott spill som både er spennende og stemningsskapende. Morsomme ekstrainnslag og høy utbetalingsprosent, i tillegg til utmerket grafikk og lys, gjør det underholdende å spille Magic Portals.