Tema og Grafikk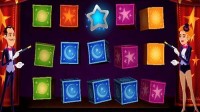 Denne gangen så har spillutviklerne hos Thunderkick kommet med en helt spesiell videoslot, nemlig Magicious hvor temaet handler om magi. Det er to hovedpersoner i denne sloten, to magikere – en mann og en dame og i introduksjons klippet som en kjenner igjen ifra andre Thunderkick vidoeslots så får en vite at de heter Illucious og Magicia. Magicious er en helt ny slot ifra svenske Thunderkick og de har gang på gang overrasket spillverdenen ved å klare å skape og produsere videoslots som virkelig har helt unike tema og helt unike bonusfunksjoner også. Magicious er likevel en ganske enkel og rett frem videoslot, den har riktignok utrolig vakker grafikk og spillet inneholder også en god del animasjoner men i bunn og grunn så består faktisk selve spilleskjermen bare av de 15 ulike symbolene som vises sammen med de to magikerne. En kan se Illucious til venstre for hjulene mens Magicia har blitt plassert på høyre siden, og når en spiller og vinner en gevinst så vifter disse to karakterene sin trylletav og peker ut hvilke symboler som er de som er de som har gitt gevinsten. Symbolene som er blitt valgt ut til denne sloten er ulike magiske esker i ulike farger og også glitrene stjerner, til sammen så finner det faktisk bare syv ulike symboler, noe som faktisk nesten må være en rekord av noe slag. Når det gjelder bakgrunnsmusikken i denne sloten så er det en magivennlig historie som faktisk en tenker må være den perfekte bakgrunnsmusikken under magi show.
Innsatser og Alternativ
Sloten Magicious er satt sammen av fem ulike hjul sammen med tre rader og ti ulike spillelinjer. Disse spillelinjene er derimot ikke merket opp med noen siffer og det som er litt spesielt med spillelinjene i Magicious er at de går fra begge sider. Med andre ord så kan en altså vinne gevinster med tre eller flere like symboler både som starter fra venstre og som starter ifra høyre siden. Dette gjør faktisk at en i teorien spiller hele 20 spillelinjer og ikke 10 i hver spillerunde. Spillelinjene i spillet er også fastsatt, og en kan dessverre heller ikke justere myntverdien eller innsatsnivået manuelt. Det en skal gjøre før en setter igang en spillerunde er å velge den totale innsatsen som skal satses for hver spin, her så har en ni forhåndsinnstilte nivå som en kan velge mellom – det går helt nede ifra 0, 50, 1, 2, 5, 10, 50, 100 og 250 euro eller tilsvarende i annen valuta.
Effekter og Spesialsymboler
I denne videosloten Magicious så byr de på to virkelig så spennende og unike bonusfunksjoner, nemlig både det som kalles for ekspanderende Wilds med re-spins og det at en faktisk kan vinne gevinster fra både høyre side og fra venstre side er den andre unike funksjonen. Spillet er ikke akkurat fullpakket med ulike bonusfunksjoner, men en kan virkelig regne med at disse to bonusfunksjonene virkelig utbetaler fine gevinster med hevne mellomrom. Det er nok kanskje mange som mener at Magicious egentlig bare har en bonus funksjon og det at en kan vinne gevinster som både går fra venstre og gevinster som går ifra høyre ikke er noen bonusfunksjon. Så den bonusfunksjonene som det er snakk om her er altså en ekspanderende Wild symbol som altså aktiverer re-spins, den fungerer på en ganske så enkel og grei måte. Dersom en får en rosa ball på noen av hjulene, enten 2, 3 eller 4 så kommer denne ballen til å ekspandere så den dekker absolutt alle posisjonene på hjulet. Etter at dette har skjedd og eventuelle gevinster har blitt regnet sammen så kommer jokerne til å stoppe opp på hjulet mens de andre hjulene kommer til å snurre en gang til. Når da hjulene har stoppet opp en siste gang så regnes eventuelle gevinster sammen og jokerne forsvinner ifra hjulene. Med andre ord så er sjansen for at en får to eller til og med tre ekspanderende Wild symboler enten i samme spin eller i en eller to etter hverandre ganske så stor. Dersom en i tillegg har hellet med seg når en sitter å spiller så blir alle de tre midterste hjulene helt dekket av Wild symboler og en ender opp med å få tre re-spins. Det er nok en god del som synes at denne bonus funksjonene minner dem om den som en kan finne i Starburst, og om en har tenkt det så har en altså helt rett. Disse ekspanderende Wild symboler i Magicious fungerer nemlig akkurat på samme måte som de en finner i Starburst videosloten.